Toshiba's Hydrogen Energy Business wins the Jules Verne Award
INFORMATION
Hydrogen Energy
Awards
June 20 2018
Toshiba Energy Systems & Solutions Corporation
・A presentation ceremony was held at the world's largest international conference on hydrogen energy
・Toshiba ESS's hydrogen-related achievements over many years were evaluated

Rio de Janeiro, Brazil — Toshiba Energy Systems & Solutions Corporation (Toshiba ESS) is pleased to announce that it received the Jules Verne Award from the International Association for Hydrogen Energy (IAHE) during the World Hydrogen Energy Conference (WHEC) 2018, the world's largest international conference on hydrogen energy, which is held by the IAHE in Rio de Janeiro, Brazil, in June.
.
The IAHE is an international organization that promotes academic and technological advancements in the field of hydrogen energy. Every two years, the IAHE holds the WHEC and presents five awards to researchers or organizations that have made remarkable hydrogen energy-related achievements, with the Jules Verne Award among the awards presented.
From the 1970s, Toshiba ESS has been working on the development of fuel cell technology and recently developing a pure hydrogen fuel cell system and "H2One™," the company's autonomous hydrogen energy system, which has been delivered to many users. Toshiba ESS has also worked on hydrogen-related demonstration projects, which led to the award.
"I'm delighted to receive this prestigious award," Mr. Ryo Nakajima, Technology General Manager of the New Energy Solutions Project Team at Toshiba ESS, said. "I'm sure that Toshiba ESS has an important role in realizing the hydrogen economy as a leader in hydrogen systems."
Going forward, Toshiba ESS will continue to develop diverse technologies and support hydrogen solutions for expanding hydrogen use for a low carbon society.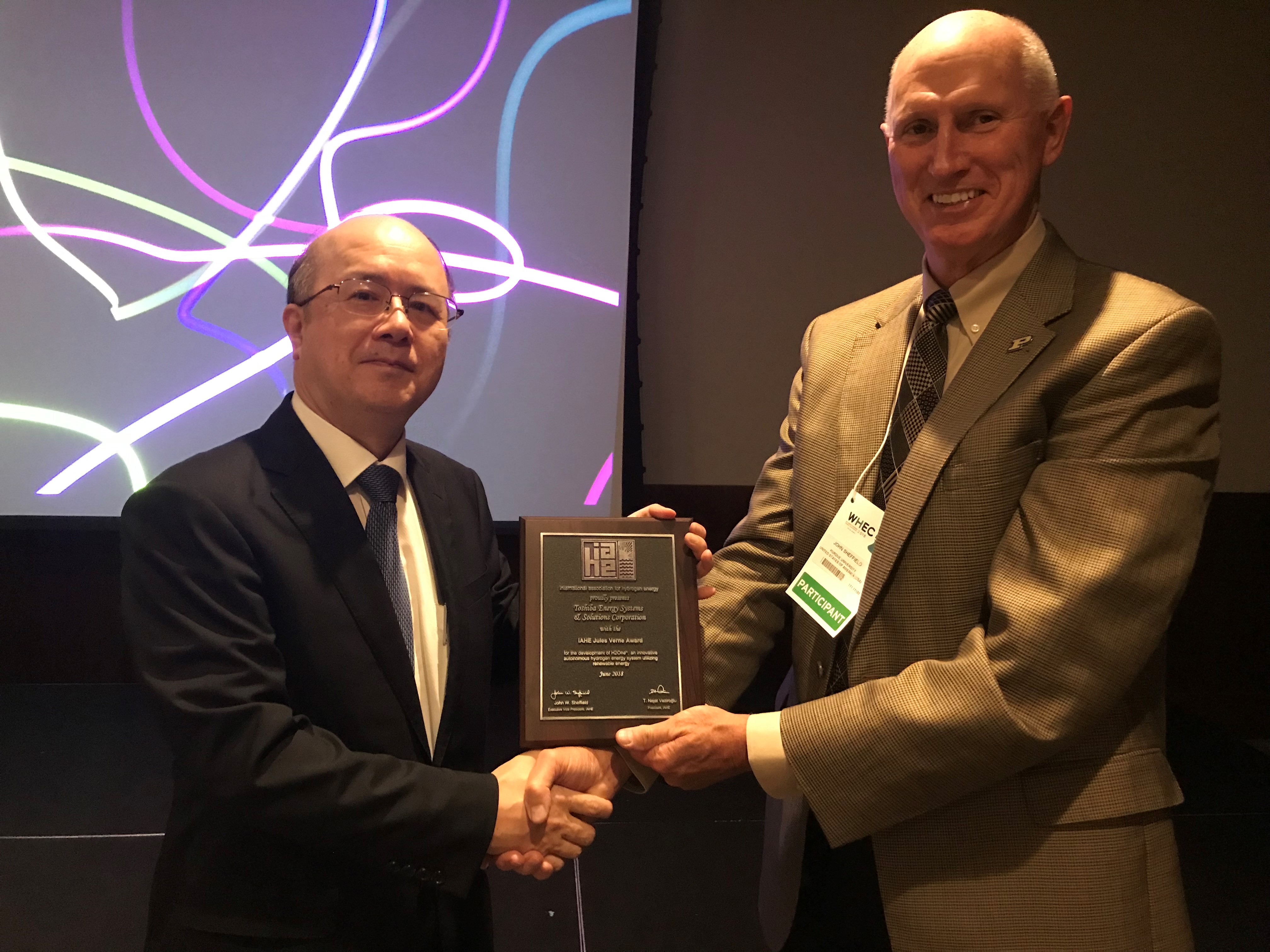 Information in the news release, including product prices and specifications, content of services and contact information, is current on the date of the news release , but is subject to change without prior notice.
News Release