Toshiba's Pure Hydrogen Fuel Cell System, H2Rex™, Starts Operation at Toyota Motor Corporation's Honsha Plant
PRESS RELEASE
Hydrogen Energy
Order received / delivery
November 30 2021
Toshiba Energy Systems & Solutions Corporation
TOYOTA, JAPAN―Toshiba Energy Systems & Solutions Corporation (hereinafter "Toshiba ESS") announced today that its pure hydrogen fuel cell system, "H2Rex™," has started operation at the Toyota Motor Corporation (hereinafter "Toyota") Honsha Plant (Toyota City, Aichi Prefecture). This system was installed at Hydrogen Power Generation Park, a demonstration site located within the on-site electricity generation facility.
H2Rex™ is a clean energy solution that uses hydrogen as fuel for CO2-free electricity generation, and can boot up and start generating electricity in about five minutes. The H2Rex™ delivered to Toyota is 100kW and will be utilized for the production facilities at Honsha Plant, as well as for generating heat to make hot water for air conditioning. This is the first time that H2Rex™ has been installed and operated at a factory.* 
 
Toyota aims to achieve zero carbon emissions from the factory's on-site generation facility by installing H2Rex™ and two other kinds of generators at Hydrogen Power Generation Park, and has promoted the demonstration of high-efficiency power generation systems by recycling the hydrogen from previously wasted hydrogen fuel. 
Toshiba ESS has delivered H2Rex™ for various uses, such as wholesale markets, convenience stores, hotels, heated swimming pools, and roadside stations. Furthermore, Toshiba ESS will strengthen sales activities to promote its industrial usage in factories.
Yoshihisa Sanagi, General Manager of the Hydrogen Energy Business Division at Toshiba ESS, said, "It is our great honor to deliver H2Rex™ to Toyota, and we will commit to continuous efforts for the realization of a hydrogen society through developments in various areas of hydrogen technology, from its generation to utilization."

*As of November 2021, according to Toshiba ESS
100kW "H2Rex™" delivered to the Toyota Motor Corporation's Honsha Plant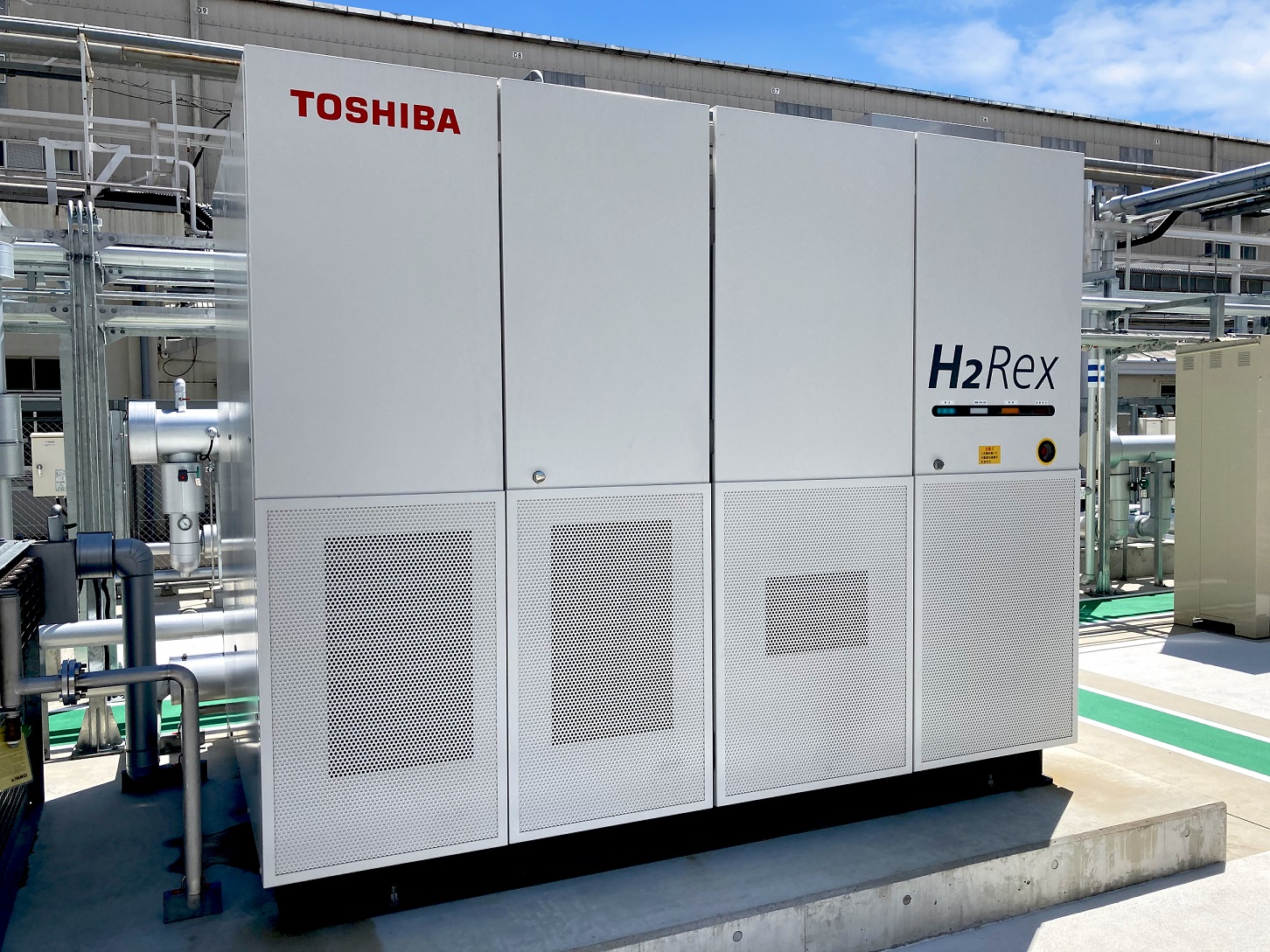 Information in the News Release, including product prices and specifications, content of services and contact information, is current on the date of the News Release , but is subject to change without prior notice.
News Release