Toshiba and Cenergy to Construct New Geothermal Power Plant in Nakao, Okuhida-Onsengo, Gifu Prefecture, Japan
NEWS RELEASE
Renewable Energy
Order received / delivery
May 13 2020
Toshiba Energy Systems & Solutions Corporation
Cenergy Co., Ltd
Toshiba Energy Systems & Solutions Corporation (hereinafter "Toshiba ESS") and Cenergy Co., Ltd (hereinafter "Cenergy"), a wholly owned subsidiary of Chubu Electric Power Co., Inc. (hereinafter "Chubu Electric"), announced that their co-funded company, Nakao Geothermal Power Generation Corporation (hereinafter, "Nakao Geothermal"), decided to construct a geothermal power plant in Nakao, Okuhida-Onsengo, Gifu Prefecture, Japan. This is the first project where Toshiba Group and Chubu Electric Group will decide on construction work in the geothermal power generation business.
The Nakao area is a region with an abundance of high temperature geothermal steam, which is ideal for geothermal power generation. Nakao Geothermal has assessed the project's commercial viability by conducting surveys of the hot spring sources there, well testing and environmental surveys of the surrounding area since the company was established. The company officially decided to construct a new geothermal power plant based on the results of the surveys and will plan to start construction from September 2020.
The new plant is the first geothermal power plant that uses a flash cycle in the Chubu area (central Japan). The power output has a maximum 1,998 kW, which can generate electricity for approximately 4,000 households. Nakao Geothermal will sell all of the electricity generated to Chubu Electric Power Grid. The steam turbine for the power plant will be driven by high pressure steam from underground and low pressure steam generated by flashing the hydrothermal water from the same source, and will generate electricity with a double flash cycle. Double flash cycles are about 20% more efficient compared to conventional single flash cycles. The new plant is one of the smallest geothermal power plants with a double flash cycle in the world. *
Hydrothermal water with steam used for the geothermal power plant will also be supplied to the Nakao Hot Springs Corporation. In this way, Nakao Geothermal will develop the system, which benefits both local hot spring businesses and geothermal power businesses, to promote harmonious mutual prosperity. The company will proceed with the construction of the new plant, aiming to become a "Beloved Power Plant" by earning the understanding and cooperation of the local community and those concerned.
Toshiba ESS has an extensive lineup from small to large geothermal power systems, and provides various generation systems and solutions such as hydro, solar and wind power. By using technology based on knowledge and experience cultivated over a long period in the energy field, Toshiba Group will contribute to supplying stable power and reducing the environmental impact in order to become a next-generation pioneer of the utilization of green energy resources.
Cenergy, as a member of Chubu Electric Group, is aggressively developing businesses which utilize environmentally friendly and renewable energy resources such as solar, geothermal, micro hydroelectric and biomass. Cenergy will realize the solution for tasks regarding customer environment management and will continue to work toward a "total energy service enterprise that is a step ahead of its time."
*: Source: Toshiba ESS (as of May 2020)

Image of the Double-Flash Geothermal Power Plant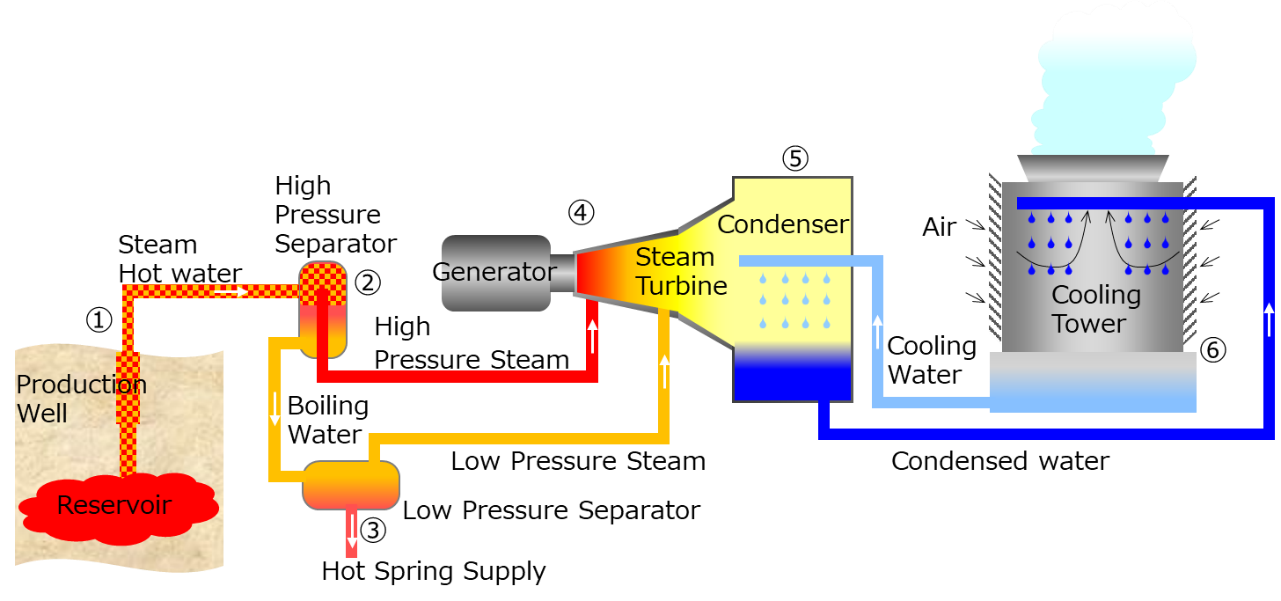 1. Drilling the production well and extracting geofluid (steam/hot water) from a geothermal reservoir.
2. Separating high pressure steam from the geofluid in a high pressure separator and supplying it to a steam turbine, feeding boiling water to a low pressure separator.
3. Reducing the pressure from the boiling water with a low pressure separator causes some of the water to evaporate and generate steam, which goes to a steam turbine as low pressure steam. Residual water is provided as a hot spring source to the Nakao onsen (as according to the plan).
4. The rotating steam turbine generates electricity by using the energy from high pressure and low pressure steam.
5. Expanded steam is condensed by injecting cool water from a cooling tower into the condenser.
6. Condensed water is chilled in the cooling tower and circulates as cooling water to condense steam.
Picture of the geothermal fluid production well area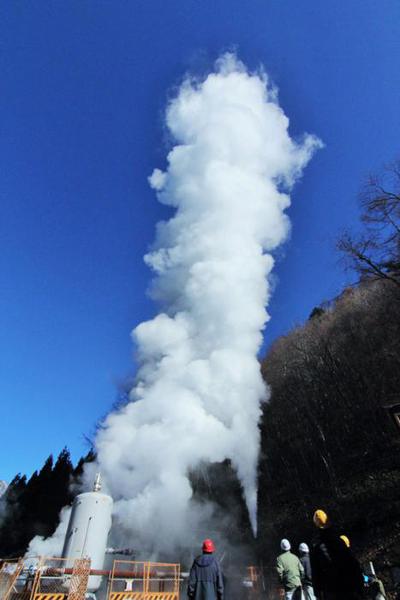 Overview of Nakao Geothermal Power Generation Corporation
Established: November 19, 2013
Capital: 494 million yen
Shareholdings: Toshiba Energy Systems and Corporation (55%), Cenergy (45%)
Location: Takayama City, Gifu Prefecture
Representative: Tetsuya Nakatani, President
Business activities: Power generation business using renewable energy
Power and steam/hot water supply business

Overview of the New Geothermal Power Plant
Name: Nakao Geothermal Power Plant (tentative)
Location: Nakao, Okuhida-Onsengo, Takayama City, Gifu Prefecture
Output: Maximum 1,998 kW
Power generation type: Double flash
Planned start date of operation: Second semester of FY 2021
Information in the news release, including product prices and specifications, content of services and contact information, is current on the date of the news release , but is subject to change without prior notice.
News Release