Toshiba's Autonomous Hydrogen Energy Supply Systems Now Providing Power to Beer Servers at Asahi Breweries Plant in Japan
To support efficient use of renewable energy
NEWS RELEASE
Hydrogen Energy
Order received / delivery
June 14 2019
Toshiba Energy Systems & Solutions Corporation
Ibaraki, Japan — Toshiba Energy Systems & Solutions Corporation (hereinafter, "Toshiba ESS") today announced that "H2One™," the company's autonomous hydrogen energy system, is now in operation and supplying energy to the factory tour facility at Asahi Breweries' Ibaraki plant in Ibaraki, Japan.
"H2One™," a completely integrated stand-alone system that delivers stable electricity that is CO2-free and environmentally friendly, contributes to a stable energy supply by using hydrogen made from renewable energy as fuel through the pure hydrogen fuel cell system, "H2 Rex™." The overall system is controlled by Toshiba ESS' groundbreaking hydrogen energy management system, H2EMS™.
Growing interest in bringing renewable power sources into the electricity grid for a low carbon society is also met by concerns for the quality and variability of the supply since renewables are subject to fluctuations in output. Now, Asahi Group Holdings, Ltd. has decided to use Toshiba's H2One™ with newly installed solar panels to verify the adaptability of renewable energy at their plant.
"I'm confident that our 'H2One™' will help Asahi Breweries use renewable energy more efficiently," said Hiroyuki Ota, General Manager of the Hydrogen Energy Business Division at Toshiba ESS. "We will continue to support expanding hydrogen energy for a low carbon society through our hydrogen-related technologies and solutions."
Toshiba ESS has already delivered H2One™ to stations, hotels and baseball stadiums, and the total number of delivery records has reached 11, including Asahi Breweries.
"H2One™" for Asahi Breweries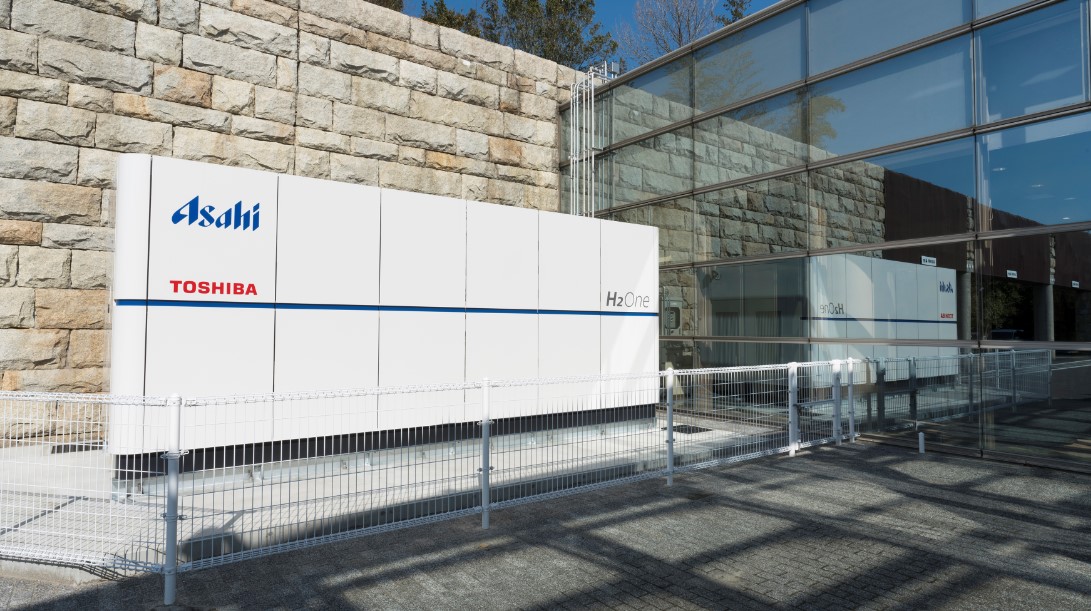 Information in the news release, including product prices and specifications, content of services and contact information, is current on the date of the news release , but is subject to change without prior notice.
News Release