Partnership Agreement with Startup in China to Develop Fuel Cell Systems for Distributed Energy
- Makes an advance into the China market in hydrogen business -
NEWS RELEASE
Hydrogen Energy
October 31 2019
Toshiba Energy Systems & Solutions Corporation
Toshiba Energy Systems & Solutions Corporation (hereinafter, "Toshiba ESS") has reached a partnership agreement for the development of fuel cell systems in China with More Hydrogen Energy Technology Co., Ltd. (hereinafter, "MOH"), a startup in Guangzhou, China. This is the first partnership agreement that Toshiba ESS has reached for hydrogen business in China.
MOH is a startup that develops fuel cell systems using methanol reforming technology. Currently the company is striving to establish higher-quality fuel cell systems with longer operating life and will expand in the China market. With this agreement, Toshiba ESS will support MOH's new fuel cell system development activities.
China's 13th Five-Year Plan* in 2016 set the long-term goal to increase the country's share of non-fossil fuel energy among total primary energy consumption to 20% and it will accelerate China's shift toward decarbonization. On the other hand, China's telecommunication equipment and services markets are expected to expand rapidly between now and the year 2025. With this background, new demand for fuel cell systems as clean distributed energy will be expected for new communications base stations in China.
Yoshihisa Sanagi, General Manager of the Hydrogen Energy Business Division at Toshiba ESS said, "I am honored to be able to support hydrogen society in China and thanks to this partnership with MOH. I will continue to expand the adoption of clean hydrogen energy in Japan and globally with our hydrogen energy technologies, products and solutions."
Toshiba ESS has already delivered over 100 units of pure hydrogen fuel cell system H2Rex™ for fruit and vegetable markets, hotels, convenience stores in Japan and will contribute to the realization of a hydrogen-based energy society.
* China's 13th Five Year Plan : http://www.ndrc.gov.cn/zcfb/zcfbghwb/201612/W020161216661816762488.pdf (P13) *Url as at the date of posting

Overview of More Hydrogen Energy Technology Co., Ltd.
Company name: More Hydrogen Energy Technology Co., Ltd.
Head office: Guangzhou, Guangdong Province, China
Established: 2018
Business description: Manufacturing and sales of fuel cell systems
Representative: Ge Wang (Chairman)

At the signing ceremony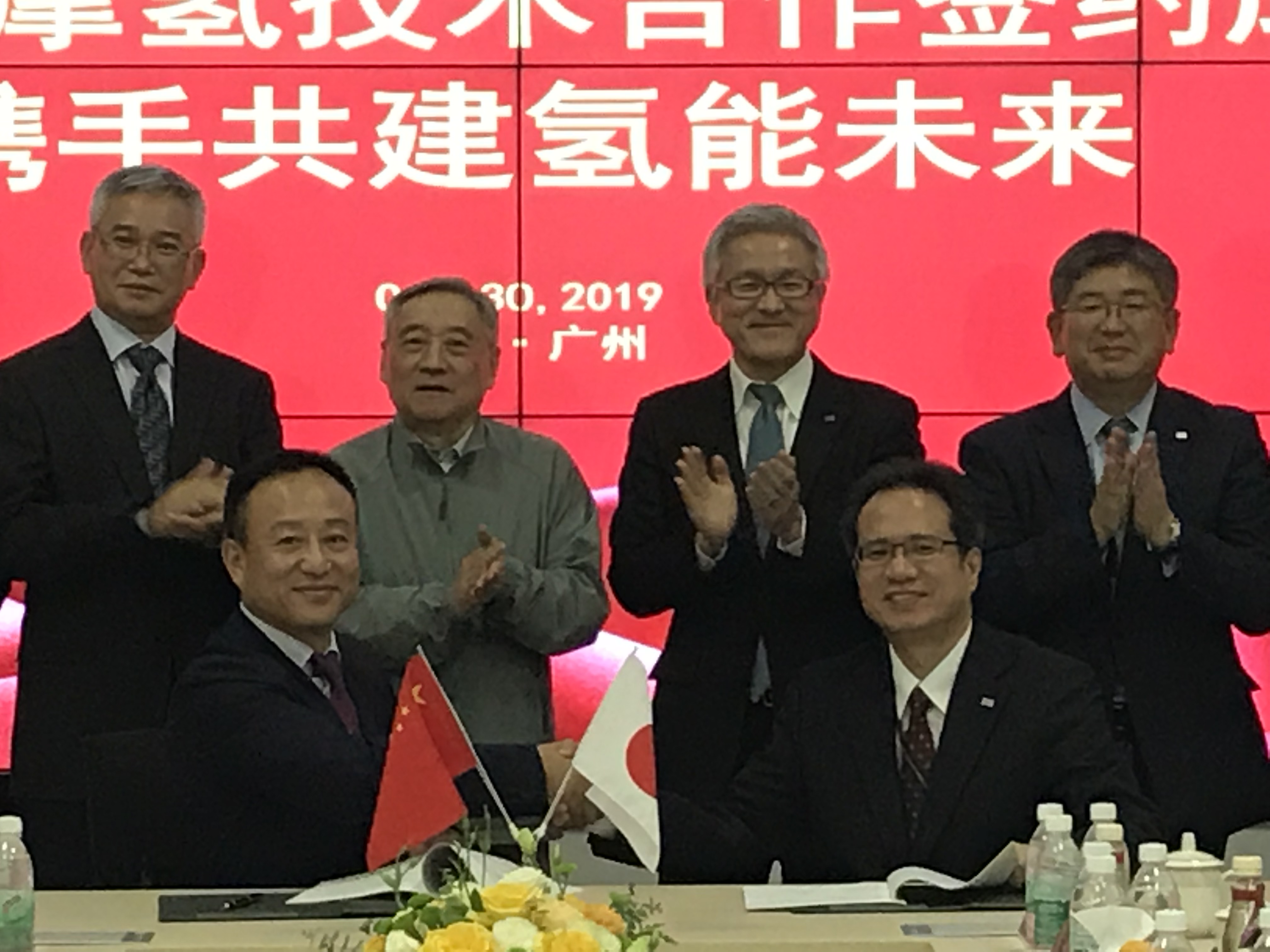 Information in the news release, including product prices and specifications, content of services and contact information, is current on the date of the news release , but is subject to change without prior notice.
News Release