Toshiba and RentCo sign a Cooperation Agreement to Expand Geothermal Power Generation Business
NEWS RELEASE
Renewable Energy
Strategies / Measures
May 7 2018
Toshiba Energy Systems & Solutions Corporation
・To expand sales channels and orders of wellhead geothermal power generation system

Johannesburg, South Africa —Toshiba Energy Systems & Solutions Corporation (hereinafter referred to as Toshiba), a global leader of geothermal power generation systems, today concluded a General Cooperation Agreement (Agreement) with RentCo East Africa Limited (RentCo), a major financial leasing company in Kenya and the wider Sub Saharan Africa.

RentCo is a Private Limited Company that provides structured lease financing solutions either directly to its customers or through vendor finance partnership programs for various business assets across all sectors. Toshiba as a global provider of geothermal turbines with vast experience in installing and commissioning different sizes of turbines around the world, offers a geothermal product line-up which includes "Geoportable™," a wellhead geothermal power generation system that generates 1 to 10 megawatts output capacities. Under the terms of the Agreement, Toshiba will collaborate in the development to expand RentCo's new energy leasing business to supply "Geoportable™".
As the country lies to the west of the Great Rift Valley, the African continent is exploring its untapped geothermal resources to increase the country's power capacity. Addressing this potential, Toshiba's "Geoportable™" is a compact power generation system that can be installed in a small well within a short period and has the ability to utilize wells under development effectively.
Toyoaki Fujita, Business Development Executive of Toshiba said, "I'm confident that this collaboration will support Africa's plan to expand its renewable energy to drive the country's economic development."
Toshiba concluded MOUs with geothermal power development companies in Ethiopia, Tanzania, Djibouti, Uganda and Malawi in the geothermal power generation business. Toshiba will continue to contribute to stable electricity supply and the realization of a low-carbon society.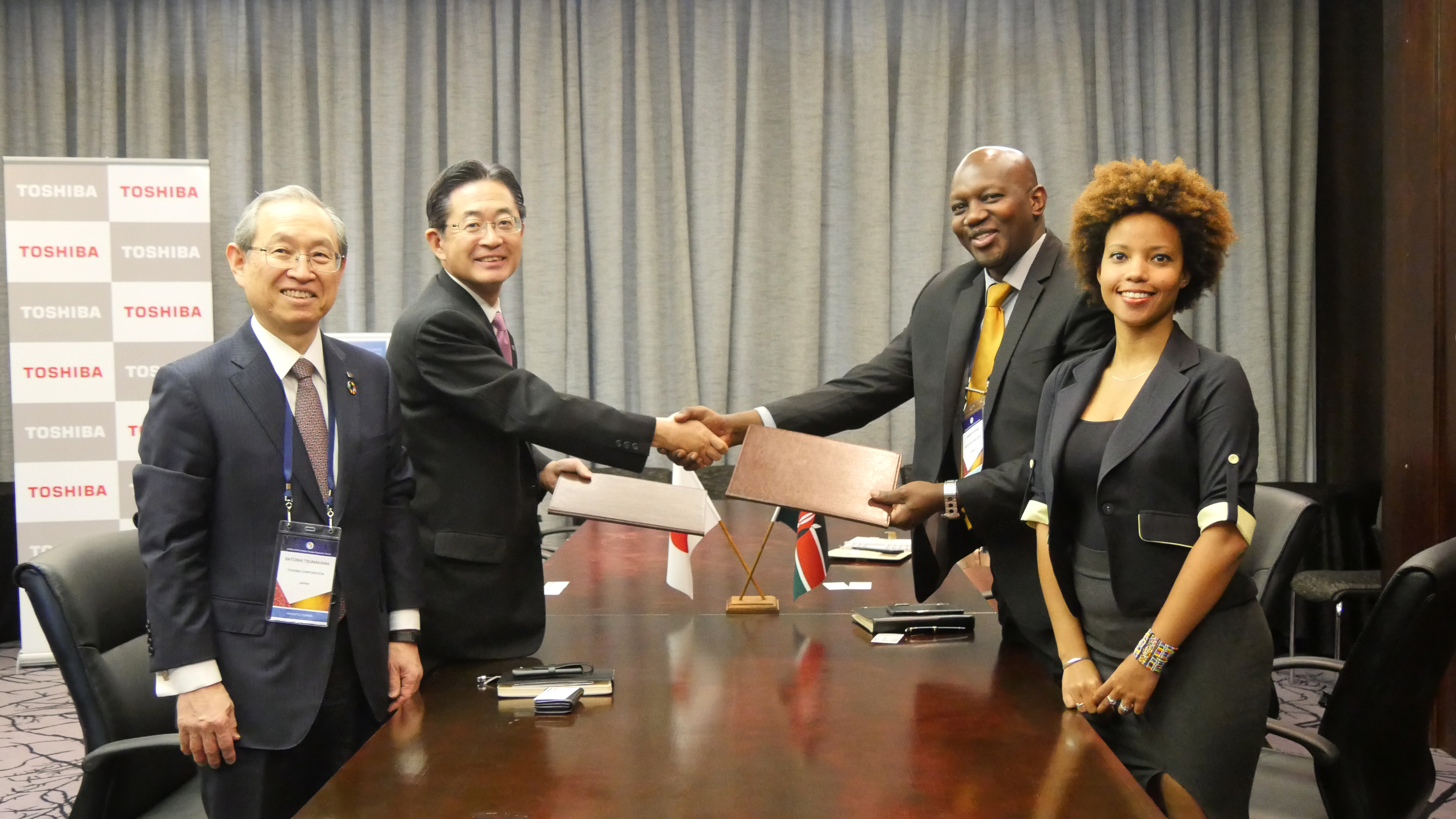 For furthermore information about Our Renewable Energy business, please check here.
Information in the news release, including product prices and specifications, content of services and contact information, is current on the date of the news release , but is subject to change without prior notice.
News Release