Malaysian Ultra-Super Critical Coal-Fired Power Plant Project Achieved Unit 1 Initial Steam Admission and Synchronization
INFORMATION
Thermal Power
Order received / delivery
December 19 2018
Toshiba Energy Systems & Solutions Corporation
・The Unit 1 Initial Steam Admission and Synchronization ceremony held to celebrate the first connection to the grid
・The Unit 1 of the plant is scheduled to start commercial operation in June 2019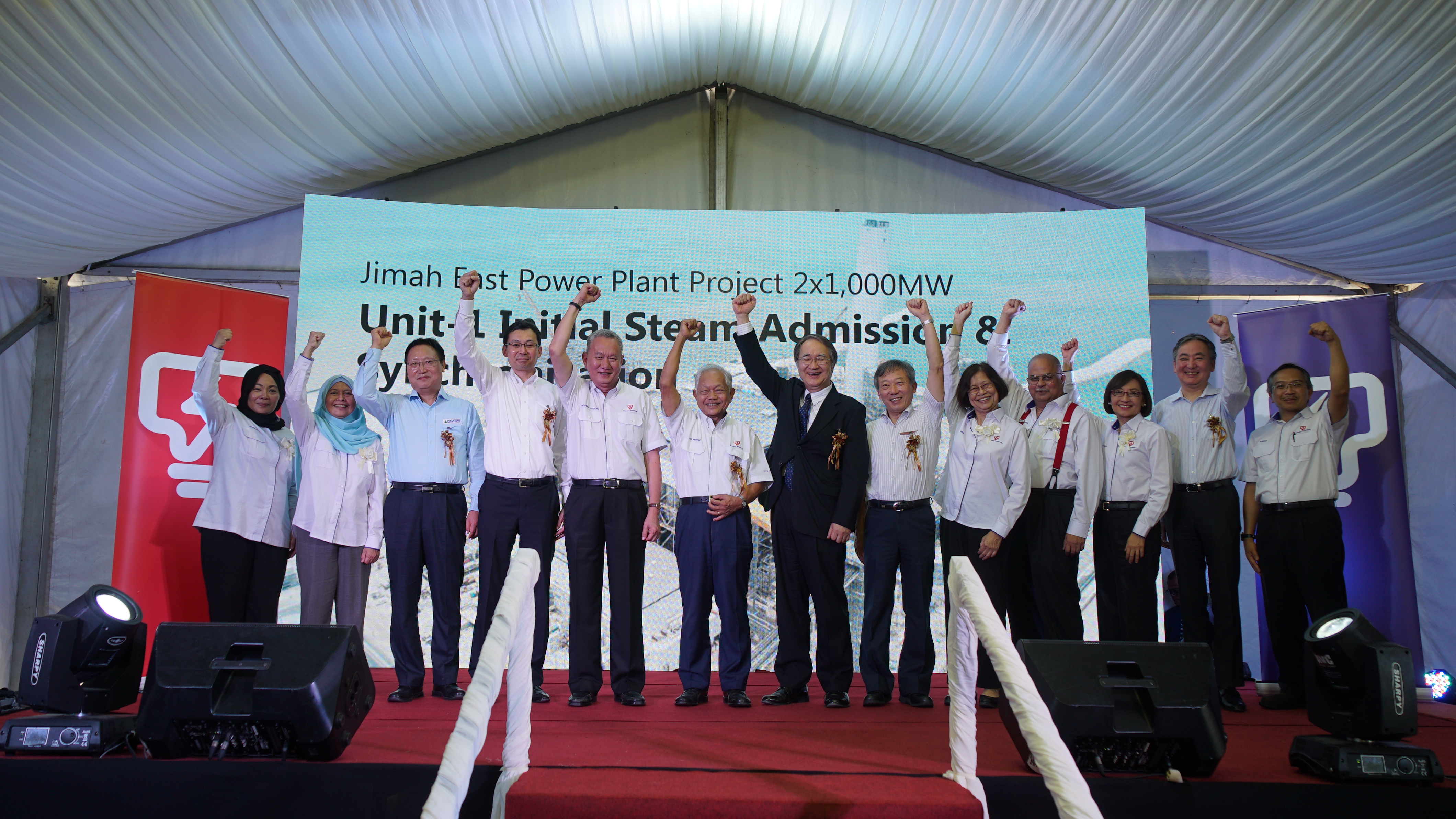 Kawasaki, Japan — Toshiba Energy Systems & Solutions Corporation (hereinafter referred to as Toshiba ESS) today announced that Unit 1 of Jimah East Power Coal-Fired Power Plant in Malaysia has successfully achieved initial steam admission and synchronization, that is, the generator has been synchronized to the grid and commenced supplying the electricity to the Malaysian grid system for the first time. This is a major milestone toward the unit completion. The ceremony held at the plant site on December 17th drew about 120 participants, including Tan Sri Leo Moggie, Chairman of Tenaga Nasional Berhad, the largest electricity utility in Malaysia.
The project is to construct two units of 1,000MW ultra-super critical coal-fired power plant and a consortium of Toshiba Corporation, IHI Corporation, Hyundai Engineering Co., Ltd., and Hyundai Engineering & Construction Co., Ltd. was awarded an engineering, procurement, and construction contract for this project by Jimah East Power back in 2014. For this project, Toshiba Group is in charge of marine civil work, supply, installation and conducting proving test of major equipment, including the steam turbines and generators, control units, transformers and switchgears of Units 1 and 2.
Unit 1 is scheduled to start commercial operation in June 2019, and Unit 2 in December 2019.
"We are very pleased to be able to celebrate the successful Unit 1 synchronization together with all the related parties today," said Mr. Takao Konishi, Director and Vice President of the Thermal & Hydro Power Systems & Services Division in Toshiba ESS. "We are proud of having taken the first step to provide Malaysian people with powerful solutions to respond to their increasing power demand. Toshiba Group is committed to contributing to the realization of a low carbon economy and a stable power supply in Malaysia by providing a world's leading power generation technologies."
Toshiba Group has extensive experience with large-scale power plants in Malaysia as the EPC contractor, such as the Jimah Coal-Fired Power Plant (700 MW x 2 units) adjoining the power plant now under construction, the Tanjung Bin Coal-Fired Power Plant (700 MW x 3 units) and the TNB Port Dickson Phase 2 Combined-Cycle Power Generation Project (710 MW).
When the construction of the Jimah East Power Coal-Fired Power Plant is completed, Toshiba Group's total amount of delivery records in Malaysia based on installed capacity, including hydropower generation systems, will be 6.7 GW, which will be about 20%* of the total installation capacity in the country.
* Note: Source: Toshiba's calculation based on Malaysia Energy Statistics Handbook 2017 and other information.
Project Outline
Project: Jimah East Power 2x1000MW Coal-Fired Power Plant
Project Owner:Jimah East Power Sdn Bhd
(Tenaga Nasional Berhad, MITSUI & CO., LTD., The Chugoku Electric Power Company, Incorporated)
Location:Mukim Jimah in Negeri Sembilan, Malaysia

Information in the news release, including product prices and specifications, content of services and contact information, is current on the date of the news release , but is subject to change without prior notice.
News Release