New Hokkaido-Honshu VSC HVDC Commissioned, Interconnecting Hokkaido and the Main Island of Honshu
First application of a voltage-sourced-converter-to-HVDC system in Japan
NEWS RELEASE
Transmission & Distribution
Order received / delivery
March 28 2019
Toshiba Energy Systems & Solutions Corporation
Hokkaido, Japan — Toshiba Energy Systems & Solutions Corporation (hereinafter Toshiba ESS) today announced that the New Hokkaido-Honshu HVDC link, with 300 MW ± 100 Mvar of rated power, 250 kVdc, and 1200 Adc of rated voltage and current, started its commercial operation, for which the converter system is designed, manufactured and installed by Toshiba ESS. This link ensures a secure power supply to Hokkaido by transmitting electric power, applying an HVDC system that converts AC to DC, transmitting by DC voltage and current, and converting DC to AC. This is the first VSC*1 HVDC system in Japan.
Hokkaido and Honshu had been interconnected with a 600 MW Bi-pole (300 MW per pole) LCC*2 HVDC system, but only 300 MW operation was available when one pole was under maintenance activities. The new 300 MW HVDC interconnection link was installed to ensure 600 MW of interconnection capacity at all times.
This HVDC link consists of the Hokuto converter station in Hokkaido, the Imabetsu converter station in Aomori and 122 kilometer-long hybrid DC transmission line. The scope of supply is the entire HVDC converter system in both converter stations including VSC converters and converter transformers, AC and DC GIS, and control and protection systems. The contract was awarded in 2014 and the installation work started in August 2016.
The VSC HVDC system ensures more flexible grid operations than the LCC HVDC system due to its capability for black-start operations to assist grid restoration by transmitting power from Honshu to Hokkaido during a blackout situation in Hokkaido. Furthermore, it can also control reactive power output independently from active power transmission. The VSC HVDC system contributes to lowering the initial investment amount as it does not need harmonic filters or reactive power plants which LCC HVDC systems normally require. The power switching device, IEGT*3, manufactured by Toshiba Electronic Devices & Storage Corporation, is applied for realizing high reliability and availability of the system.
"As a global leading supplier of integrated energy solutions, I'm confident that we will contribute to creating a stable power supply in Hokkaido," Hideki Saito, Vice President of the Transmission & Distribution Systems Division at Toshiba ESS said. "Toshiba will continue to provide high quality products and services cultivated over years of expertise in developing and manufacturing large scale transmission systems."
Toshiba is a pioneer of HVDC technologies, starting with R&D activities in the 1950s, and have many supply references in Japan, such as the Hokkaido-Honshu HVDC link (connecting Hakodate and Kamikita converter stations) and the Kii-Channel HVDC link (connecting Anan and Kihoku converter stations). Toshiba is also the first Japanese HVDC system supplier that has been awarded an HVDC construction contract abroad. A 1200 MW, +/- 500 kVdc Bi-pole Italy-Montenegro HVDC system is under construction for TERNA, the Transmission System Operator (TSO) in Italy.
*1 VSC: Voltage-sourced converter
*2 LCC: Line-commutated converter
*3 IEGT: Injection Enhanced Gate Transistor

VSC converter for the New Hokkaido-Honshu HVDC starts commercial operation today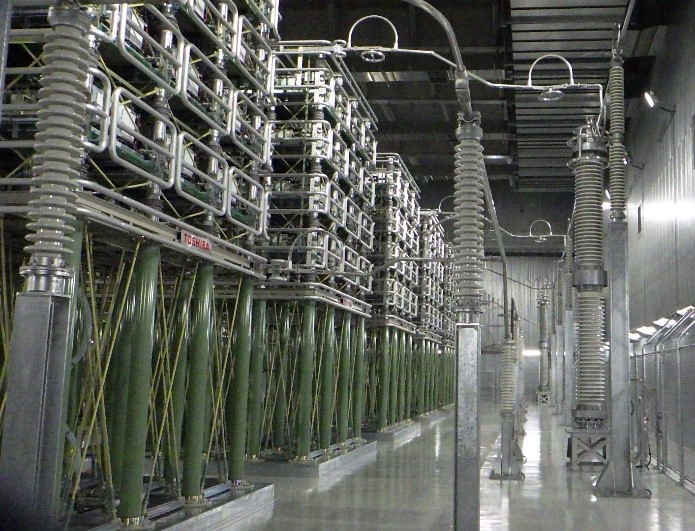 A bird's eye view of the Hokuto converter station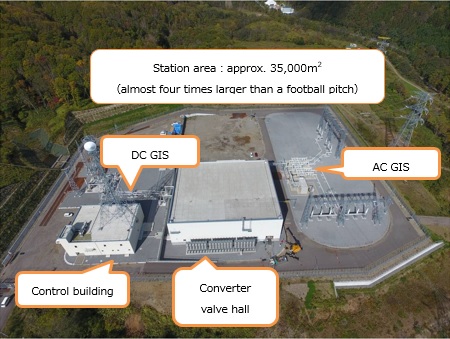 Information in the news release, including product prices and specifications, content of services and contact information, is current on the date of the news release , but is subject to change without prior notice.
News Release