Toshiba Delivers CO2 Capture Test Plant for CCU to Asahi Quality & Innovations
- Advanced scrubbing technology to realize a higher level of CO2 purity for foods and beverages -
NEWS RELEASE
Thermal Power
Order received / delivery
December 23 2019
Toshiba Energy Systems & Solutions Corporation
Kawasaki, Japan—Toshiba Energy Systems & Solutions Corporation (hereinafter "Toshiba ESS") today announced that the company has delivered a CO2 capture test plant for carbon capture and utilization (CCU) to Asahi Quality & Innovations, Ltd. (hereinafter "AQI"), the independent research subsidiary of Asahi Group Holdings, Ltd., one of Japan's leading beverage companies, headquartered in Tokyo.
The plant has adopted an advanced scrubbing technology developed by Toshiba ESS that captures a higher purity of CO2 from boiler flue gas at the Asahi Group Research & Development Center.
CO2capture plants are a system to capture CO2 from flue gas at facilities such as thermal power stations and waste incineration plants. Toshiba ESS uses chemical absorption-based post combustion capture technology that is versatile in its application to various flue gas streams, and offers a wide CO2 capture capacity. The chemical solvent used in the process absorbs CO2 under low temperatures and releases it under high temperatures for carbon-capturing.
Asahi Group Holdings developed the "Asahi Group Environmental Vision 2050" and is attempting to achieve zero greenhouse gas emissions (carbon neutrality) in its business operation by 2050. AQI will verify its test plant goal to introduce reliable and economical CCU plants for food and beverage businesses in the group companies.
"We are very grateful to have this opportunity to support CCU in AQI. Carbon capture utilization and storage (CCUS) is expected to play a vital role in the fight against global warming, and Toshiba ESS will continue to be engaged in the research, development and deployment of CO2 capture technology. By promoting CO2 capture technology around the world, we will create new values that support customer needs while contributing to the environment," said Takao Konishi, Director and Senior Vice President of the Power Systems Div. at Toshiba ESS. "We will continue to make proposals to the Asahi Group, including scale-up models, reflecting the knowledge we will gain through the test plant," added Konishi.
Outside of Japan, there are 19 large-scale CCS/CCU facilities in operation(*), and many facilities are in construction, or in advance or early development stages. In addition, there are a number of small-scale facilities already in operation.
In Japan, there are several CCS demonstration projects in operation or construction. For CCU, the momentum of technological innovation is expected to increase, promoted by a roadmap for carbon recycling technologies formulated by the Ministry of Economy, Trade and Industry of Japan in June 2019 in order to accelerate technological innovations to separate, capture and reuse CO2 as a resource, and reuse it in the form of diverse carbon compounds.
Toshiba ESS has a delivery record of four CO2 capture plants in Japan, including test plants.
(*): Large-scale integrated CCS facilities comprising the capture, transport and storage of CO2 at a scale of at least 800,000 tons annually for coal-based power plants, and at least 400,000 tons annually for other emissions-intensive industrial facilities (including natural gas-based power generation).
Reference from the Global CCS Institute, Facilities Database, as of the end of November 2019.
Photo of a CO2 capture test plant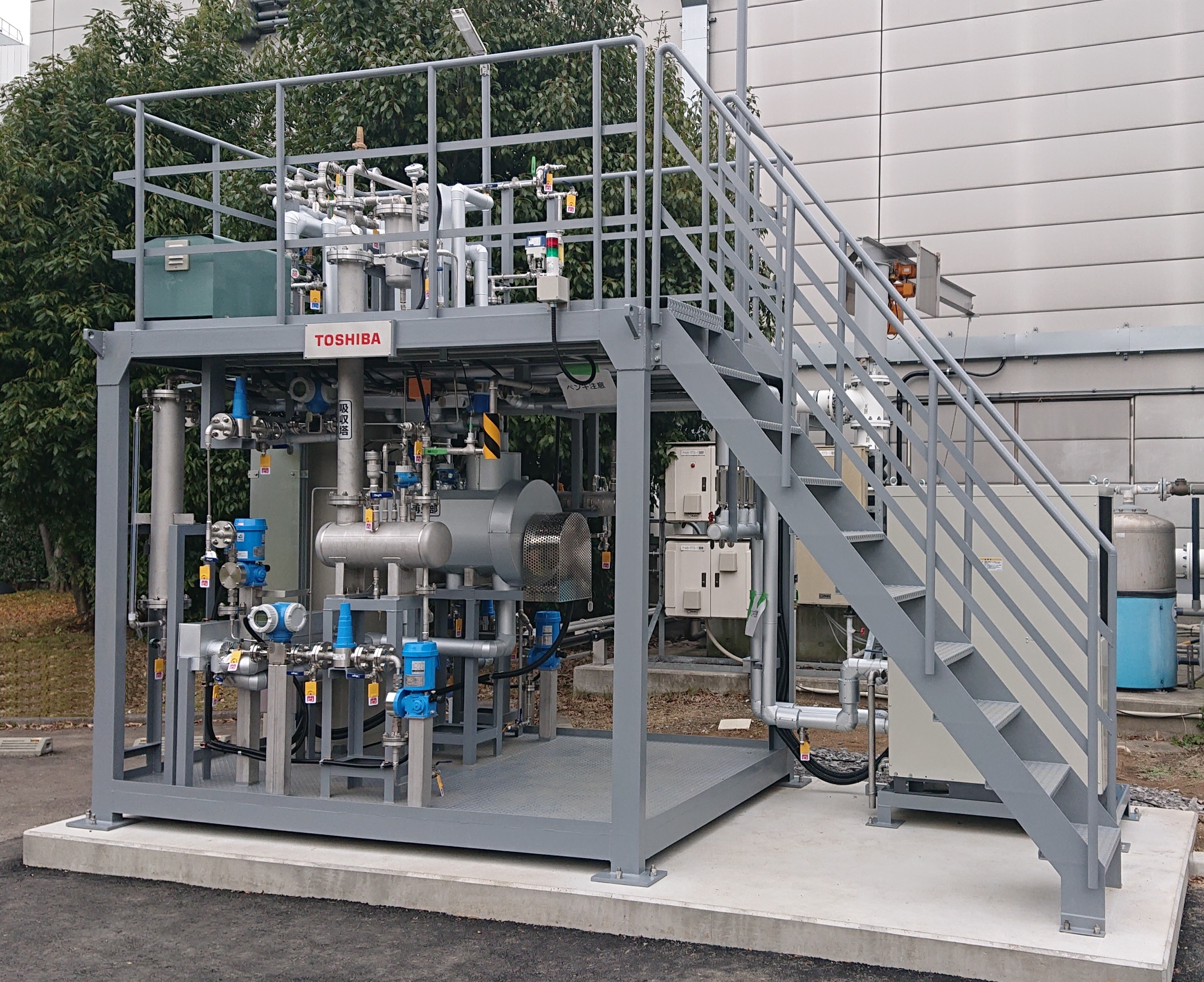 Information in the news release, including product prices and specifications, content of services and contact information, is current on the date of the news release , but is subject to change without prior notice.
News Release