Efforts for CO2 emission reduction -CO2 capture technology
The technology applies flexibly to various flue gas streams, including but not limited to thermal power plants - high purity of captured CO2 answers to various needs of the market and industry.
Post Combustion CO2 Capture Technology
CCS (Carbon Capture and Storage) is a means to separate, capture, and sequester CO2 emissions from its source, such as thermal power plants, which would otherwise be released to the atmosphere.
Toshiba ESS employs post combustion capture technology based on chemical absorption process. Using chemical absorbents which has a characteristic to selectively capture CO2 within the flue gas at a certain temperature condition in the absorber tower, and to release it at a different temperature condition in the stripper tower, CO2 is continuously separated from the flue gas of the CO2 emitting plant.
Post combustion capture technology applies not only to coal fired power plants, but also to other CO2 emitting power plants, such as oil fired, gas fired, gas combined cycle, biomass fired plants. Technology applies not only to new build plants, but also as retrofit to existing plants. The portion of CO2 emission to be captured from the plant can be customized, giving this technology the flexibility to answer to various needs of the market and industry.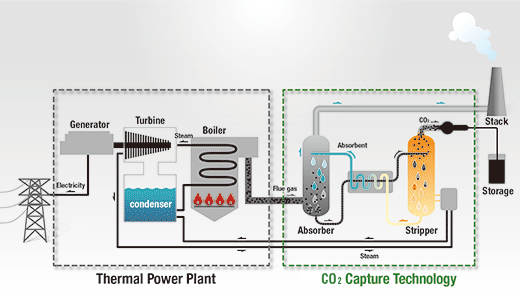 Pilot plant - accelerating development and deployment of the technology to market
In September 2009, Toshiba constructed a CO2 Capture Pilot Plant at Sigma Power Ariake Mikawa Power Plant, in Omuta City, Fukuoka, Japan. The facility captures 10 tons of CO2 per day from live flue gas of this thermal power plant, verifying its performance, operability, maintainability of the technology employed. The learning here is applied to planning of various projects utilizing this technology.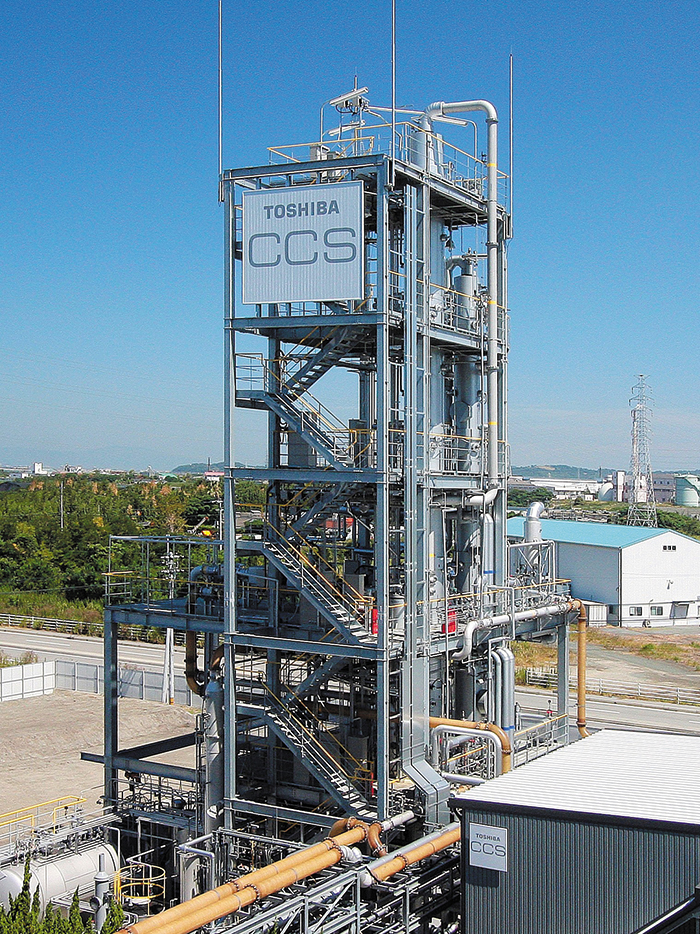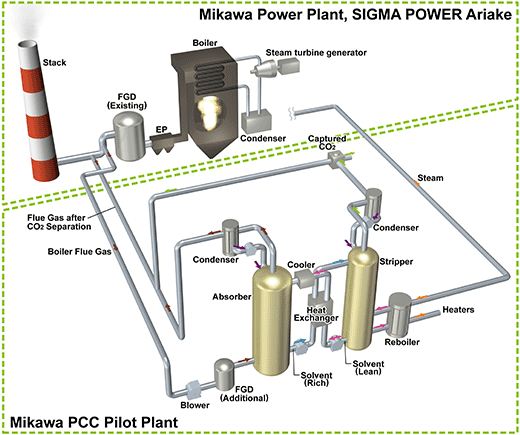 From planning & design to actual construction
Toshiba ESS is actively involved in planning, designs, and evaluation of CO2 capture plants. Toshiba ESS continues to optimize integration of high performance CO2 capture technology to applicable plants, including but not limited to power plants, in order to answer to the various needs of customers world-wide.
In 2016, Toshiba completed the world's first* commercial-use CO2 capture and utilization (CCU) system constructed in a municipal waste incineration plant, in Saga Japan. The facility commenced its operation from August 2016, capturing 10-tons of CO2 a day from the flue gas of the incinerator. Captured CO2 are sold by Saga City to businesses for use in crop cultivation and algae culture.
In October 2020, the operation of a large-scale carbon capture facility*1 started at Mikawa Power Plant operated by Toshiba ESS's subsidiary, SIGMA POWER Ariake Corporation, in Omuta, Fukuoka prefecture. The Mikawa Power Plant is fueled with palm kernel shells (PKS) as the primary fuel source for biomass energy generation. Therefore, the new facility to commence operation is the world's first*2 Bio energy power plant to be applied with a large-scale Carbon Capture and Storage (BECCS*3) capability.
*1: As part of the "Demonstration of Sustainable CCS Technology Project" sponsored by Japan's Ministry of the Environment (MOE)
*2: As of October 2020, according to Toshiba ESS survey
*3: Bio-energy with Carbon Capture Storage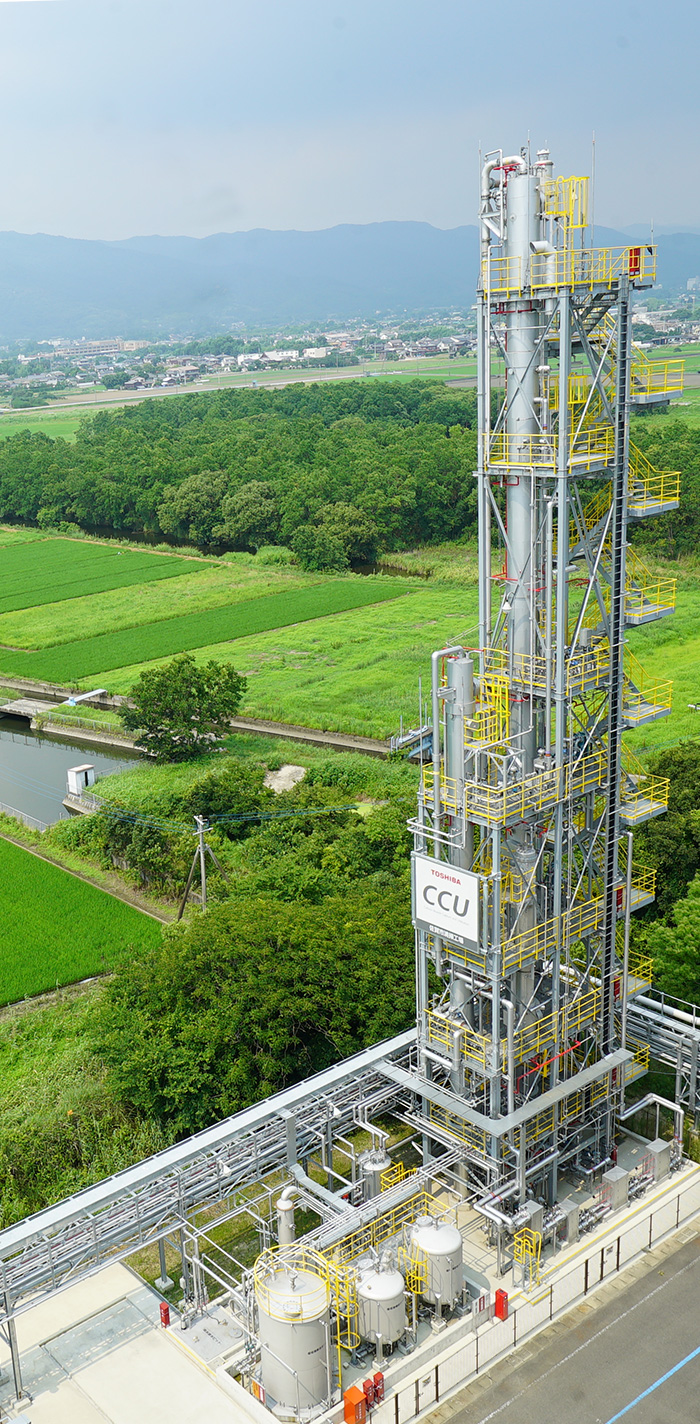 Introduction video of Carbon dioxide Capture and Utilization
Introduction video of Large-Scale Carbon Capture Facility For a Sustainable Future