Toshiba Completes Delivery of Generator for Malaysian Ultra-Super Critical Coal-fired Power Plant Project
INFORMATION
Thermal Power
November 30 2017
Toshiba Energy Systems & Solutions Corporation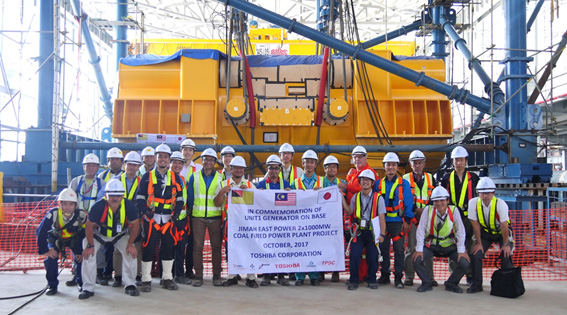 KAWASAKI, Japan – Toshiba Energy Systems & Solutions Corporation today announced that Toshiba Group has successfully completed delivery of the first generator for the Jimah East Coal Fired Power Plant Unit 1 in Malaysia, one of the world's largest coal-fired power plants now under construction. Chief Minister Y.A.B Dato' Seri Utama Haji Mohamad Bin Haji Hasan of Negeri Sembilan State visited the power plant after the arrival of the unit to review the progress to date.
 A consortium of Toshiba Corporation, IHI Corporation, Hyundai Engineering Co., Ltd. and Hyundai Engineering & Construction Co., Ltd., was awarded an engineering, procurement and construction contract for this project by Jimah East Power in September 2014. Unit 1 is scheduled to will start operation in June 2019, and installation of the generator is a critical milestone toward its completion.
 Commenting on the site Mr. Mohamad Bin Hasan said, "Since the Jimah Project began moving forward, I have always looked forward to its success. And I expect that success to contribute to the state's development."
 With the generator in place, Toshiba Group will complete the supply and installation of other major equipment, including the steam turbine, control unit, transformers and switchgears, toward conducting proving tests. Toshiba, IHI and Hyundai will also continue to work closely together to complete Unit 2, scheduled to come on line in December 2019.
 Toshiba Group has extensive experience of large scale power plants in Malaysia, including joint construction with IHI of two large scale coal-fired power plants: the Jimah coal-fired power plant (700MW x 2 units) adjoining the power plant now under construction; and Tanjung Bin coal-fired power plant (700MW x 3 units). Toshiba also completed the TNB Port Dickson Phase 2, combined-cycle power generation project (750MW x 1 unit), as the EPC contractor.
 Toshiba Group is committed to realize a low carbon society and stable global power supply by providing the world's most efficient power generation systems.
Pictures from the event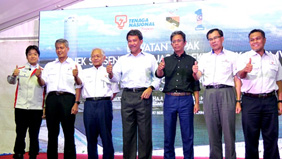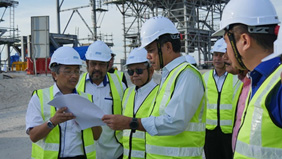 Project Outline
Project
Jimah East Power 2x1000MW Coal Fired Power Plant
Project Owner
Jimah East Power Sdn Bhd
(Tenaga Nasional Berhad, MITSUI & CO., LTD. , The Chugoku Electric Power Company, Incorporated)
Location
Mukim Jimah in Negeri Sembilan, Malaysia
Scope
Supply and installation of two units of 1,000MW Ultra-super critical steam turbine, generators and related equipment
Provision of marine civil work
Information in the news release, including product prices and specifications, content of services and contact information, is current on the date of the news release , but is subject to change without prior notice.
News Release