Toshiba Develops an Inspection Robot for Turbine Generators
Toshiba ESS's unique drive system enables robot to perform inspections at the same level as conventional detailed inspections by certified inspectors.
NEWS RELEASE
Thermal Power
R & D / Technology
July 9 2018
Toshiba Energy Systems & Solutions Corporation
Kawasaki, Japan -Toshiba Energy Systems & Solutions Corporation (Toshiba ESS) announced that Toshiba ESS has developed an inspection robot that can perform inspections on turbine generators in a shorter period of time. The robot can inspect generators with segregating baffles*1 which have been obstacles to the robotic inspection of generator. It can perform detailed inspections of rotor and stator without rotor removal in around 12 days*2 (including the time to disassemble and re-assemble the generator), which is almost half the time taken by conventional detailed inspections with rotor removal.
Toshiba ESS will perform final verification test on the actual generators, with the aim of launching robotic inspection services in April 2019. Toshiba ESS will enhance inspection service for existing power plants using this robot in both Japan and global locations including North America and Southeast Asia to maximize the benefit of customers.
Note 1: Barrier built into the stator for internal ventilation rectification
Note 2: Since different types of generators have different numbers of inspection points, the number of days needed for the inspections may vary.
Overview of the Development
In conventional detailed inspections of generators, the rotor had to be removed from the stator once every four years, and then inspected by Toshiba certified inspectors. This process took about one month. Reducing inspection times and extending the inspection cycle are challenges faced when trying to increase the availability of generators.
Robotic inspection technology for generators has been advancing in recent years, to reduce the inspection time However, when dealing with large thermal power generators with baffles mounted to the stator, the baffles had been obstructing robotic inspections. Additionally, inspection robots could not perform non-destructive inspections of rotor which require a liquid contact medium.
Toshiba ESS has developed an inspection robot that moves on the rotor while bracing against the stator side, which makes it possible to perform robotic inspections on generators with baffles. In addition, the development of an ultrasonic inspection technology that does not use liquid contact medium enables non-destructive inspection by robot without rotor removal. This means that the same detailed inspections done by inspectors can now be performed by robot for Toshiba ESS-made thermal and nuclear power generators.

Features of the Robot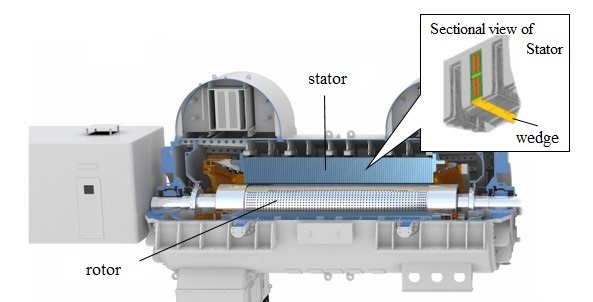 1. Using three arms to brace the stator while moving on the rotor (enabling inspections generators with baffles)
| | |
| --- | --- |
| (1) | The robot moves on the rotor while the robot uses its three arms to brace against the stator side. This unique driven system that robot folds each of the three arms one after the other to overpass the baffles enable robot to perform detailed inspections of generators with baffles. |
| (2) | The maximum size of the robot is 35 mm thick, 480 mm long, and 380 mm wide. It can be used for inspections of medium to large Toshiba-made thermal and nuclear generators 200 MVA-class and above. |
| (3) | Since the robot moves along the surface of the rotor, it can perform direct inspections using a high-definition camera from the optimal positions at the rotor coil cooling ventilation holes, producing higher-precision inspections compared to other type of inspection robots that inspect while moving on the stator. |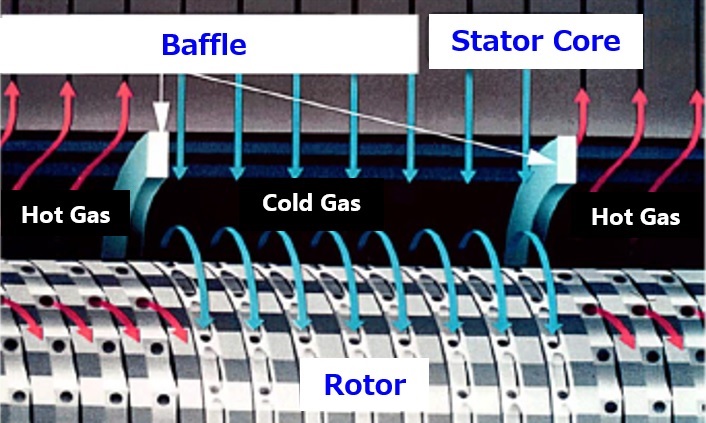 2. Equipped with an ultrasonic inspection mechanism, possible to perform non-destructive inspections of the rotor
| | |
| --- | --- |
| (1) | Toshiba ESS developed a new ultrasonic inspection mechanism that does not use liquid contact medium, and equipped the robot with it. This makes it possible to detect cracking at rotor teeth and rotor wedge that supports the rotor coil, which is hard to find only with visual inspection by camera, without rotor removal. |
| (2) | Toshiba ESS developed a new "multi-channel ultrasonic probe" which does not require scanning (ultrasonic probes to be moved forward, backward, and side to side). This technology makes it possible to perform nspections that maintain the same quality as when the rotor is removed. |
3. Realizing a stator wedge tightness check with a robot by developing a hammer mechanism and acoustic diagnostic algorithm
In order to make a robot able to perform the stator slot wedge tightness check by hammer tapping method usually done by inspection specialists, Toshiba ESS developed a hammer mechanism that delivers enough tapping force, and a high-precision acoustic diagnostic algorithm. This enables wedge tightness level checks with the same precision as certified inspector performing the diagnostic by listening to the tapping sound.
4. Automated travel motion control, inspection, and diagnostic
| | |
| --- | --- |
| (1) | The robot moves forward automatically controlled by an algorithm that detects the slot on the stator side (slot on core), therefore robot can crawl along the slot in any circumferential position on the rotor. This allows for high-precision inspections without needing an operator to control. |
| (2) | Based on the design data of generators, Toshiba ESS developed an algorithm to perform automatic diagnostics which automatically moves the robot toward the inspection points and performs inspections on the cooling ventilation holes in the rotor, ultrasonic rotor inspections, tapping inspections of the stator wedge tightness, and electromagnetic core imperfection detection (EL-CID) inspections on the stator. It allows to forecast the time needed for the robotic inspection by inputting the design data in advance, as well as to check the diagnostic results concurrently with the inspection. |
Overview of Robot
Outer measurements: Thickness 35 mm, length 480 mm, width 380 mm
Weight: 4.7 kg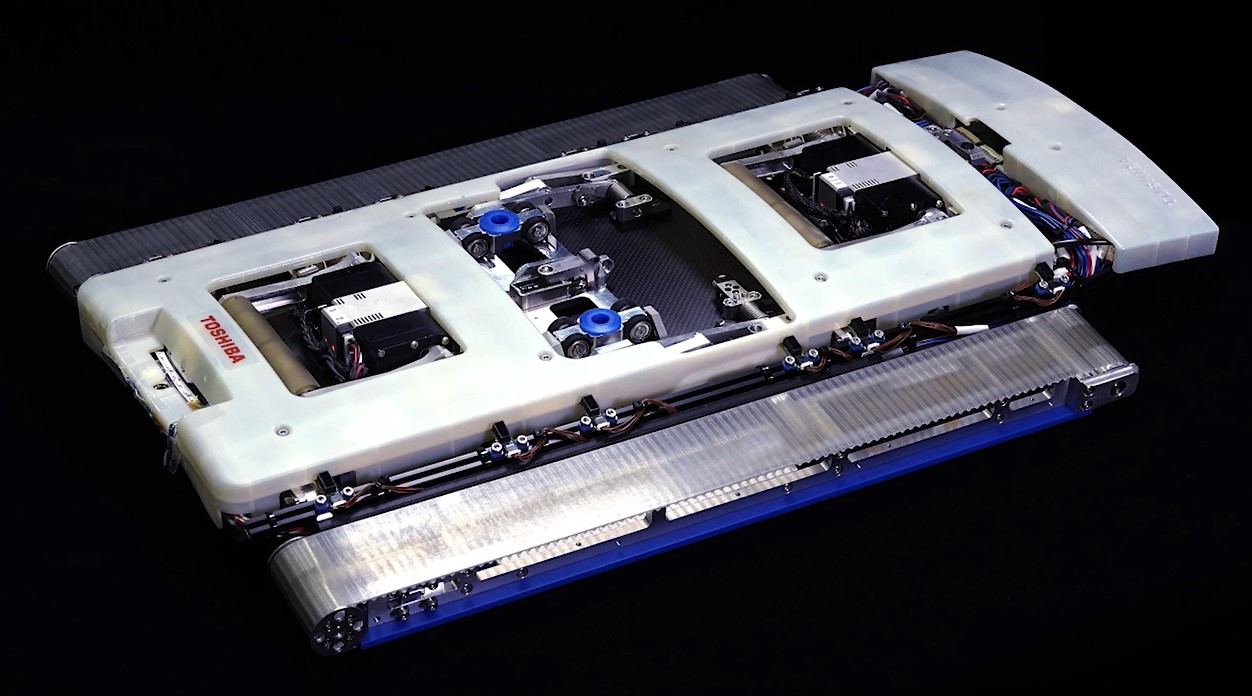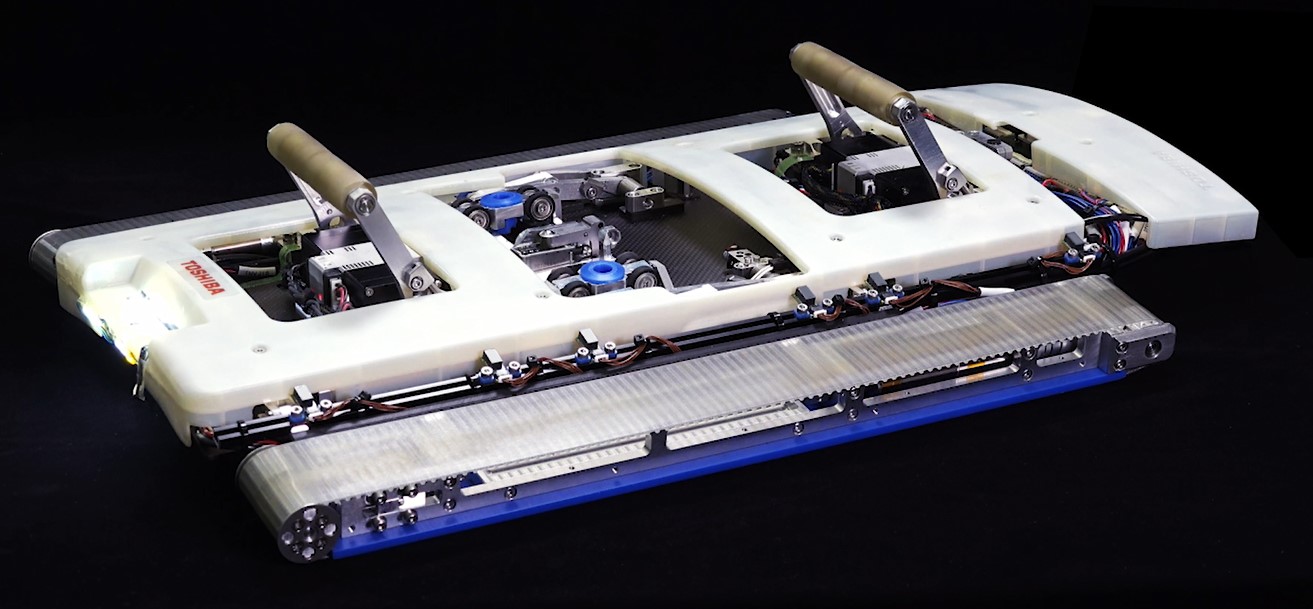 Information in the news release, including product prices and specifications, content of services and contact information, is current on the date of the news release , but is subject to change without prior notice.
News Release