Toshiba to Start Integrated Control Service for Storage Batteries with IoT Technology
NEWS RELEASE
Renewable Energy
December 17 2018
Toshiba Energy Systems & Solutions Corporation
・Toshiba ESS won a contract to install and control storage batteries from TEPCO EP
・Toshiba ESS aims to become the leading cyber-physical systems technology company in the energy industry

Kawasaki, Japan — Toshiba Energy Systems & Solutions Corporation (hereinafter referred to as Toshiba ESS) today announced that it will start an optimal control of storage batteries using IoT technology for Virtual Power Plant (VPP) from January 1 2019. Toshiba ESS has won an order from TEPCO Energy Partner, Incorporated (TEPCO EP) to install and operate storage batteries in Yokohama City.
VPP contributes to optimization of the supply-demand balance in the power network by effectively controlling and operating multiple energy generations and storages, such as solar power generation, storage batteries and hydrogen facilities scattered around a region, so as to make them function like a single power plant. The expectations for VPP are increasing as the use of renewable energy expands.
Toshiba ESS will install storage batteries at 11 elementary schools in Yokohama and control them efficiently to operate peak cut and demand responses according to the grid situations regarding the electric grid while securing the amount of electricity required in an emergency. The operation enables the schools to utilize storage batteries as adjustment power to contribute to the optimization of the balance between supply and demand with provisions of emergency power that enhance disaster risk management.
"This contract with TEPCO EP would be a major step toward construction of VPP," said Noriaki Kozono, General Manager of the Energy Aggregation Div. at Toshiba ESS. "Going forward, Toshiba ESS will expand VPP operation services businesses and aim to be a leading cyber-physical systems technology company in the energy industry. We have a depth of experience and accumulated know-how of using integrated energy solutions and IoT technology."
Toshiba ESS conducted a demonstration project for the construction of VPP with Yokohama City and TEPCO EP for two years from 2016, and developed a control technology for the multiple storage batteries group. The success of the demonstration project and efforts on demand responses led to Toshiba ESS winning the contract.
Toshiba ESS will continue to develop systems capable of handling a wider variety of distributed energy resource combinations for Japan's domestic supply-demand adjustment market, which is scheduled to be opened in 2021.
Service Scheme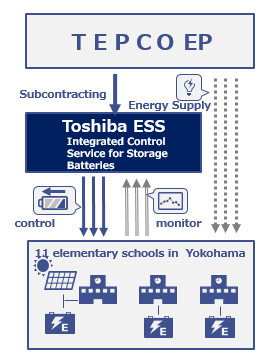 Information in the news release, including product prices and specifications, content of services and contact information, is current on the date of the news release , but is subject to change without prior notice.
News Release