Toshiba Wins "Best/Most Efficient Main Equipment Award" for Geothermal in the Renewable Energy Power Plants Category at Turkey's ICCI Energy Awards 
INFORMATION
Renewable Energy
Awards
June 24 2019
Toshiba Energy Systems & Solutions Corporation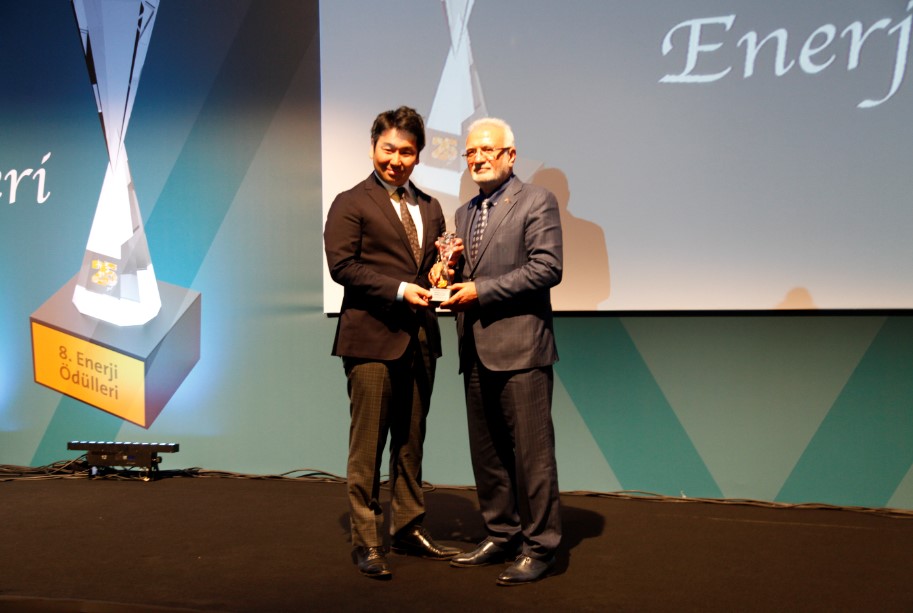 Istanbul, Turkey – Toshiba Energy Systems & Solutions Corporation (hereinafter, "Toshiba ESS") is pleased to announce that Zorlu Energy's Alasehir 1 Geothermal Power Plant (40MW), where Toshiba ESS supplied steam turbines and generators and that started commercial operation in 2015, got a prize in the Renewable Energy Power Plants Category at Turkey's ICCI Energy Awards. At the same time, Toshiba ESS has won the "Best/Most Efficient Main Equipment Award", which was newly established this year. The ceremony was held in the WOW Convention Center in Istanbul on May 28.
ICCI, the largest energy-related exhibition in Turkey, has been held every year since 1994.
The ICCI Energy Awards started 2011 and commend the most efficient projects in the fields of renewable energy and thermal power to aim at promoting projects and services in the energy field in Turkey. In the Renewable Energy Power Plants Category, nine companies over four projects were awarded for geothermal, wind, hydroelectric and biomass & waste this year.
Energy consumption in Turkey is growing, driven by its economic development and population growth, and is expected to reach 458 TWh*1 by 2027, which is over 1.5 times more than that of in 2017*2. As such, Turkey has high expectations for the renewable energy by using the country's own resources to generate power.
In addition to Alasehir, Toshiba ESS has supplied geothermal generating equipment to Zorlu Energy's Unit 1 and 2 at Kizildere III. For hydro power, there are six power plants in Turkey that Toshiba group supplied hydro-turbines and hydro-generators.
Atsushi Mikuni, President of Toshiba Infrastructure and Electronics A.S. in Istanbul, said, "We are very proud to win the Best/Most Efficient Main Equipment Award from ICCI. I am confident that the advanced technology and excellent performance of our equipment will continue to contribute to supplying a clean and reliable source of power in Turkey."
*1 1TWh (terawatt-hour) is 1,000,000MWh
*2 Source: Energy Transition in Turkey, World Energy Council, 15 November 2018
Information in the news release, including product prices and specifications, content of services and contact information, is current on the date of the news release , but is subject to change without prior notice.
News Release