POWERCHINA and Toshiba Strengthen Strategic Cooperation in Hydro, Geothermal and Thermal Power Systems
This news is announced by Toshiba Corporation, however because this is related to the business of Toshiba Energy Systems & Solutions Corporation , we post this in our homepage.
INFORMATION
Thermal Power
Renewable Energy
Strategies / Measures
October 26 2018
Power Construction Corporation of China, Ltd.
Toshiba Corporation
Beijng--Power Construction Corporation of China, Ltd. (hereinafter "POWERCHINA"), a global integrated construction group in the infrastructure sector, engaged in energy, water ecological environmental management and real estate, and Toshiba Corporation (TOKYO: 6502), a world leader and innovator in pioneering high technology, a diversified manufacturer and marketer of advanced electronic and electrical products and systems spanning social infrastructure, energy, electronic devices and digital solutions today signed a strategic cooperation agreement (hereinafter "the Agreement") covering areas such as hydro, geothermal and thermal power systems at the China-Japan Third-Party Market Cooperation Forum.
POWERCHINA and Toshiba Group have been cooperating in power generation businesses, especially in hydropower generation, through such means as exchanging information and cultivating and developing new projects. The Agreement will extend the scope of the cooperation to Toshiba Group's other systems and equipment, and to cooperation in investments and arrangement of finances for projects to further expand businesses opportunities.
In the hydropower area, Toshiba established Toshiba Hydro Power (Hangzhou) Co., Ltd. (hereinafter "THPC") in Hangzhou, China, in 2005, to engage in research and development, design, sales and manufacturing of hydropower generation products and services. Today, Toshiba Group and POWERCHINA have holdings of 80% and 20%, respectively, in THPC. THPC promotes business expansion in China and third-country markets such as Southeast Asia and Africa, where there is high demand for hydropower generation. THPC has a track record of delivering hydroelectric turbines and generators for projects led by POWERCHINA, including Trung Son Hydro Power Station in Vietnam and Nam Ou 5 Hydro Power Station in Laos.
POWERCHINA and Toshiba Group have also agreed to cooperate in the Tanahu Hydropower Project in Nepal and Koukoutamba Hydropower Project in Republic of Guinea, projects for which POWERCHINA has agreed EPC contracts, with THPC providing hydroelectric turbines and generators under a framework purchasing agreement.
In the geothermal power area, Toshiba has delivered 57 units of stream turbines in markets including North America, Southeast Asia and Africa, with a total installed capacity of approximately 3,687MW to date. As the source of 23%*1 of the world's installed geothermal capacity that are fully operational and grid connected, Toshiba is a leading global supplier in this area.
In the thermal power area, demand for highly efficient thermal power plants is expected to increase in Asia and the Middle East regions that are seeing increased power demand. Toshiba supplies highly efficient power generation equipment for combined-cycle power plants and ultra-super critical coal-fired power plants, and is contributing to both the realization of low-carbon society on a global basis and to securing stable supply of power.
POWERCHINA, with its track record of engaging in construction projects related to power generation, water supply, railways, roads, airports, urban infrastructure and real estate, has its core competence in project development and management, and as a total solutions provider. POWERCHINA highly evaluates cooperation with Toshiba Group and the achievements of their strategic cooperation, and anticipates a further expansion in its business.
As the world's largest power construction enterprise with the most integrated industrial chain, and committed to the construction of global energy source and infrastructures, POWERCHINA follows the "Belt and Road" Initiative and proactively participated in a series of important projects, such as Melaka gateway deep water dwarf project at Malaysia, Pakistan Qasim Coal-Fired Power Plant, China-Laos railway, Jakarta-Bandung high speed railway, etc. Such remarkable social contributions have gained POWERCHINA reputation.
Toshiba has a wide range of technologies and products that support the basic infrastructure that sustains modern life and society, such as highly efficient power generation systems. The Agreement will open the way to cultivating business opportunities in third countries in addition to Japan and China, and build on our achievements to date, to contribute to securing a sustainable society on the global level.

*1 Source: BloombergNEF (Dec. 2017)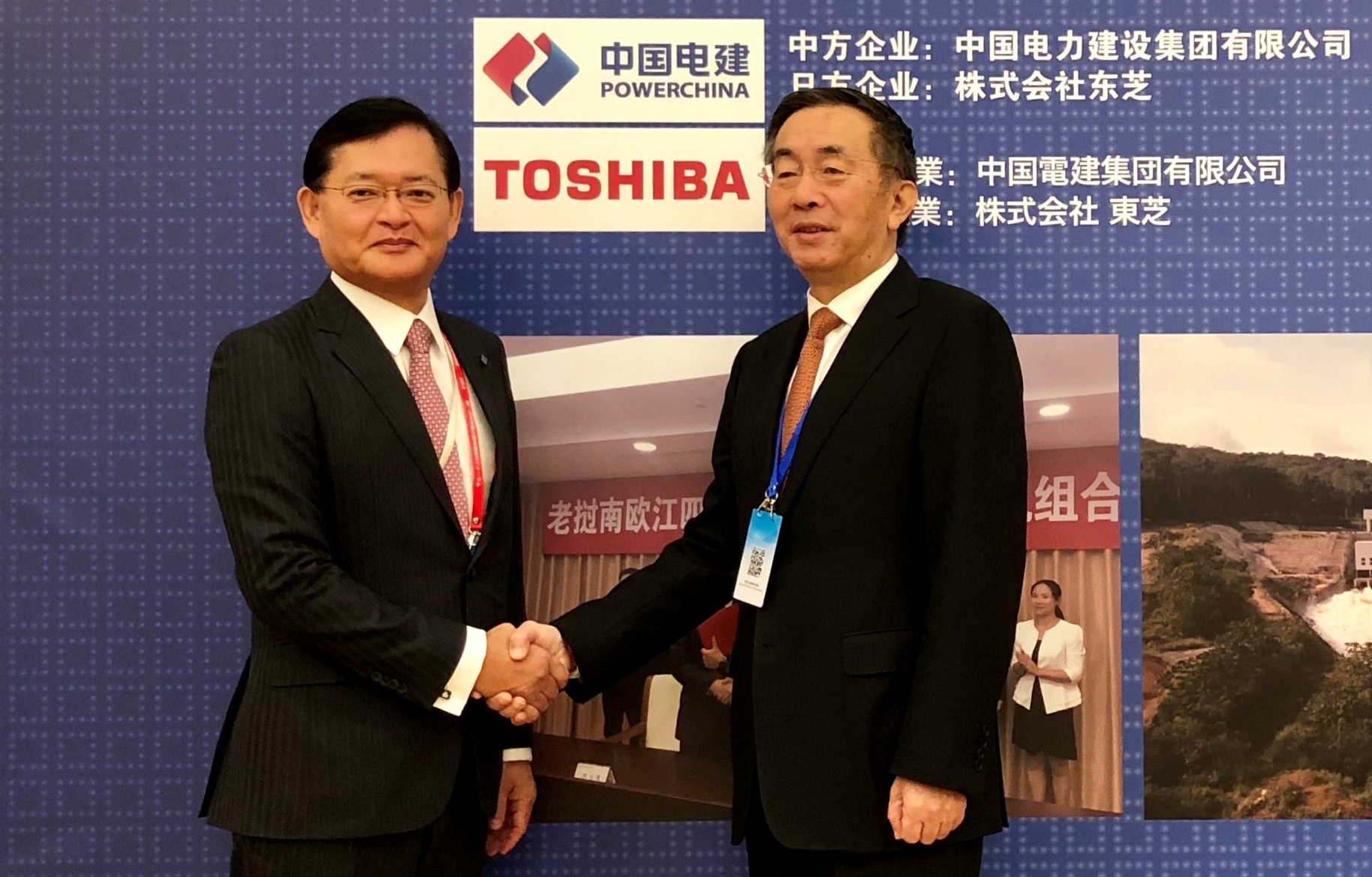 Zhiyong Yan, Chairman of POWERCHINA and Nobuaki Kurumatani, Chairman and CEO of Toshiba, celebrate the signing of the Agreement at the China-Japan Third-Party Market Cooperation Forum

About POWERCHINA
In 2018, POWERCHINA ranked the 182th among Fortune 500 enterprises. Besides, it placed the 6th of the Top 250 Global Contractors and the 2nd of the Top 150 Global Design Firms according to ENR. POWERCHINA has 186,000 employees and has set overseas offices in 115 countries throughout the world. The abundant international operation and management experience and the leading technologies have get POWERCHINA a high reputation abroad. In fiscal year 2017, the business revenue of the year reached RMB 355 billion.

About Toshiba
In over 140 years, Tokyo-based Toshiba Corporation has built a global network of almost 400 companies that channels reliable technologies into "Social Infrastructure", "Energy", "Electronic Devices" and "Digital Solutions"—the basic infrastructure that sustains modern life and society. Guided by The Basic Commitment of the Toshiba Group, "Committed to People, Committed to the Future", Toshiba promotes value creation that helps to realize a world where generations to come can live better lives. In fiscal year 2017, the Group and its 141,000 employees worldwide secured annual sales surpassing 3.9 trillion yen (US$ 37.2 billion).
Information in the news release, including product prices and specifications, content of services and contact information, is current on the date of the news release , but is subject to change without prior notice.
News Release