Renewable energy ― Hydro power
We offer high-reliability, high-performance hydro power generation system that best suits the topographical conditions and customer needs.
"Hydro power" generates power by utilizing the energy of water falling from a higher position to a lower position. One of these hydro power generation systems is a "pumped-storage system" , which pumps up water from a lower reservoir to a higher reservoir during off-peak hours and generates power by dropping water from the higher reservoir to the lower reservoir during peak hours. We manufacture an entire generation system for these power plants.
Since hydro power emits a minimal amount of CO2, which is known to be a cause of environmental pollution and global warming. Effective use of hydro power is being revalued throughout the world these days.
Eco-friendly hydro power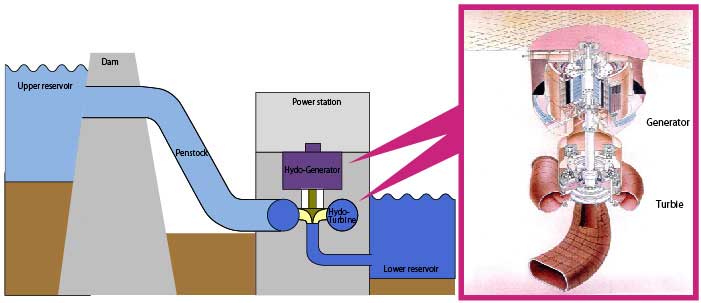 In addition to little amount of CO2 emissions per output (kW), hydro power can be characterized by the following features.
• Extremely high operation efficiency in hydro-turbines and hydro-generators (about 90% in total at the maximum efficiency)

• Short start-up and shut-down time (3-5 minutes from starting to reaching the rated output)

• Able to accommodate rapid fluctuations in power load (able to change from no load to the rated output in about 1 minute)

• Simple and easy operation & maintenance compared to other power generation systems

• Low operation cost
Hydro power is an eco-friendly natural energy
"Hydro power" is an eco-friendly renewable energy that generates power by harnessing the potential energy of water. It is incorporated into the natural cycle of the Earth and offers clean energy.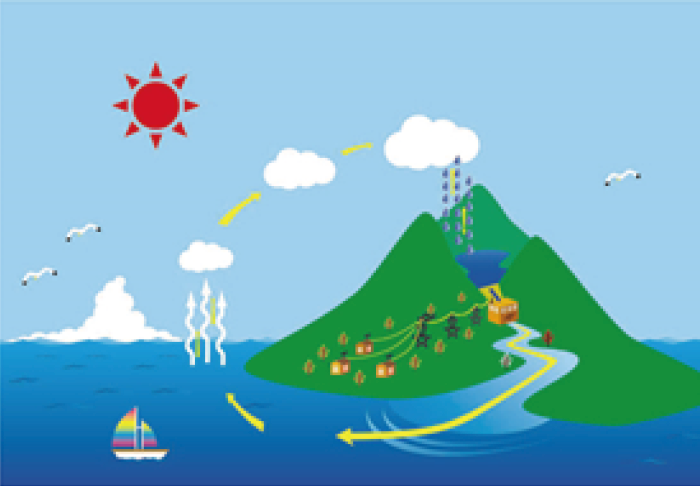 Toshiba's hydro power generation systems are at the world's top level in achievements and technologies
In the field of Francis turbines, which are most widely adopted, Toshiba is at the world's top level in their generation efficiency. Also in the field of pumped-storage power generation that addresses a varying peak load, Toshiba is at the world's top class in achievements and technological level amid the trend toward a higher head, larger capacity and variable speed. Toshiba not only designs, manufactures and delivers the main equipment, such as hydro-turbines and hydro-generators, but it also delivers various components needed for power plants, and provides a total engineering service package from procurement and installation to testing and commissioning works.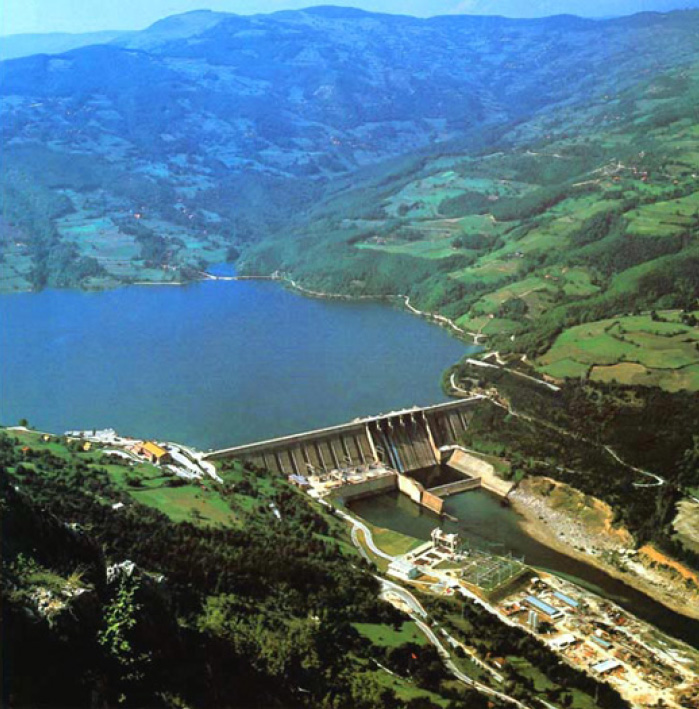 Hydro-turbine: The core of hydro power converting water energy to mechanical energy
A wide range of models to meet various requirements of the installation site
Hydro-turbines are available in many types and shapes to suit the operating conditions (discharge, head). We offer hydro-turbines to meet various requirements (geographical conditions) unique to each hydro power plant installation site. The main types of hydro-turbines include pump-turbines for pumped-storage power generation, Francis turbines for moderate to high head, Kaplan turbines for low to moderate head and bulb turbines (that utilize the head energy of water as pressure) for low head, and Pelton turbines (that directly utilizes potential energy as rotational energy) for high head.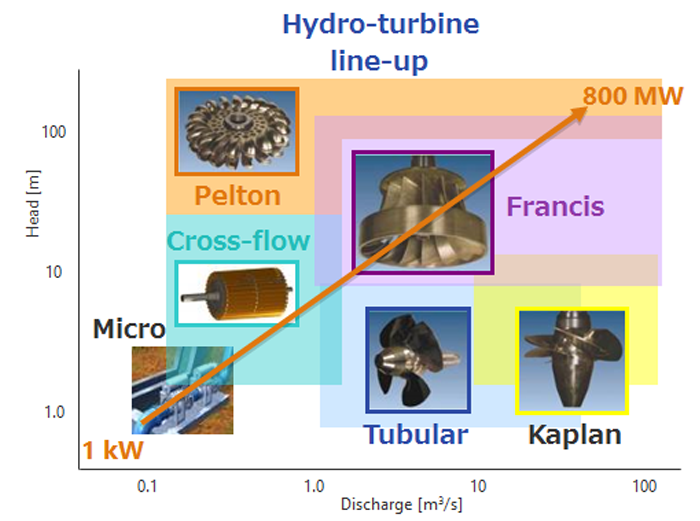 World's highest level hydro-turbine technologies produced at world-leading laboratory
To provide high-efficiency, high-performance and eco-friendly hydro power generation systems throughout the world, Toshiba continuously conducts research and development. Toshiba has a world-leading hydraulic research laboratory where tests and studies on turbine performance and fluid phenomena are conducted using a downsized model of actual turbines to always provide state-of-the-art, high performance hydro-turbines. Toshiba also works to improve analysis technologies through model testing.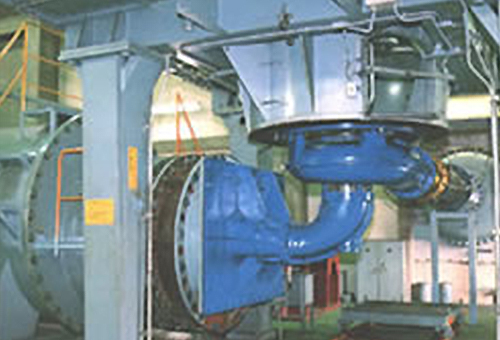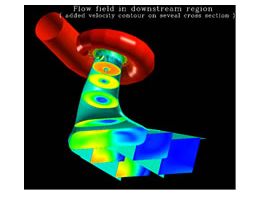 Splitter runner adopted for pump-turbine as the first case in the world
Toshiba adopted a splitter runner where long blades and short blades are arranged alternately for pump-turbine as the first case in the world to further improve the efficiency of generation and pumping operation as well as the overall stability and performance of pumped-storage power generation system.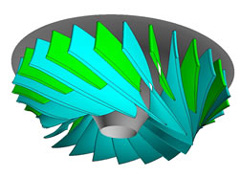 Hydro-generator for converting the mechanical energy created by hydro-turbine to electricity
Having a wide range of product types, we offer high reliability and high performance to the world
Hydro-turbines are classified as high speed, medium speed, low speed and bulb types, depending on the head and other factors. Similarly, hydro-generators come in various forms and structures. The most common type of generator for pumped-storage power station is a reversible type, called a generator-motor. Toshiba has had an abundance of manufacturing achievements for more than 120 years, and has supplied various types of high-reliability, high-performance hydro-generators and generator-motors all over the world.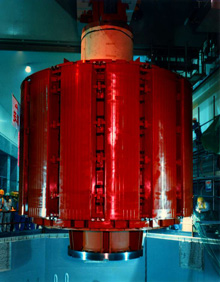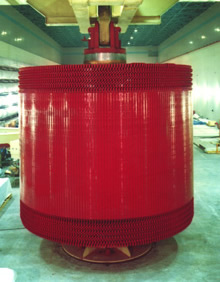 Monitoring and control systems that govern operation of hydro power plants
These offer functions suited for the needs, from small- and medium- to large-scale pumped-storage power generation plants
Monitoring and control systems are the central equipment for running a hydro power plant. These systems are not only used for daily operation controls and monitoring, but are also equipped with a protection system to protect the equipment in case of an accident, a recording system to record accident information, and a communication system for communications between the power plant and a remote control room. Most hydro power plants in Japan are operated "unmanned" through remote monitoring and control.
Integrated control system
We have developed an integrated control system in which various functions, such as main control, speed adjustment, excitation control, transmission, and protective relay, are modularized. This integrated control system realizes space- and cost-saving, reduction of on-site construction and test periods and consolidation of monitoring and operations, and is adopted mainly for small- and medium-scale hydro power plants.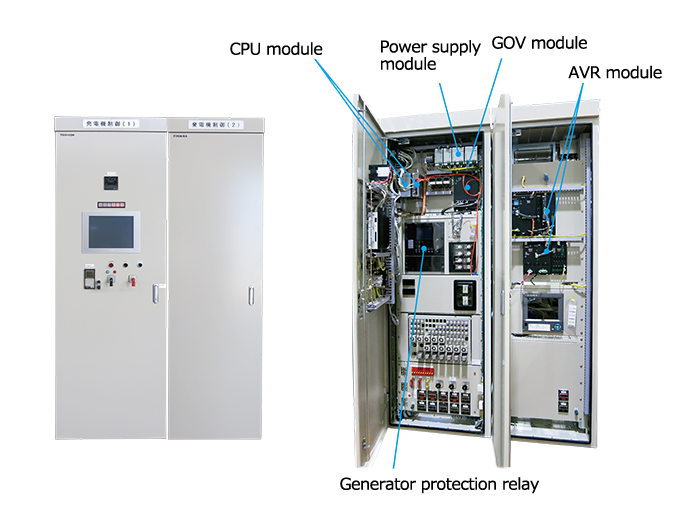 Adjustable-speed pumped-storage power generation system that enables fine supply-demand adjustment by changing the rotational speed of pump-turbine
Toshiba introduced an adjustable speed generator-motor in a pumped-storage power plant the first time in the world and realized the ideal hydro-generator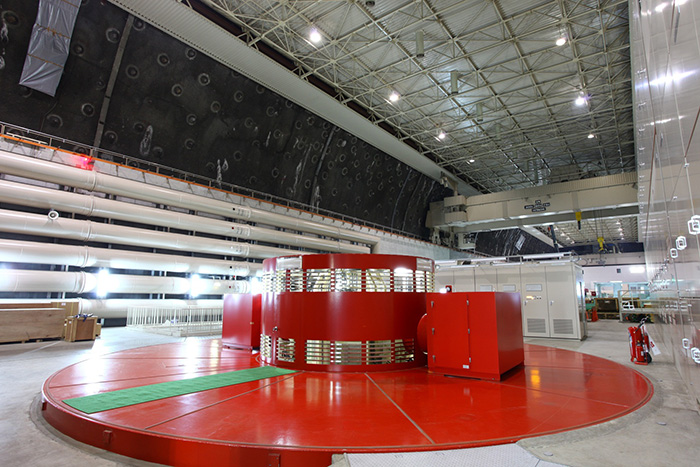 In 1990, for the first time in the world, Toshiba supplied Tokyo Electric Power Company, Yagisawa Power Station, Unit 2 with an adjustable-speed pumped-storage power generation system. Since recognizing their effectiveness, adjustable-speed pumped-storage power systems equipped with an automatic frequency control (AFC) function during pumping operation and other useful functions have been constructed and planned in Japan and overseas.
Characteristics of an "adjustable-speed pumped-storage power generation system" that excels in power supply-demand adjustment
Adjustable-speed pumped-storage power generation systems have features, such as below, for its ability to adjust the rotation speed.
• Automatic frequency adjustment function during pumping operations

• Higher efficiency and expanded operation range during both generating and pumping operations.

• Improved power grid stability

• Functions for maintaining the grid voltage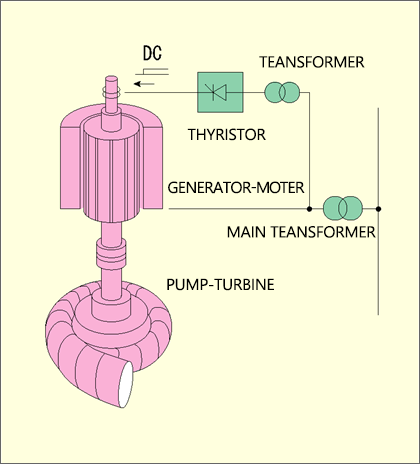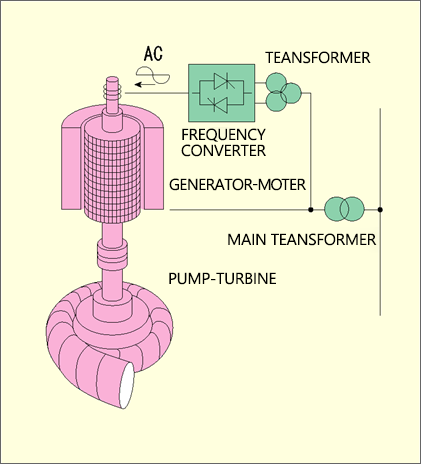 Small- and medium-scale hydro power systems for various needs
A wide range of product line-up from standard units to made-to-order system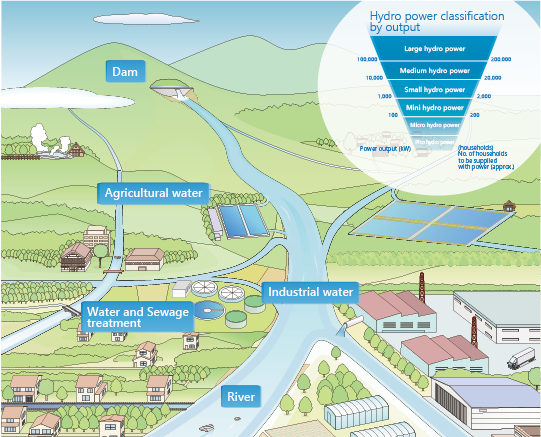 Small- and medium-scale hydro power systems can be installed for various needs, such as dams, rivers, industrial water supply, agricultural water supply and waterworks and sewage facilities.
Toshiba's small- and medium-scale hydro power systems come in five standard types. A made-to-order system is also available to offer the best solution for your needs.
Made-to-order system custom-designed for the planned installation site
Toshiba can design, manufacture and install various kinds of small- and medium-scale high-efficiency hydro power generation systems. We will custom design it for your planned site.
The type of hydro-turbine varies depending on the discharge and head.
* How to read the hydro-turbine selection diagram The x-axis shows the discharge, and the y-axis shows the head. The diagonal lines show the output of the hydro-turbine.
Compact and simple structure standard unit Hydro-eKIDS™

Standard unit Hydro-eKIDS™ is available in five models to accommodate various heads and discharge of installation sites.
Look at the effects of introducing a hydro power generation system
[Power output calculation]
The output of a generation facility can be derived by the following equation.
P=9.8×He×Q×ηWT×ηHG
P: Power output (kW)

He: Effective head (m)

Q: Discharge (m3/s)

ηWT: Hydro-turbine efficiency

ηHG: Hydro-generator efficiency
• Power output
Example: If He = 31.2 m, Q = 2 m3/s, ηWT = 0.88, and ηHG = 0.93,
P = 9.8 × 31.2 × 2 × 0.88 × 0.93 ≈ 500 kW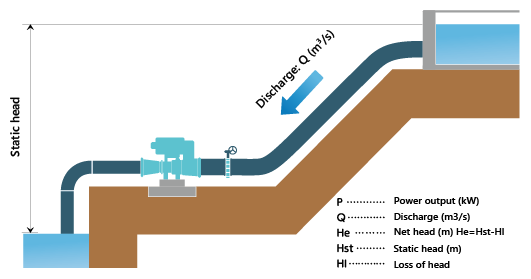 [Example of effect of introduction]
Shows an example effect of introducing a 500 kW hydro power generation system with a connection to the grid
Selling of electricity for about 100 million yen per year is expected.
• Annual power generation
Example: If P = 500 kW, facility operation rate = 80%,
500 kW × 24 hours × 365 days × 0.8 (facility operation rate) ≈ 3,504,000 kWh

• Annual electricity selling amount
3,504,000 kWh × 29 yen/kWh ≈ 100 million yen/year

* Calculated based on the purchasing price in Japan in FY2017

• Cost effect
Assuming that the amount of capital investment for introducing a 500 kW generation facility was 500 million yen*,
the investment can be recovered in 5 years (500 million yen ÷ 100 million yen/year ≈ 5 years).

* Excludes other expenses such as fixed property tax. Subsidies may be available from your local municipality. Please contact your local municipality for information.
[Operation methods]

* System operation requires discussions with your local power company.
[Request for Inquiry information]
Please provide the following information in your inquiry.
This table can be scrolled horizontally.
Inquiry information
1. Installation site for Hydro-eKIDS™
2. Discharge (m3/s)
a. Rated discharge (m3/s)
b. Maximum discharge (m3/s)
c. Minimum discharge (m3/s)

3. Head (m)
a. Gross head (m) / net head (m)
b. Head variations
4. Water usage
River, irrigation, industry water, agricultural water, water treatment, sewage treatment, etc.
5. Usage of generating power
Independent/grid connection, self consumption/grid connection and power selling.
6. Generator
a. Type of generator (induction or synchronous)
b. Rated voltage
c. Frequency
d. Number of phases
7. Necessity of construction work, etc.
Please indicate scope of work other than equipment supply, if any. Please describe any special requirements, such as equipment installation, channel construction, groundworks, electric work, etc.
Notes for planning
1. Use of public river water or agricultural water for power generation requires water rights.

2. Installation of power generation equipment requires administrative procedures at competent authorities.

3. Connecting power generation equipment to the grid of a power company requires a permission of and arrangement by the power company.