Toshiba's Energy Solutions to Contribute to a Low-Carbon Society in Africa
NEWS RELEASE
Corporate information
Transmission & Distribution
Hydrogen Energy
Renewable Energy
Thermal Power
Exhibitions / presentations
Strategies / Measures
May 3 2018
Toshiba Corporation
Toshiba Energy Systems & Solutions Corporation

Johannesburg, South Africa —Toshiba Corporation and Toshiba Energy Systems & Solutions Corporation (hereinafter referred to as "Toshiba ESS") today reaffirmed their commitment to support Africa's energy infrastructure. With over 50 years of presence in Africa, Toshiba has contributed to the continent's needs through power generation, transportation and infrastructure solutions.
Toshiba opened its first office in Africa in 1967. Located in Johannesburg, the company has since supplied a wide range of products and systems - from home appliances and office copiers to industrial motors and electric locomotives. Toshiba's power generation systems and solutions have also contributed to support Africa's economy growth since the 1970s.
Iwasuke Shimada, Managing Director of Toshiba Africa (Pty) Ltd., remarked, "While Toshiba is recognized as an electronics manufacturer in Africa, we have also established a long history in generating power supply."
Toshiba ESS has supplied turbines and generators for 20 power plants across the African continent to date. The company has a wide range of power generation systems and the recent focus has been the Great Rift Valley - an area with abundant geothermal resources. Earlier in 2013, Toshiba ESS supplied geothermal generation systems to Olkaria Geothermal Power Plant, one of Kenya's largest geothermal power complex. As the source of approximately 23% of the world's installed geothermal capacity, Toshiba is the global top supplier.
Toshiba ESS will establish memorandums of understanding (MOU) during the Japan-Africa Public-Private Economic Forum, as it seeks to form partnerships with companies that have a deep knowledge of infrastructure building to accelerate growth and progress in this market. The company has signed MOUs to build geothermal plants with utilities in Ethiopia, Djibouti and Tanzania, and also with Uganda Government thus far.
Building energy infrastructure to achieve a low-carbon society has become an increasingly important priority in Africa. Apart from conventional renewable energy sources including geothermal and hydropower, hydrogen as a zero-emission fuel is one of Toshiba ESS's latest solution offerings to supply clean energy.
The company's hydrogen-based autonomous energy supply system H2One™ uses renewable energy to electrolyze hydrogen from water, and supplies CO2-free power. It can operate off-grid and realizes a long-time storage, storing renewable energy in form of hydrogen.

In addition, Toshiba ESS's transformers are playing an important role in optimizing the delivery of electricity across the continent as well. Its technology such as amorphous distribution transformers makes low-loss distribution possible and increases the power that can be used at the end without building new power plants.
Digitalization is widely applied to power generation and transmission to enable the eco-system to be more efficient. The company offers digital solutions to increase production efficiency, minimize power outages, and manage assets and grid control more effectively, contributing to a realization of a low-carbon society.
"Toshiba ESS promotes local capacity building with onsite trainings and learning opportunities in its facilities in Japan," commented Toyoaki Fujita, Business Development Executive of Toshiba ESS, "Personnel development is an important element throughout a project's life-cycle to ensure a successful implementation and delivery. Toshiba will continue to invest in people and infrastructure and we are proud to remain as a steadfast partner to support the development of energy infrastructure in Africa."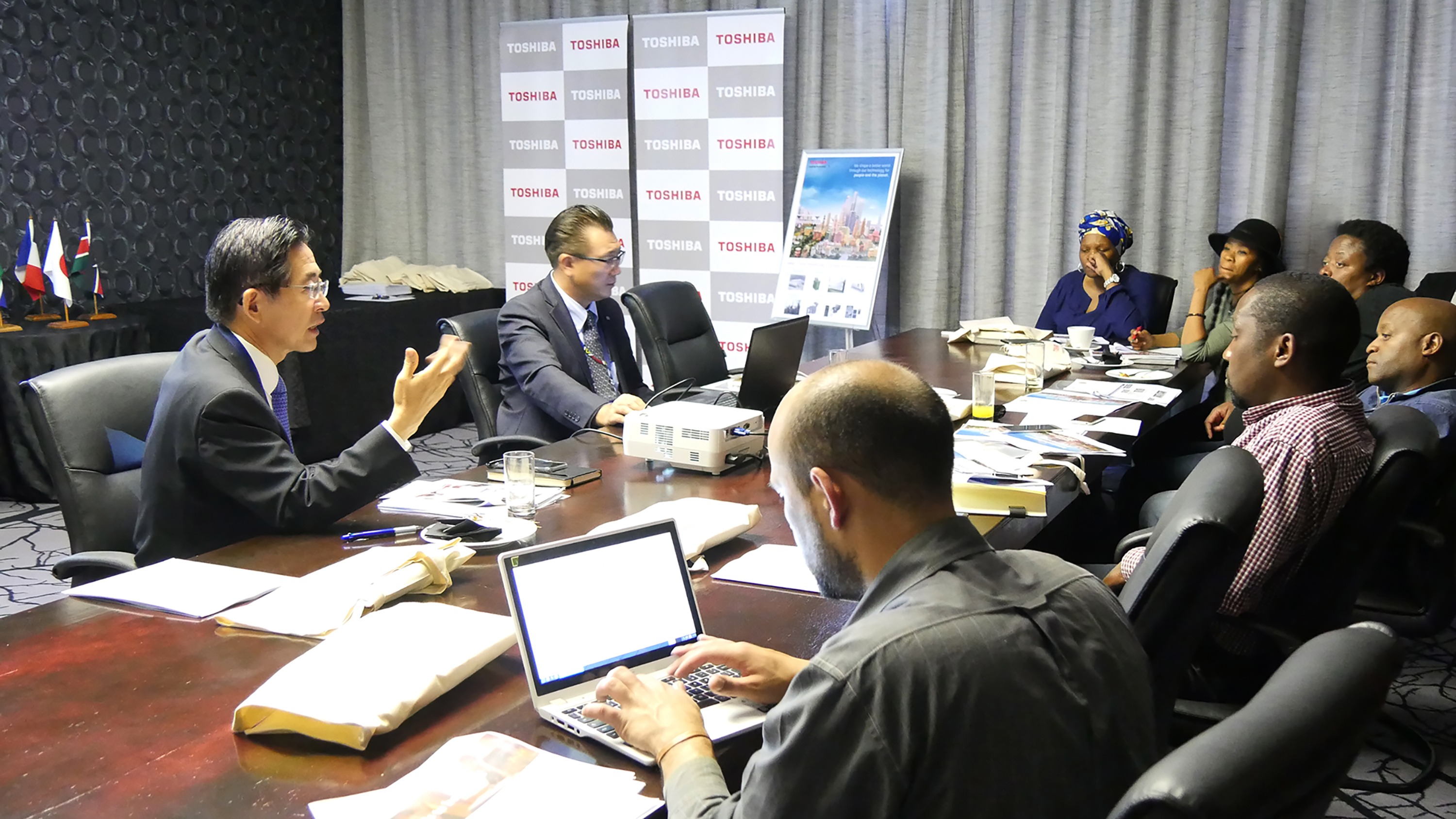 For furthermore information about Toshiba Energy Systems & Solutions Corporation, please check here.
Information in the news release, including product prices and specifications, content of services and contact information, is current on the date of the news release , but is subject to change without prior notice.
News Release