Toshiba and BPPT Conclude Memorandum of Understanding on the Promotion of Autonomous Hydrogen Energy Supply Systems in Indonesia
NEWS RELEASE
Hydrogen Energy
Strategies / Measures
August 31 2018
Toshiba Energy Systems & Solutions Corporation
・Seeking to contribute to supply stable and low cost energy in Indonesia
・To install the hydrogen energy system by 2022

Jakarta, Indonesia — Toshiba Energy Systems & Solutions Corporation (Hereinafter: Toshiba ESS), a leading supplier of integrated energy solutions today announced that it has concluded a memorandum of understanding (MOU) with Badan Pengkajian dan Penerapan Teknologi (BPPT), an Indonesian government organization, on the implementation of H2One™, an autonomous off-grid hydrogen energy system based on renewable energy and the use of hydrogen as a fuel for power generation in Indonesia. Under the MOU, Toshiba ESS and BPPT will study the installation site, the optimum system specifications in Indonesia, and the operation system, including maintenance, and aim to install the first system by 2022.
Indonesia, which consists of many islands, has the challenge of supplying stable and low-cost energy for each island, and has a power supply business plan called "RUPTL," which aims to increase its total power generation capacity rate of renewables from 12.52% to 23% by 2020. With that in mind, there are growing expectations for distributed energy resources which are low cost and environmentally friendly instead of using grid supply and diesel fuel.
H2One™ is an integrated system that uses a renewable energy source to electrolyze hydrogen from water, and stores and uses the hydrogen in fuel cells to provide stable delivery of CO2-free, environmentally-friendly electricity and hot water. One of the application of H2One™ is the "Off-grid solution," which can help realize a sustainable society. This is a distributed energy system that allows the supply of clean and stable energy, without influence from the weather, to islands currently reliant on diesel and other generating systems such as thermal power.
"I'm delighted to announce this cooperation with BPPT, and confident that our partnership will produce stable, clean, and low-cost energy supplies to Indonesia," said Fumio Otani, Corporate Senior Vice President, who is responsible for the hydrogen business of Toshiba ESS. "Our expertise and know-how in the hydrogen business, combined with BPPT's wealth of technological experience in Indonesia, will help realize a new energy society with distributed energy resources for each island."
Toshiba ESS has delivered "H2One™" for various applications in Japan and involved hydrogen project in Scotland. Toshiba ESS will continue to promote "H2One™" toward a hydrogen economy in Indonesia and other countries.
Signing ceremony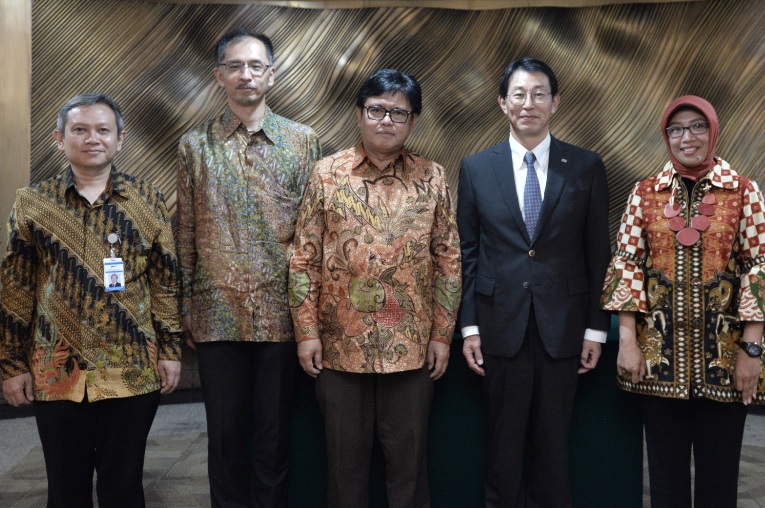 System image

Information in the news release, including product prices and specifications, content of services and contact information, is current on the date of the news release , but is subject to change without prior notice.
News Release