Toshiba to Supply Steam Turbine and Generator for Lake Charles Power Station in Louisiana
INFORMATION
Order received / delivery
January 24 2018
・Groundbreaking ceremony held for new plant
・Toshiba Energy Systems & Solutions to supply 450MW STG for combined cycle power station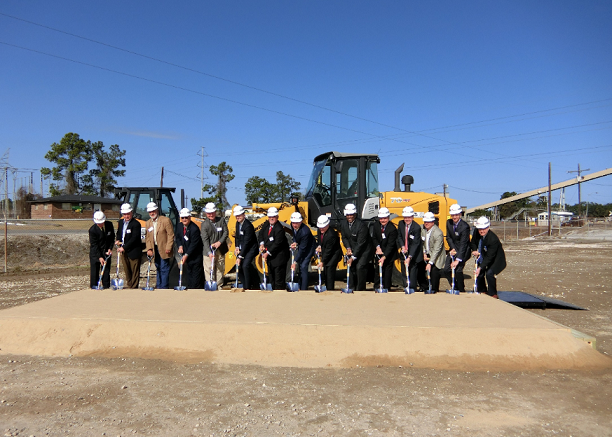 Kawasaki and Lake Charles, Louisiana—A groundbreaking ceremony held on 22nd January formally marked the start of construction work on the Lake Charles Power Station, an advanced combined cycle power plant for which Toshiba Energy Systems & Solutions Corporation (Toshiba ESS) will supply a 450MW steam turbine and generator (STG). The plant, owned and operated by Entergy Louisiana, LLC, is scheduled to start commercial operation by June 2020. Toshiba ESS will deliver the STG in November 2018.
Combined cycle power plants improve generating efficiency and reduce fuel consumption by deploying more than one power generating system. Toshiba ESS has extensive experience in combined cycle systems. This includes supplying the STG for Ninemile Point Unit 6, which started operation in December 2014 and was the first new plant Entergy Louisiana added in nearly 30 years. Entergy Louisiana has since selected Toshiba ESS to supply STGs for the St. Charles Power Station, now under construction, and for the Lake Charles plant.
Commenting on the groundbreaking, Mr. Takao Konishi, Director, Vice President of the Thermal & Hydro Power Systems & Services Division in Toshiba ESS said, "We are proud to be part of this project that will provide a safe, clean and reliable source of power for Southwest Louisiana. I am confident that the advanced technology and excellent performance of our equipment will contribute to the successful long-term operation of the plant."
Toshiba ESS supplied its first steam turbine to North America in 1967, and has built a successful business by being able to respond to a changing market and meeting customer requirements. With the Lake Charles project, Toshiba ESS has now won cumulative orders for the STG supply of 104 units, with an installed capacity of 31.5GW.
Toshiba ESS will expand sales by continuing to supply highly efficient STGs for new thermal power plants, and by further reinforcing its service business, including maintenance and refurbishment of installed units.
Project Outline
Project name:Lake Charles Power Station
Location:Lake Charles, Louisiana, USA
Scope of Supply:450MW steam turbine and generator

Information in the news release, including product prices and specifications, content of services and contact information, is current on the date of the news release , but is subject to change without prior notice.
News Release