Toshiba to Propose Solutions Supporting Africa's Growth and Development at TICAD7
Toshiba to participate in official side events: the Japan-Africa Business Expo and STS Forum Africa-Japan Workshop
NEWS RELEASE
Environment
Technology
Exhibitions / presentations
August 21 2019
Toshiba Corporation
Toshiba Energy Systems & Solutions Corporation

Yokohama, Japan—Toshiba Corporation (TOKYO: 6502) and Toshiba Energy Systems & Solutions Corporation, companies dedicated to delivering excellence in essential infrastructure, will participate in TICAD7, the Seventh Tokyo International Conference on African Development, at PACIFICO Yokohama from August 28 to 30.
Africa is expected to enjoy significant economic growth and development in coming years, and
Toshiba Group will demonstrate how its track record in Africa to date, including skills training programs for young Africans, position it to propose future business solutions and to contribute to the continent's sustainable development.
Initiated in 1993, led by the Japanese government and co-hosted by the United Nations, the United Nations Development Programme, the World Bank, and the African Union Commission, TICAD is a forum dedicated to fostering resilient ties between Japan and Africa. Its scope is wide, ranging from sanitation to healthcare to business promotion, and its goal is to support economic growth and development that will improve quality of life for the growing populations of Africa's countries.
A key part of the meeting program is the Japan-Africa Business Expo, an official TICAD side event, sponsored by the Japan External Trade Organization. The Expo aims to promote trade and investment between Japan and Africa, and draws visits from heads of state, ministers and top officials, business leaders and promoters, and the general public.
At this year's Expo, Toshiba Group will participate in the Japan Fair exhibition and introduce energy and infrastructure products and systems, spotlight how it is already cooperating with African government and companies, and further promote its presence in Africa and how it can contribute in future. Displays will include geothermal and hydro power generation equipment, T&D equipment and electric locomotive, along with case studies of personnel training in the power generation business. Display will also feature Toshiba's electricity transmission and distribution equipment manufacturing facility in India that has many supply records of transformers to African countries, and demonstration of training simulator for electric power companies.
STS Forum Africa-Japan Workshop is also an official TICAD side event, sponsored by STS Forum, a major and highly influential non-profit organization established in 2004 by Mr. Koji Omi, a former Japanese Minister of Finance. The forum provides a new mechanism for open discussions on an informal basis among world leaders from policy making, academia and business circles, and for network building toward helping to resolve new challenges stemming from the application of science and technology in society.
STS Forum Africa-Japan Workshop will be held on the first day of TICAD7 as an official collaboration with the Ministerial Dialogue Meeting hosted by the Ministry of Education, Culture, Sports, Science and Technology-Japan. The Workshop will be dedicated to strengthening cooperation in science, technology and innovation, and how Africa and Japan can cooperate in these areas and also promote the development of human resources needed for sustainable development. Participants will include high-level representatives from governments, ministers among them, international and national cooperation agencies, universities, and businesses from both Africa and Japan.
Satoshi Tsunakawa, the President and Chief Operating Officer of Toshiba Corporation, will participate the forum and speak on how Toshiba Group's has contributed to Africa through its businesses, and will propose ways to strengthen future cooperation in the spheres of energy and infrastructure technologies and human resource development.
Toshiba has built up its presence in Africa since 1967, when it established a sales subsidiary in South Africa. The wide range of products and systems that Toshiba Group has offered include building and digital solutions, rolling stock, and geothermal steam turbines and generators for the Olkaria Geothermal Power Plants, the largest geothermal fields in Kenya. In May, 2019, Toshiba Africa established a new branch office in Nairobi, the Kenyan capital, to facilitate market research and information gathering in East Africa, in parallel with expanding Toshiba Group's presence. Toshiba Group has also offered various internship opportunities to young Africans under the ABE initiative for capacity building announced by the Mr. Shinzo Abe, the Prime Minister of Japan, at TICAD V.
Toshiba Group will continue to provide technical support for African countries, including capacity building, and seek contribute to further development by meeting growing demand with optimal solutions.

About Japan-Africa Business Expo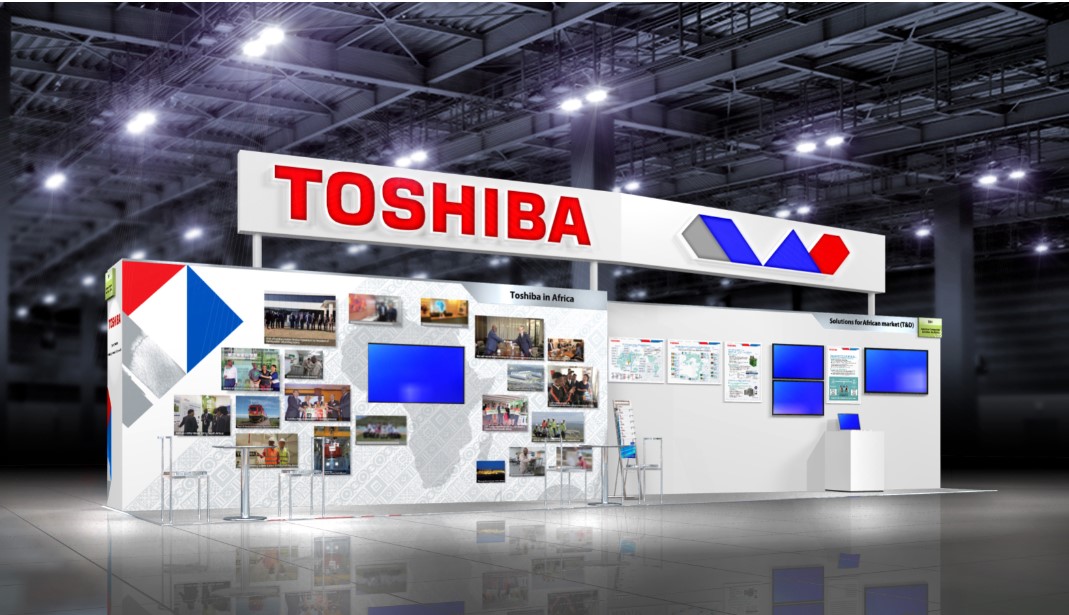 Date and time: August 28-30, 2019 10:00-18:00
*From 11:00 on the first day; until 17:00 on the final day
Venue: PACIFICO Yokohama, Exhibition Hall D (6,700 square meter),Toshiba booth D34
Ticket price: Free of charge, Prior registration is required. Please visit following URL
https://www.jetro.go.jp/en/events/jabfe2019/expo/ (Japan External Trade Organization (JETRO))

About STS Forum Africa-Japan Workshop
Date and time: August 28, 2019 13:00-17:00
Venue: PACIFICO Yokohama Conference Center room501, 5th floor
*General public cannot enter.

Information in the news release, including product prices and specifications, content of services and contact information, is current on the date of the news release , but is subject to change without prior notice.
News Release