Toshiba to Demonstrate Leading T&D Solutions at CIGRE 2018 Technical Exhibition in Paris
INFORMATION
Transmission & Distribution
Exhibitions / presentations
August 24 2018
Toshiba Energy Systems & Solutions Corporation
Paris, France — Toshiba Energy Systems & Solutions Corporation (hereinafter: Toshiba ESS), a leading supplier of integrated energy solutions, will exhibit its T&D-related technologies, including digital transformation, a virtual power plant (VPP), and environmentally-friendly systems at the CIGRE 2018 Technical Exhibition in Paris, France, from August 27 to 31.
CIGRE is the world's largest international non-profit association and aims to facilitate and develop exchanges regarding technical knowledge and information between all countries in the general fields of electricity generation and transmission at high voltages. The CIGRE Biennial Session is their flagship event, which is held in even-numbered years along with the Technical Exhibition. The Session and its exhibitions gather around 6,600 decision-makers and experts from the global power industry.
Toshiba ESS will continue to supply high quality T&D systems and solutions all over the world and boost energy aggregation business.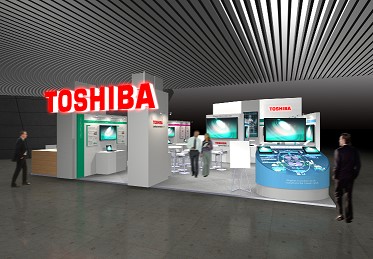 Main Exhibition Topics
1. Digital Transformation
Toshiba ESS will introduce its "Digital Twin" technology, which digitally reproduces an entire power grid to simulate efficient operation, digital substations, and digital protection and control.
Using this technology, Toshiba ESS can optimize operation and identify the most efficient ways to use transmission and distribution networks as well as anticipate device failure.

2. F-gas Free Technology
Toshiba ESS will be demonstrating an environmentally-friendly breaker under development, which uses carbon dioxide-based natural gases as an insulator instead of SF6.
3. High Voltage Substation
Toshiba ESS will also introduce eco-friendly safety protection & control systems and replacement solutions for aging equipment.
4. Power Electronics System Solution
Toshiba ESS will exhibit a high-voltage direct current (HVDC) system and provide examples of installations in EU and Japan.
5. System Operation
A Toshiba ESS system solution that promotes the introduction of renewable energy and creates a stable supply of energy, such as a supervisory control and data acquisition (SCADA) system, power demand-forecasting technology using AI, and a large scale battery energy storage system using Toshiba's highly-safe rechargeable battery SCiB™.
6. Virtual Power Plant (VPP) System
A "virtual power plant" technology that promotes a stable control and supply of electricity through advanced energy management technology utilizing a combination of renewable energy generation.
Seminars
Toshiba ESS will hold seminars at its booth (No.278) about VPP and an environmentally-friendly breaker which is currently under development.
Information in the news release, including product prices and specifications, content of services and contact information, is current on the date of the news release , but is subject to change without prior notice.
News Release