News Releases
Toshiba to Demonstrate Leading Edge Energy System Solutions at the 50th Asian Development Bank Annual Meeting
・Toshiba's Hydrogen-Based Autonomous Energy Supply System H2One™ Mobile Solution to power Toshiba booth
・First time exhibition at the Asian Development Bank Annual Meeting
・Toshiba's advanced solutions and technologies support customers in Asia-Pacific

28 Apr, 2017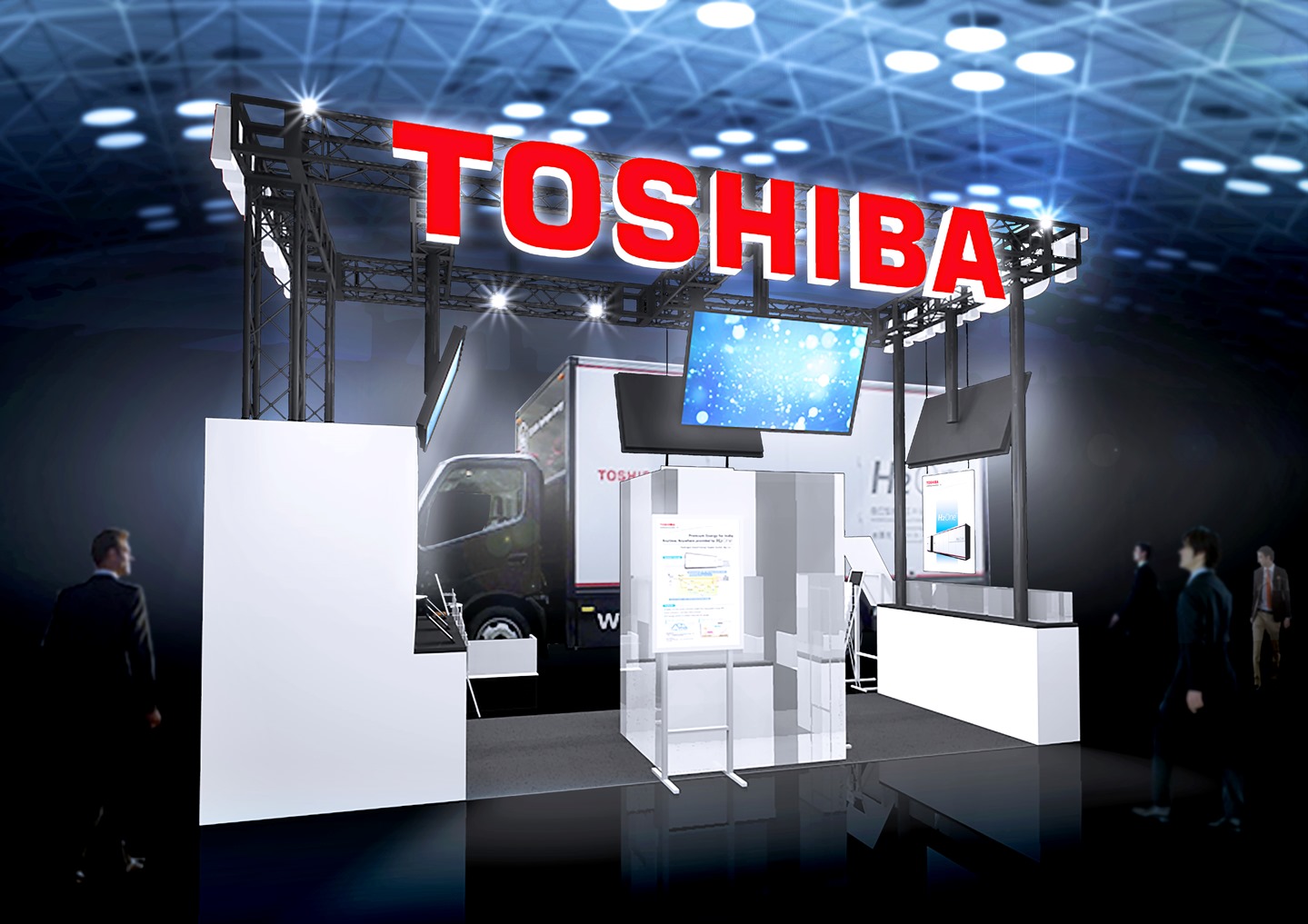 Toshiba's exhibition booth
TOKYO—Toshiba Corporation (TOKYO: 6502) today announced that it will exhibit its leading edge hydrogen, hydro and geothermal energy system solutions and technologies at the Asian Development Bank (ADB) 50th Annual Meeting, at PACIFICO Yokohama in Japan from May 4 to 7.
Founded in 1966, the ADB promotes economic growth and cooperation in Asia-Pacific. It held its first meeting in Tokyo, and the ADB Annual Meeting has been held in Japan every 10 years since then. The 50th Annual Meeting will also be the first to exhibit Japanese technologies and products. Approx. 3,000–5,000 people, including finance ministers from member countries, central bank presidents, representatives of private-sector financial institutions and NGOs, members of the media and other interested parties, are expected to visit Yokohama for the meeting.
"As a leader in next-generation power systems, Toshiba will use the meeting exhibition to showcase its work and the solutions it has to offer," said Yoshihiro Aburatani, President and CEO of Toshiba's Energy Systems & Solutions Company. "Our advanced technologies and solutions, backed up by a wealth of experience in global markets, underpin our support for customers in Asia-Pacific. I see particular potential for H2One™, our hydrogen-based autonomous energy supply system. It's a completely integrated stand-alone system that delivers CO2-free, environmentally friendly, stable electricity."
Main Exhibits
1. Hydrogen-Based Autonomous Energy Supply System H2One™
A one-tenth-scale model of H2One™ will show how the overall system works.
The compact mobile H2One™ solution, which is housed in a pair of four-ton trucks, will be exhibited. It comprises an on-board battery, hydrogen storage and fuel cells. It will generate electricity to power the lighting and the digital signage in Toshiba's exhibition booth.
2. Geothermal Power System
A scale model of Geoportable, a 1,000-10,000kW compact geothermal power generation system, will be on display. Geoportable can be installed on very small sites and contribute to effective utilization of geothermal energy from one or two geothermal wells. As a packaged unit, it shortens construction, from planning through to operation, so customers can earn an early return on their investment. Toshiba has the world's top share* in geothermal power generation systems and will showcase their extensive experience.
3. Hydro Power System
A scale model of Toshiba's adjustable speed pumped storage system. The system can adjust rotation speed to suit the river head drop and control output, allowing fine-tuning to meet supply and demand, and supporting the expansion of renewable energy supply that is usually characterized by large output fluctuations due to weather and operating conditions. The display will also highlight Toshiba's 120-plus years of experience and recent projects.
*

Source: Bloomberg New Energy Finance , May 2016