Toshiba H2One™ Hydrogen Based Autonomous Energy Supply System Now Providing Power to Tohoku Electric Power Co.,
INFORMATION
Hydrogen Energy
April 13 2017
Toshiba Energy Systems & Solutions Company
TOKYO—Toshiba Corporation (TOKYO: 6502) has supplied its H2One™, hydrogen-based autonomous energy supply system, to Tohoku Electric Power Co., for a two-year study of how a hydrogen-based system can contribute to overcoming frequency fluctuation in power supply.
The H2One™ was installed at Tohoku Electric Power's R&D Center in Sendai, in northeast Japan, on March 23.
It is an autonomous system with components for solar power generation, battery storage, hydrogen electrolysis and storage, and fuel cells to produce CO2-free, environmentally friendly, stable electricity. Its integrated operation is controlled by Toshiba's advanced EMS (Energy Management System), which ensure that intermittent power generation satisfies energy demand and provides data on renewable energy supply-and-demand which can be used to stabilize electricity output.
Growing interest in bringing renewable power sources into the electricity grid is accompanied by concerns for the quality and variability of the supply; renewables are subject to fluctuations in output that can impact on grid frequencies. The study at Tohoku Electric Power will use H2One™ as a solution to this problem.
"We are very excited to see our products being investigated as a way to help achieve a low-carbon society," said Mr. Hiroyuki Ota, General Manager of Toshiba's Energy Systems & Solutions Company, "Our H2One™ offers an innovative approach to emission-free clean energy, and we want to promote much wider adoption of hydrogen solutions."
Toshiba will continue to channel its diverse technologies into developing total hydrogen energy solutions, from generation through to utilization, that contribute to early realization of an environmentally friendly hydrogen economy.

Hydrogen Power Storage System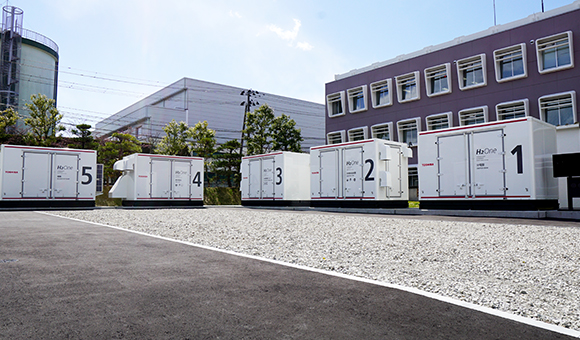 Information in the news release, including product prices and specifications, content of services and contact information, is current on the date of the news release , but is subject to change without prior notice.
News Release