Toshiba releases "H2One™ Truck Model", Hydrogen-Based Autonomous Energy Supply System loaded on Truck
-- Improved mobility suitable for ensuring flexible energy supply in case of disaster --
NEWS RELEASE
Hydrogen Energy
April 25 2016
Toshiba Energy Systems & Solutions Company
TOKYO—Toshiba Corporation (TOKYO: 6502) has added a new addition to its line-up of hydrogen-based autonomous energy supply systems with the release of H2One™ Truck Model. A scaled down version of the H2One™ BCP Model installed in a disaster evacuation site in Kawasaki, south of Tokyo, the new system offers improved mobility and can be transported to disaster sites to provide a flexible energy supply.
Toshiba's H2One™ autonomous energy supply system is a completely integrated stand-alone system comprising a renewable energy source, an SCiB™ storage battery, a water electrolysis system that generates hydrogen, a hydrogen storage tank, and hydrogen-powered fuel cells that deliver a CO2-free, environmentally friendly, stable electricity and hot water supply, as and when needed. The overall system is controlled by Toshiba's groundbreaking hydrogen energy management system, H2EMS™.
H2One™ Truck Model is housed in two 4-ton trucks. During disasters, the H2One™ Truck Model can be used as a silent electricity generator, as hydrogen fuel cells generate power with almost none of the noise or vibration—or CO2 emissions—of diesel generators at evacuation center.
The H2One™ Truck Model's hydrogen storage tank is made with a new hydrogen storage alloy that achieves much improved high-density storage. This advance contributes to system mobility and improved flexibility, while maintaining the capabilities of the H2One™ BCP model.
Toshiba Corporation continues to develop technologies for promoting hydrogen as a fuel, towards realizing an environmentally friendly future of carbon-neutral clean energy.
Overview of H2One™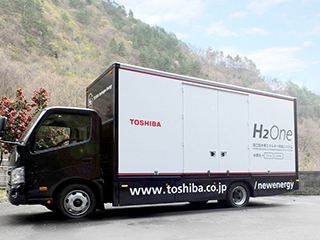 Key system specifications
Hydrogen tank storage capacity

250Nm3
Electricity output

19kWe
Power storage capacity

422kWeh
Information in the news release, including product prices and specifications, content of services and contact information, is current on the date of the news release , but is subject to change without prior notice.
News Release