Product/Technical Services
Microgrid solution for power system stability and economy
It is a vital challenge to stabilize the power systems as more renewable energy resources are expected to be introduced. The microgrid (or distributed grid) which is independent from the main grid is also focused in terms of resilience. Toshiba provides various microgrid solutions in order to solve those challenges.
Increasing renewable energy and reducing fuel cost in microgrid
In microgrid, such as island networks, it is expected that renewable energy resources increase and fuel cost of diesel generators is reduced, while balancing the demand and supply of the power flow. By introducing energy storage such as battery systems and an EMS, it is possible to mitigate fluctuation of renewable energy output, and to operate the system efficiently by managing to maximize the renewable energy usage.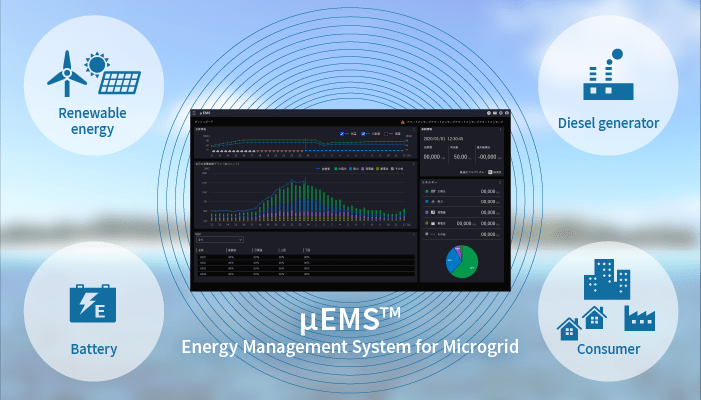 Improving resilience by regional-type microgrid
In regional microgrid, it is expected to operate independently and to continue the operation even after disconnected from the main grid due to natural disaster and etc. Toshiba can provide EMS that controls facility necessary for operating the regional microgrid such as specific generators, storage and EVs. Those technologies promote local production for local consumption of renewable energy and strengthening resilience.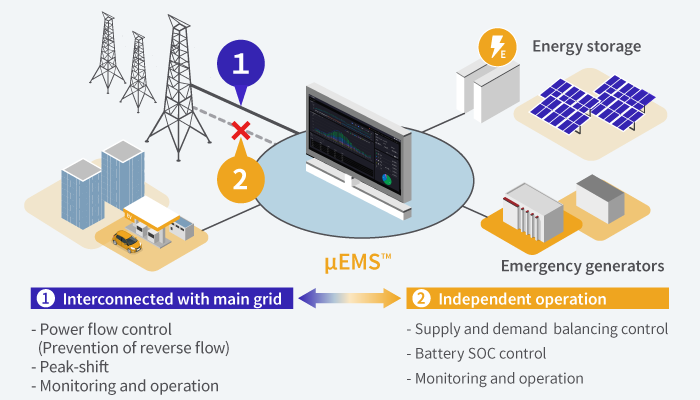 Management of distribution networks through increase of renewable energy
Introduction of bulk renewable energy into distribution networks may cause over- capacity of distribution lines and over-voltage issues. Toshiba has been developing distribution network management systems that control distribution network voltages utilizing applications thyristor voltage regulators (TVRs) and energy storage systems with usage of smart meter information.
A :A measure against voltage drop: When voltage drops as load increases, the EMS controls TVRs and energy storage systems to increase network voltage.
B :A measure against voltage increase: When voltage increases as renewable energy output increases, the EMS controls TVRs and energy storage systems to drop network voltage.
Products that support microgrid operation
Based on Toshiba's energy management software technology which has been developed and applied at load dispatching centers and control centers of utilities over the long period of time, we provide μEMS™ that manages demand and supply of the networks. With the control systems and energy storage systems, total microgrid solutions can be provided.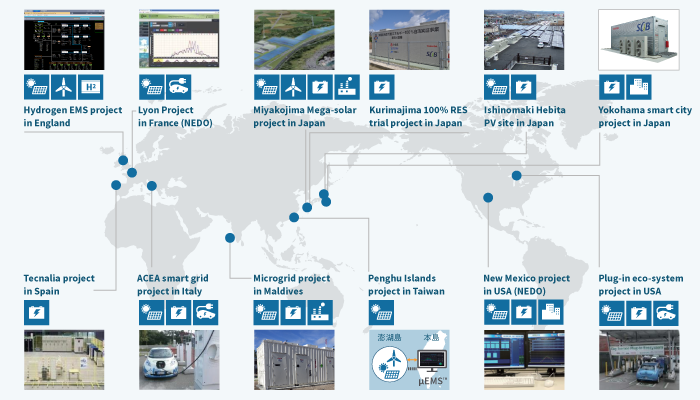 A role of microgrid in carbon neutrality
Microgrid technology contributes to introduction of renewable energy by stabilizing power systems with applications of energy management technology and battery systems.