Research & Development and Intellectual Property




Toshiba Group's goal is to pave the way for a safe, secure and comfortable society by creating and offering through our technology new value that leads to the solution for global-scale social issues. We aim to do this by listening at all times to the demands of the market and our customers, and by maximizing the achievements we have made during our research and development through a global intellectual property strategy.
Medium- to Long-term Vision
In addition to providing products with outstanding performance, function, and quality as an infrastructure services company, we will create new value with solutions that make the most of the customer relationships developed through these products, thereby contributing to society.
FY2020 Achievements
Technology development to tackle COVID-19

Support for remote working and education through e-learning cloud services
Response to the social distancing requirement using image-analysis AI technology
Contribution to health and safety with technology of sterilization and virus control in public facilities

Acceleration of open innovation with external parties

Carbon recycling technology that realizes the world's highest conversion speed at room temperature, and started reviewing carbon recycling business models
Signing of an agreement to establish a joint venture to support the further spread of renewable energy using VPP technology
Launch of joint verification tests on quantum cryptography technology to enhance cybersecurity in the financial sector

Participation in WIPO GREEN, a platform operated by the World Intellectual Property Organization (WIPO) to promote transfer of environmental technology
Future Challenges and Approaches
Focusing on six business areas that support people's lives and society — Energy System Solutions, Infrastructure System Solutions, Building Solutions, Retail & Printing Solutions, Electronic Devices & Storage Solutions, and Digital Solutions —we will create innovative technologies and globally promote research and development to solve social issues by creating of infrastructure services and data services. In order to differentiate infrastructure services, We will strengthen fundamental technology related to devices and components called edge such as batteries, power electronics, intelligent robots, and analyze data and advance such as AI and security. In addition, We will focus on cutting-edge technology that Expected to contribute to solving future social issues, including quantum technology, precision medicine. Through this approach, and strengthened collaboration with external organizations, we will work to provide greater value to society more quickly as an infrastructure services company.
Evaluation by External Parties
Research and Development
Research and Development Strategy
We are currently facing various social problems such as global warming, intensifying natural disasters, and the spread of COVID-19, which are growing more complicated than ever. Toshiba Group is working to enhance the operations of components and systems using its strength. More specifically, we collect data on the physical space by components and systems enhanced their capabilities for the Edge using IoT technology. Then, we build a digital twin on the cyber space, analyze data with AI, and feed it back to the physical space. By bringing together these proprietary cutting edge technologies by Toshiba Group, including cyber-physical-systems (CPS) technology, we strive to resolve social issues and customers' problems with eyes on the future.
Going forward, Toshiba aims to achieve stable growth as an infrastructure service company and take a leap to become a world-leading CPS technology company. To this end, we will focus on technologies for a new way of living, such as those for carbon neutrality, enhancement of infrastructure, adaptation to the new normal, and improvement of quality of life (QOL). At the same time, we will make a shift to growth with a focus on strengthening basic earning power.
Toshiba Group Research & Development Structure
Toshiba conducts research and development in locations that best suit the purpose, from both aspects of technology-led seeds and concepts, and sales-led product planning and the business model. We have a research and development structure in which our research and development sites are categorized into the following: Corporate Research & Development Center that tackles medium- to long-term basic research; works laboratories of Group companies that engage in medium-term component technology development; and engineering departments of key Group companies that deal with product technology that realizes products and services. This structure is optimal for solving technological challenges.
Toshiba Group Research & Development Structure
Major R&D bases in Japan and overseas
Toshiba has built research and development sites in the U.S., Europe, China, India, Vietnam and so on that conduct a wide array of cutting-edge global research and development in collaboration with Toshiba Group's technological development sites in Japan and abroad. In order to boost our global competitiveness, we are improving our capacity to respond swiftly to changes in the market, in our research and development as well. Particularly in China and the rest of Asia, where markets are expanding, we are working to build not only manufacturing sites, but also local engineering sites and development sites. In the future, we will base our research and development in developing countries, and produce products for the global market, including developed countries.
R&D expenses

| FY2016 | FY2017 | FY2018 | FY2019 | FY2020 |
| --- | --- | --- | --- | --- |
| 295.5 billion yen | 178.7 billion yen* | 167.5 billion yen | 158.9 billion yen | 150.5 billion yen |
* Excludes R&D expenses related to the memory business field. Including this field, total R&D expenses come to 297.8 billion yen.
The ratio of R&D expenses to sales in Toshiba Group stands at approximately 5%.
Breakdown of R&D expenses (FY2020)
Technological Contribution to COVID-19 Response Measures
Toshiba Group contributes to ensuring safety and security of the places where people live and communicate with each other by using its technologies to counter COVID-19.
Support for Remote Working and Education
To support companies promoting remote working, Toshiba Digital Solutions Corporation offered some contents of Generalist®/LW, an e-learning cloud service that allows users to easily create e-learning materials, until October 31, 2020 free of charge. In addition, to contribute to maintaining and improving the quality of school classes that have gone online, Toshiba developed ToScLive™, an automatic subtitling system that recognizes the teacher's voice and displays real-time subtitles, and stores subtitles of the entire lesson as text data.
Toshiba Digital Solutions Offers Free of Charge Contents for Potential Recruits, Microsoft Office Contents, and Teleworking Contents on Its E-learning Cloud Service, Generalist®/LW(Japanese) (Toshiba Digital Solutions Corporation)
Toshiba's Auto-Subtitling System for Online Classes is a Win-Win for Educators and Students
Response to the Social Distancing Requirement
Toshiba developed an image-analysis AI technology, which allows us to detect crowds through images from surveillance cameras and issue alerts to inform users about crowd conditions inside a store or public facility. This can streamline monitoring operations, save labor, and is expected to contribute to reducing congestion by visualizing areas of congestion.
Toshiba's High-Speed Crowd Counting AI Delivers World-Class Accuracy on General-Use PC
Health and Safety
Toshiba Lighting & Technology Corporation and Ushio Inc. jointly developed an ultraviolet (UV) lighting fixture that can be used in occupied spaces while irradiating UV light to sterilize bacteria and viruses as a means of preventing infection in public spaces. Meanwhile, Toshiba Digital Solutions Corporation offers ifLink Community Activity, which can easily create digital apps such as those that can control ventilation with CO2 sensing technology.
Launched in January, Two New Product Models with Care222® Technology Able to Be Used in Occupied Spaces to Sterilize Bacteria and Viruses(Japanese) (Toshiba Lighting & Technology Corporation)
Starting to Offer the ifLink Platform That Supports Business Using IoT(Japanese) (Toshiba Digital Solutions Corporation)
Open Innovation through Collaboration with External Organizations
Development of World's Fastest CO2 Recycling Technology for Conversion to Valuable Resources at Room Temperature, and Commencement of a Study of Carbon Recycling Business Models (December 2020, March 2021)
Power to Chemicals (P2C) is a technology for the electrolytic conversion of carbon dioxide (CO2) to carbon monoxide, a raw material for fuels and chemicals. Toshiba has developed in-house P2C technology capable of processing up to a ton of CO2 a year with a C5-size envelope footprint*1. This was made possible by stacking the electrolytic conversion cells, increasing the processed CO2 volume per unit installation area. P2C will be leveraged in reviewing carbon recycling business models for reuse of CO2 as Sustainable Aviation Fuel (SAF). The study has been performed in collaboration with Toshiba Energy Systems & Solutions Corporation, Toyo Engineering Corporation, Idemitsu Kosan Co., Ltd., All Nippon Airways Co., Ltd., and Japan CCS Co., Ltd.
Toshiba Develops World's Fastest CO2 Recycling Technology for Conversion to Valuable Resources at Room Temperature
Carbon Recycling Business Models to be Studyed in Collaboration with Six Companies (Toshiba Energy Systems & Solutions Corporation)
The developed prototype 4-cell stack with an area of 100cm2
CO2 processing speed of the new CO2 electrolysis stack
*1 Some of the research results were produced as part of the Japanese Ministry of the Environment's Model Project for CO2 Resource Recovery using Artificial Photosynthesis Technology.
Establish Joint Venture to Support Further Spread of Renewable Energy Using VPP Technology (November 2020)
Toshiba Energy Systems & Solutions Corporation has signed an agreement to establish a joint venture, Next Kraftwerke Toshiba Corporation, with Next Kraftwerke GmbH, a world-class virtual power plant (VPP) operator in Germany, to promote the further spread of renewable energy by providing support services using VPP technology. The new company aims to provide support services for the owners of renewable energy assets and aggregators mainly in Japan. Such services include those for balancing*1 using VPP technology, which helps to mitigate imbalance risk, and optimize the operation of trading in the control reserve market.
Toshiba and Next Kraftwerke established Joint Venture (Toshiba Energy Systems & Solutions Corporation)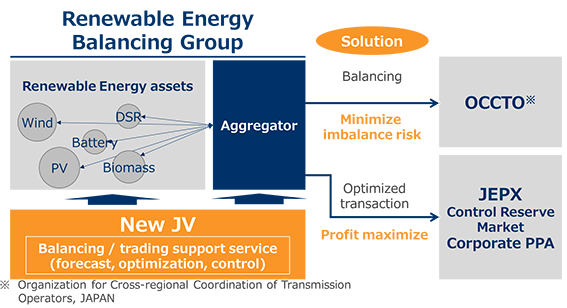 Business model of new company
*1 The service for a mechanism that allows a power generation company or electricity retailer to make adjustments in slices of 30 minutes to match (1) the power generation plan and power generation result, and (2) the demand plan and demand actual result.
Began Joint Verification Tests on Quantum Cryptography Technology to Enhance Cybersecurity in the Financial Sector (December 2020)
In December 2020, five companies including Toshiba, Nomura Holdings, Inc., Nomura Securities Co., Ltd., National Institute of Information and Communications Technology, and NEC Corporation, started joint verification tests on the effectiveness and practicality of quantum cryptography technology in order to strengthen the security of data communications and storage in the financial sector. This is the first-of-its-kind joint verification tests in Japan. In the future, based on the results of these tests, the five companies will work on ways to utilize quantum cryptography and quantum secure cloud systems to strengthen cybersecurity in the financial sector and develop appropriate implementation plans.
Beginning Joint Verification Tests on Quantum Cryptography Technology to Enhance Cybersecurity in the Financial Sector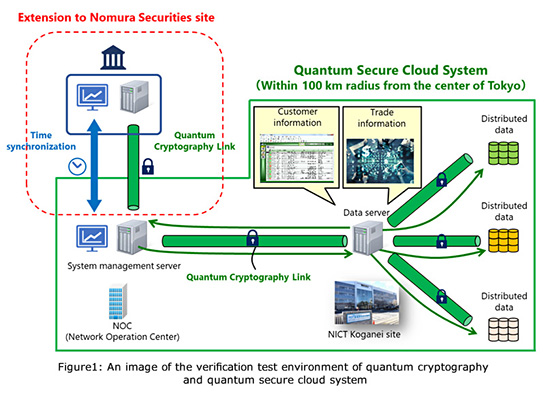 This work was performed for Council for Science, Technology and Innovation (CSTI), Cross-ministerial Strategic Innovation Promotion Program (SIP), "Photonics and Quantum Technology for Society 5.0"(Funding agency : QST).
Protection of Intellectual Property
Intellectual Property Policy and Strategy
Toshiba Group's basic policy on intellectual property rights is to observe laws and regulations associated with them, to protect the results of intellectual activities with the rights and thus make extensive use of those results, and to respect the legitimate intellectual property rights of third parties. This policy is stipulated in the Standards of Conduct for Toshiba Group.
Toshiba identifies intellectual property as a tool that contributes to business activities. In addition to continuing to strengthen the intellectual property abilities that have underpinned the Toshiba Group's accumulated strengths in physical and cyber technologies, we will continue with initiatives to reinforce strategic planning ability in terms of intellectual property as part of the cyber physical system (CPS) business model including open/closed strategies. Through proactive utilization of the intellectual property resulting from research and development, we will deliver continuous new value to society.
Standards of Conduct for Toshiba Group 12. Intellectual Property Rights
Toshiba Group's intellectual property (IP) strategy
Global patents portfolio
Our Structure Concerning Intellectual Property
The organizational structure of the Intellectual Property Division is composed of the corporate Intellectual Property Office, and the intellectual property divisions at our individual laboratories and key Group companies. The corporate Intellectual Property Office formulates and promotes company-wide strategy and measures regarding intellectual property, handles contracts and disputes, manages patent information and deals with matters related to intellectual property right laws, such as the Copyright Law.
Meanwhile, the intellectual property divisions of research laboratories and key Group companies pursue intellectual property strategies in their respective development and business domains and work to strengthen their intellectual property activities in order to build a superior intellectual property portfolio.
Toshiba Group Intellectual Property Management Structure
Participation in WIPO GREEN
In order to contribute to global environmental conservation through the utilization of patents and other intellectual properties, Toshiba has registered environmental technology-related patent rights with WIPO GREEN, a platform operated by the World Intellectual Property Organization (WIPO) to promote global transfer of environmental technology. Toshiba will continue working through this initiative to roll out environment-related technologies and intellectual properties worldwide, thus helping to resolve climate change and other environment-related social issues and contributing to the fulfillment of the SDGs.
Measures against Counterfeit Products
The Toshiba brand symbolizes the value of the Toshiba Group as a corporation, and the value of the products or services that we offer. Failure to take action against counterfeits of Toshiba products would pose not only the risk of damage to Toshiba's brand value and public confidence, but also the risk of purchasing counterfeit products that do not meet the quality expectations of customers who mistake them for genuine products. For this reason, we strive to eradicate counterfeit products, collaborating with domestic and overseas anti-counterfeit organizations, and are actively appealing to local bodies such as government agencies for more stringent control.