Social Contribution Activities











To realize a sustainable society, Toshiba Group actively promotes social contribution activities as well as business activities, thereby contributing to solving various societal issues.
Medium- to Long-term Vision
Our aim is that every Toshiba Group operational site, and each and every employee working there, will take the initiative in contributing to society.
FY2020 Achievements
Number of social contribution programs

Achievement


696

programs
Future Challenges and Approaches
We will continue to provide more information and to make opportunities to our employees, so that many of them can get involved in activities voluntarily that contribute to society.
Basic Policy on Social Contribution Activities
Toshiba Group has set the Basic Policy on Social Contribution Activities which embodies Toshiba Group's Basic Commitment "Committed to People, Committed to the Future."
The five key areas of activities stated in the Toshiba Group Basic Policy on Social Contribution Activities are all related to social issues that Toshiba Group regards as important. Toshiba Group will contribute to solving societal issues, attainment of the SDGs and creating a sustainable society through business activities as well as social contribution activities by using knowledge and resources acquired through business.
In these endeavors, we keep track of the results and impact on business through regular dialogues with stakeholders including NPOs and NGOs, and reevaluate and decide on our course of action accordingly.
Positioning of Social Contribution Activities in Toshiba Group
Structure of Social Contribution Activities
In the Toshiba Group, the Sustainability Management Division carries out social contribution activities in cooperation with corporate staff divisions, key Group companies, etc. based on the Basic Policy on Social Contribution Activities.
With regard to donations to disaster relief and to NPOs and NGOs, we assess the legality and appropriateness of such donations before doing so, based on our in-house regulations.
Structure of Toshiba Group's Social Contribution Activities
Social Contribution Activities by Employees and Support for their Activities
The total number of Toshiba Group employees that participated in the social contribution activities during FY2020 was 118,959.
We have a system in place to support employees in their social contribution activities so that more employees can be part of the society through their contribution activities and help solve social issues. Employees are able to take long-term leave by accumulating annual leave for the purpose of participating in volunteer activities.
Social Contribution Activities: Total Expenditure and its Constituent Parts
Total expenditure and its constituent parts (FY2020)
Support Associated with COVID-19 Infection
In response to the spread of COVID-19 infection, to ensure the safety of customers, business partners, local communities, employees and their families, and business continuity, Toshiba Group is taking measures according to circumstances as they change.
In February 2020, when the COVID-19 outbreak occurred in China, a total of 1 million yuan (equivalent to 15 million yen) was donated by Toshiba Group's subsidiary in China and its employees to help control the virus spreading over a wider area. We donated around 10,000 face masks through the Embassy of the People's Republic of China in Japan as infection prevention goods.
Social Contribution Award: Toshiba ASHITA Award
In order to invigorate our social contribution activities, Toshiba Group has been evaluating and giving awards to domestic and overseas activities. Every year we evaluate the previous fiscal year's activities from nine perspectives—goals, the extent of employee involvement, originality, continuity, social impact, collaboration with external organizations, and so on—and the President and CEO's awards those activities that have achieved excellent results.
In FY2020, out of 1,072 programs that were carried out in FY2019 the following four programs were awarded.
FY2020 Toshiba ASHITA Award-winning programs
Toshiba Group Volunteer Days
Toshiba Group has held the Toshiba Group Volunteer Days since FY2014 around December 5, the International Volunteer Day set by the United Nations. The aim of this initiative was to make a significant social contribution that cannot be achieved by individuals, through the simultaneous participation of all Toshiba Group employees.
In FY2020, about 50,000 employees joined in 242 activities in Japan, and about 7,000 employees participated in 46 activities in overseas countries. The Group companies in Japan and abroad conducted their own unique social contribution activities given the issues of each region. In Japan we held food drives and other events to achieve "Zero Hunger," one of the Sustainable Development Goals (SDGs).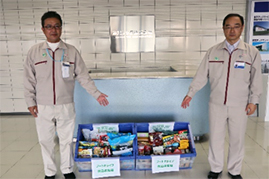 Called for collection of preserved food stocked away at home and donated to an NPO, Food Bank FUJINOKUNI (Toshiba Tec Corporation Shizuoka Business Center)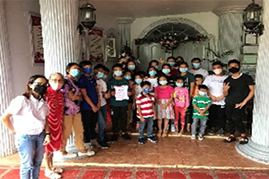 Donated food and other Christmas gifts to children at a facility run by Children's Joy Foundation (Toshiba Information Equipment (Philippines), Inc.)
Science Technology Education
Toshiba Science Museum: Where You Can Enjoy the Fun of Science and Technology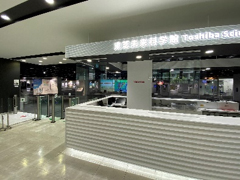 Information desk at
Toshiba Science Museum
Toshiba Science Museum near JR Kawasaki Station is a location for the support of science-technology education, a linchpin in Toshiba's social contribution activities. It introduces state-of-the-art technologies and businesses such as quantum key distribution and heavy ion therapy equipment, and holds online events and video distribution to meet the needs of the era. The museum was closed temporary during FY2020 due to the COVID-19 pandemic, but is open for visit from April 2021, with advanced reservation required. In May 2021, it was certified as a "Kawasaki SDGs Partner" under a program through which Kawasaki City registers and certifies companies and organizations committed to achieving SDGs.
Science and Technology Competition for Children in the U.S. and Canada
Since 1992, Toshiba Group has worked with the National Science Teachers Association to host the ExploraVision Awards (EVA), a science and technology competition for k-1 to k-12 students in the United States and Canada.
EVA is a competition aiming to encourage dreams in which children make predictions about technologies that they believe will become feasible within 20 years based on today's science and technology. The program celebrated its 28th anniversary in 2020, commemorating its long history as a Japanese company's science education support program in North America. The number of participants totals approximately 450,000 to date. In 2020, we received applications from about 4,000 groups around the United States and Canada. Although the award ceremony was held online to prevent the spread of COVID-19, we received comments from the prizewinners such as, "EVA made me realize science was fun, and it gave me confidence to solve big problems."
[2020 Prizewinners]
GRADES K1-3 (Kindergarten to 3rd year elementary school students)

Get Away! Bacteriophage
Friday Harbor Elementary School in Washington

GRADES K4-6 (4th to 6th year elementary school students)

Ground-Based Airport Runway (GBAR) Turbines
Northmoor Elementary in Englewood, Ohio

GRADES K7-9 (1st to 3rd year junior high school students)

Engineering Chlamydomonas reinhardtii to Biodegrade the Pollutant Polyethylene Terephthalate
McCullough Jr. High School in The Woodlands, Texas

GRADES K10-12 (1st to 3rd year high school students)

Self-Immunizing Joint Replacements
Alabama School of Math & Science in Mobile, Alabama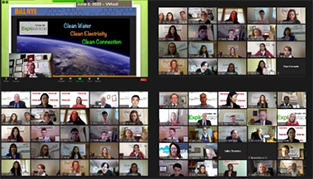 Over 100 people simultaneously attended
the virtual award ceremony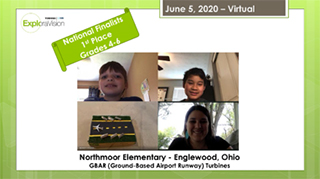 Children from GRADES K4-6 (4th to 6th year elementary school students) showcased their award-winning idea, "GBAR Turbines"
Teaching Competition in China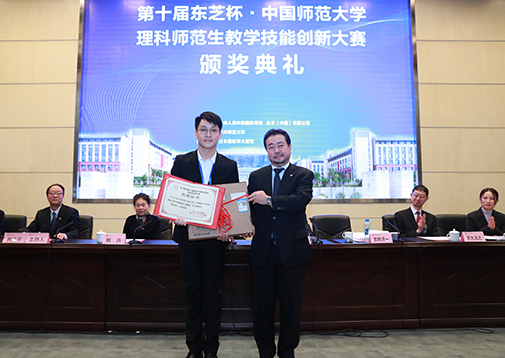 Mr. Chen Decheng of South China Normal University (left) received the Toshiba Innovation Award in FY2019.
Seeking to contribute to the future development of scientific and technical human resources in China, in 2008 we established the Contest of Math and Science Teaching Program for the Normal University Students in China in cooperation with China's Ministry of Education. This is a contest for students studying at four-year Chinese teacher training universities which are equivalent to universities of education in Japan and aspiring to become a teacher in science including physics, chemistry, or mathematics, to compete their skills in teaching a class. Winners and their instructors are invited to Japan for the opportunities to have experience of Japanese science, technology and culture, and exchange with teachers and students of Japanese teacher training university.
In FY2020, the contest was cancelled due to the COVID-19 pandemic.
Environmental Education Program for Children
Since 2017, we have held environment education programs for elementary school children in collaboration with the Association of Corporation and Education at elementary schools in areas around Tokyo and regions where we have manufacturing sites, in addition to Toshiba Science Museum and event venues throughout Japan.
Scholarships
Toshiba Group awards scholarships to students and laboratories in different countries to help support development of a new generation. Furthermore Toshiba factories are receptive to local requests for tours, and some even accept internships of a few weeks.
Toshiba granted 100,000 yen every month to 230 university students in Iwate, Miyagi, and Fukushima prefectures, which were hit hard by the Great East Japan Earthquake, until graduation.
In Vietnam, we have given a total of around 3 million yen every year since 2005 in subsidies to around 30 students at the Hanoi and Ho Chi Minh City campus of Vietnam National University. Toshiba and the university also conduct joint research on software. Some graduates of the university have entered Toshiba Software Development (Vietnam) Co., Ltd. and continue to work there.
Toshiba Information Equipment (Philippines), Inc. established a scholarship system in 2008 to provide education at universities or vocational educational institutes to economically disadvantaged high school students. Toshiba supported 90 students with scholarships until 2018 when the program ended.
Factory Tours and Internship
At the request of local communities or schools, operational sites throughout Japan accepts visitors for facility tours, and participants for on-the-job training programs and internship programs.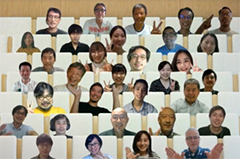 Online internship (Cyber-Physical Systems x Design Division, Toshiba)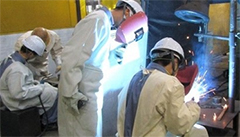 Work experience (NISHISHIBA ELECTRIC CO., LTD.)
Cyber-Physical Systems x Design Division, Toshiba:
Based on our original program, we offer an internship to students several times a year as an opportunity to acquire experience that will help them seek their potential or think about their future career. Due to the COVID-19 pandemic, the internship program was offered by way of small group online meeting in August 2020. With careful infection prevention measure in place, we conducted an office tour in October 2020 to give the participants a chance to feel the workplace atmosphere and experience a workshop that also offered them an opportunity to interact with each other.
NISHISHIBA ELECTRIC CO., LTD.:
Students at technical high schools in Himeji City were invited for work experience at seven different workplaces in five days. They experienced not only manufacturing, but also safety activity.
Protection of the Natural Environment
Conservation of Biodiversity
Toshiba Group has set five activity themes with reference to the new globally-shared targets for the conservation of biodiversity*, and promotes employees' participation within and outside the operational sites.
* With reference to the updated zero draft of the Post-2020 Global Biodiversity Framework (issued in August 2020), a framework that the Conference of the Parties to the Convention on Biological Diversity aims to develop , we set the following five activity themes: (1) Building of ecosystem networks, (2) Conservation of rare species, promotion of ex situ conservation, (3) Response to marine plastics issues, (4) Response to climate change (mitigation, adaptation), and (5) Conservation of water .
Social Welfare
Sending Doctors and Dentists to Areas around the Toshiba Factory in the Philippines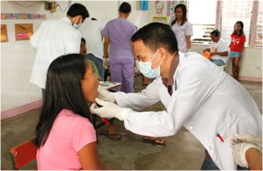 Medical treatment is provided free of charge.
(February 2020, Toshiba Information
Equipment (Philippines), Inc.)
Since 2006, Toshiba Information Equipment (Philippines), Inc. has been dispatching a team of doctors, dentists, nurses, and many volunteer employees to impoverished areas nearby to provide medical and dental examination services as well as medical supplies to the residents free of charge. The activity was suspended in FY2020 due to the COVID-19 pandemic.
International Exchanges with Friendship, and Promotion of Sports and Culture
International Exchange Program for High School Students from Japan and the ASEAN Countries
Since FY2014, the Toshiba International Foundation (TIFO) has been holding Toshiba Youth Club Asia (TYCA), an international exchange program where high school students from Japan and the 10 ASEAN countries get together for a week to co-develop future vision for Asia through various hands-on learning and discussions, by using SDGs as their common language. In FY2020, because we were not able to invite participants from Asia due to the COVID-19 pandemic, we asked a total of 100 participants from our past six programs (alumni) to write an essay, an activity suitable for a time like this. The theme of the essay was, "What I am working on with an eye on the post-COVID-19 era." We received essays from a total of 75 participants, including some that reported on their recent status, and posted them on a special website.
Despite being forced to change various plans including a chance to study abroad due to the spread of COVID-19, we found that some participants were reflecting on themselves to find what they can do now, some were challenging new things, while one was actively working at the forefront of medical practice that tackled COVID-19, and another was undergoing training to become a chef at a Japanese restaurant as part of the attempt to contribute to local revitalization. These all proved that TYCA is contributing to developing powerful talents for the future.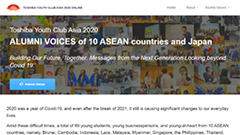 TYCA Special Website (Toshiba Youth Club Asia)
Promoting Sports
Toshiba promotes sports not only to help children to grow up healthy but also to inspire and encourage everyone through the impressive performances of top athletes. Amateur sports teams of Toshiba employees play an active role in making a difference in society.
Toshiba baseball team: Brave Areus (Japanese)
Disaster Relief
As a company that conducts business worldwide, Toshiba Group wishes to contribute to restoring areas affected by natural disasters. To that end, we review what is most appropriate in consideration of local characteristics and damage situations, and donate money, provide our company products, and collaborate with NGOs. In addition, employees also engage in fund raising and volunteer activities.
In FY2020, we provided support via donations to areas affected by heavy rains in July 2020 in Japan.