Activities to Promote the SDGs
Toshiba Group and the SDGs
The main plank of the "Toshiba Group Basic Commitment" is "Committed to people, Committed to the Future.". This expresses Toshiba Group's unwavering determination to contribute to the development of society through its business, and is consistent with the direction of the SDGs, which aim to realize a sustainable society. Acting in good faith in our daily activities, and with a passion to make the world a better place, looking to the future beyond the next generation, and to create that future with our stakeholders—inspired by these ideas, Toshiba Group has and will continue to bring together the creativity and technological capabilities it has cultivated to confront social issues that are becoming more complicated and serious, and to turn on the promise of a new day.
The Essence of Toshiba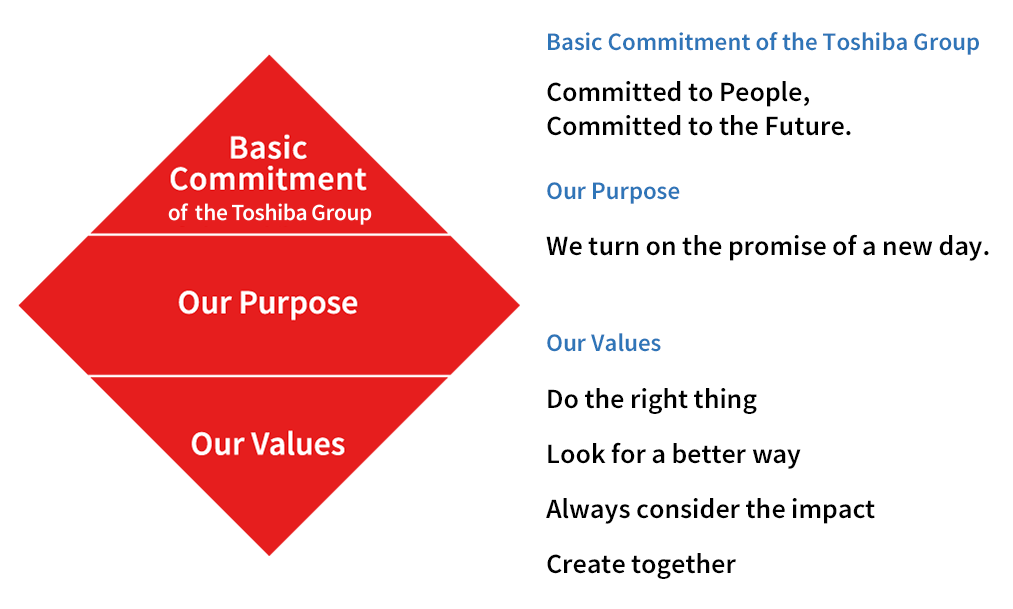 Sustainable Development Goals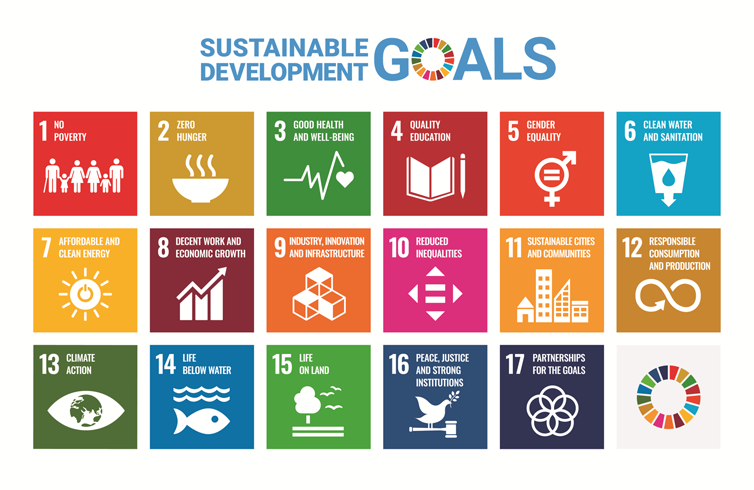 Contributions to Achieving the SDGs through Corporate Activities
In order for Toshiba Group to promote the understanding of SDGs and related initiatives, Toshiba, key Group companies, and some Group companies* exchanged opinions to clarify the relationships between our business and the SDGs in 2018. In the discussion, we reviewed the impact our value chain has on society, identified goals for making contributions through the businesses of Toshiba Group, and announced that these initiatives will be accelerated.
In 2021, we re-identified new material issues to be addressed by Toshiba Group based on the SDGs and the social issues outlined in the Global Risks Report published by the WEF.
Toshiba Group will actively engage in helping solve social issues through its corporate activities.
* Toshiba Elevator and Building Systems Corporation, Toshiba Carrier Corporation, and Toshiba Lighting & Technology Corporation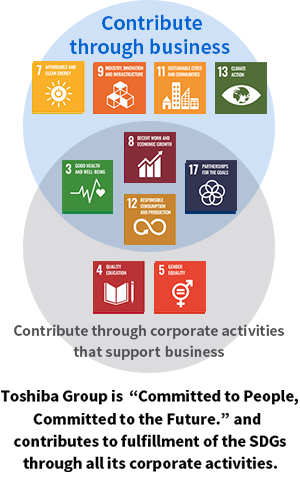 With the SDGs, working toward one goal has the ripple effect of contributing to another goal, and with this in mind, Toshiba Group will continue to undertake initiatives that extend beyond the aforementioned 10 goals to cover all 17 of the SDGs.
Examples of Practices
Based on its Basic Commitment, Toshiba Group tackles various social issues using technologies that it has cultivated over many years.
SCiB™ Rechargeable Lithium-ion Battery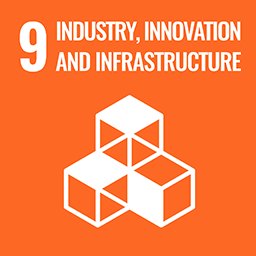 We will create sustainable social infrastructure with our rechargeable lithium-ion battery that is highly safe, has a long lifetime, and recharges fast.
Demand for rechargeable batteries is rapidly increasing as electrification continues in a variety of fields—automobiles, buses, railways, other types of vehicles, industrial equipment like elevators, and infrastructure equipment like large-scale power storage facilities linked to renewable energy. With its SCiB™ rechargeable lithium-ion battery that is safe, has a long life, and recharges fast, Toshiba Group will help reduce environmental impacts mindful of the whole lifecycle to achieve carbon neutrality and ensure the future social infrastructure is sustainable.
Toshiba's SCiB™ Rechargeable Battery
Next-generation Technology: Aqueous Batteries
Power Electronics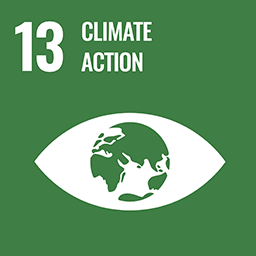 We will contribute to carbon neutrality with the advanced technology of power semiconductors that efficiently converts electric power without wasting it.
With the spread of renewable energy and electrification of various motion equipment, we help end users save energy and reduce greenhouse gas emissions by developing and offering smaller, lighter, and high-efficiency power semiconductor products. The products are widely used in the mobility and industrial sectors and contribute to achieving carbon neutrality.
MOSFETs (Toshiba Electronic Devices & Storage Corporation)
SiC Power Devices (Toshiba Electronic Devices & Storage Corporation)
IGBTs/IEGTs (Toshiba Electronic Devices & Storage Corporation)
Precision Medicine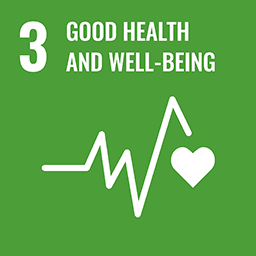 Toshiba aims for a world where every individual can be healthy and live a quality of life by helping them extend their healthy life expectancy and enabling early detection and treatment of cancer.
We will promote precision medicine technologies ranging from prevention to treatment by providing a disease prevention solution using data-driven risk prediction and genome analysis; a microRNA detection technology that enables very early detection of 13 types of cancers using a tiny amount of blood; and a heavy-ion therapy technologies for cancer treatment, which reduces burdens on patients. In cooperation with many business partners and users, we will support all people in improving their quality of life so that both healthy and sick people, their families, and those around them can live happily in the way they want.
Toshiba's Precision Medicine (Japanese)
Worried About Your Future Health? Toshiba's AI Technologies Can Predict Your Risk of Developing a Lifestyle Disease
Toshiba and University of Tokyo to Collaborate in Preventive Medicine using Genomic Data
Toshiba Heavy Ion Therapy (Toshiba Energy Systems & Solutions Corporation)
Activities to Promote the SDGs inside the Group
Toshiba Group undertakes various initiatives to encourage its employees to understand the importance of the SDGs and help achieve them through their respective corporate activities.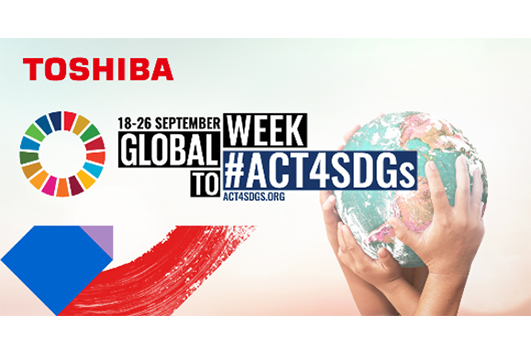 September 2020
During the UN's Global Week to #Act4SDGs, Toshiba Group used social media to showcase to internal and external stakeholders how its initiatives in different regions are contributing to achieve the SDGs.
2019
Participants of the six-month program working in different fields gathered together at Toshiba Komukai Complex and Fuchu Complex to think outside the box and come up with new ideas learning about social issues featured in the SDGs as well as future scenarios and predictions.
Young Employees Networking through the Creation of Ideas―Technological Collaboration Born from Passion (Japanese)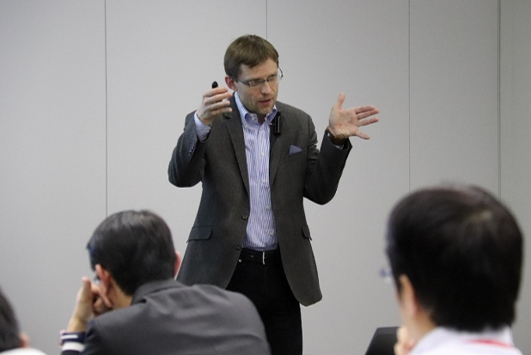 April 2018
Peter D. Pedersen explains the perspective of resolving global social issues in a lecture titled "Is there a path to new business development based on Society-in, the next innovation frontier?".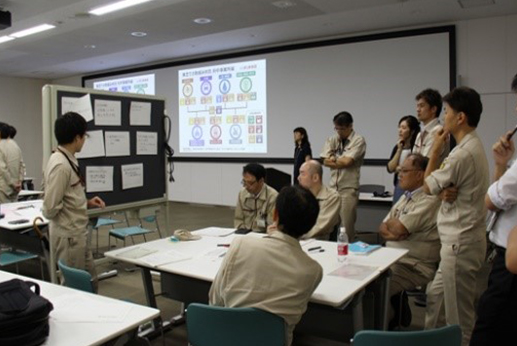 June 2018
Conducting a workshop for engineers at Toshiba Fuchu Complex to show how the SDGs are everyone's problems to resolv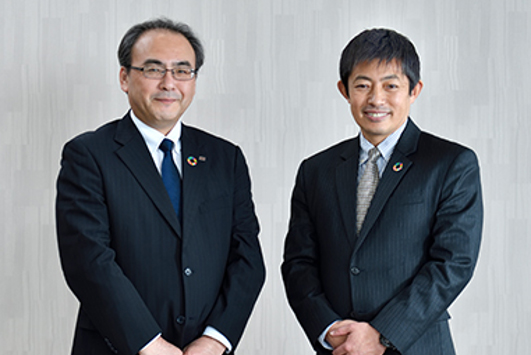 September 2018
Kazuo Tase, CEO at SDG Partners, Inc. and Akitsugu Yamaguchi, Director at Toshiba Digital Solutions Corporation, discussed the SDGs in a dialogue.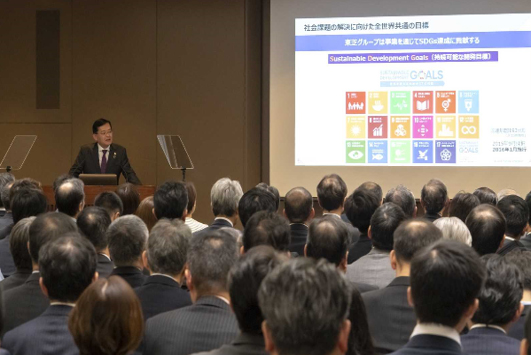 December 2018
A briefing on the SDGs given by the CSR Management Office for branch managers of Toshiba Corporation from all around Japan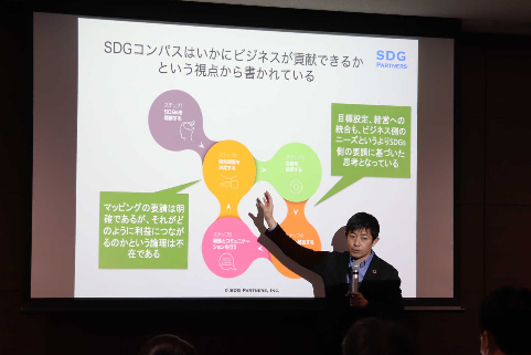 December 2018
Chairman Kurumatani discusses Toshiba Group's SDGs initiatives at the 14th Toshiba Group CSR Conference.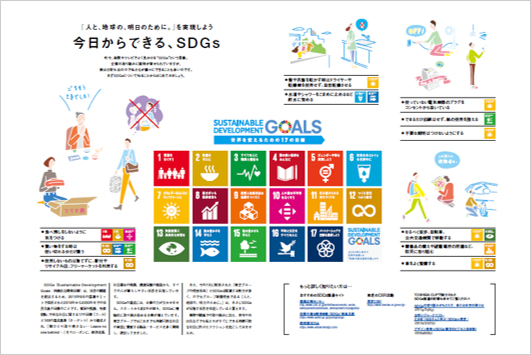 February 2019
Kazuo Tase, CEO at SDG Partners, Inc., gives a lecture to SDGs managers from core Toshiba Group companies on the topic, "The corporate value demanded today and the SDGs."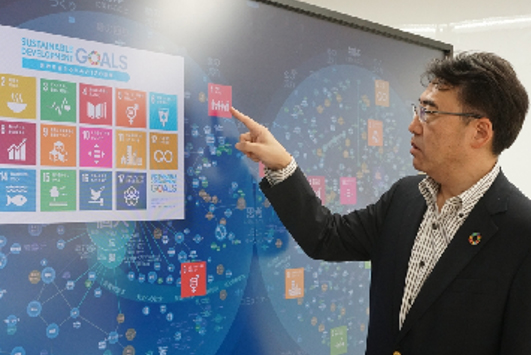 Toshiba Life, August 2018 issue, Special edition Vol. 13 (Japanese)
The topic "SDGs and what we can do today to realize our philosophy, 'Committed to People, Committed to the Future'" was discussed in the aforementioned in-house communication magazine for Toshiba Group employees and their families.