Phased Array Weather Radar
Sophisticated weather radar that provides resilient disaster prevention and mitigation functions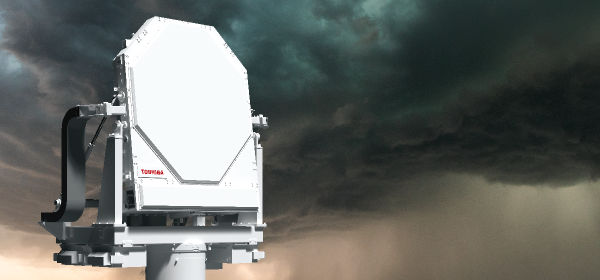 Phased Array Weather Radar
World's first practical multi-parameter phased array weather radar (MP-PAWR)
As a member of a research group established under the Cross-Ministerial Strategic Innovation Promotion Program (SIP)*1 for the enhancement of resilient disaster prevention and mitigation functions, Toshiba has developed the world's first*2 practical multi-parameter phased array weather radar (MP-PAWR), which is expected to help prevent and mitigate natural disasters.
The MP-PAWR provides the combined advantages of multi-parameter and phased array weather radars, making it possible to detect signs of torrential rain earlier and more accurately.
*1 SIP
A program established in 2014 by the Council for Science, Technology and Innovation of the Cabinet Office of the Government of Japan with the aim of promoting innovation in science and technology
*2 World's first
World's first phased array radar dedicated to weather observation that provides a dual polarization function for simultaneously transmitting and receiving both horizontal and vertical waves as well as real-time imaging using digital beam forming (DBF) capable of observing more than 10 directions in the sky at one time
This brings you to a web page of Toshiba Corporation.
Other Solutions & Products