Improvement of Customer Satisfaction






Feedback from our customers is the origin of all our ideas. In order to increase customer satisfaction (CS), all Toshiba Group employees operate from a customer perspective. This applies not just to those who work in direct contact with customers, such as those in sales and after-sales services, but in all divisions, from development, design, manufacturing, product quality, corporate staff, and so on.
Medium- to Long-term Vision
Toshiba Group's goal is to provide high-quality services to customers in all business areas.
FY2020 Achievements
We set a special month to improve Customer Satisfaction, and undertook measures that included education and training on CS for all Toshiba Group employees.
Future Challenges and Approaches
We will continue to provide CS training and education, online if necessary, for our employees, in particular our Customer Satisfaction Improvement Month activities. Moreover, we will continue several activities as After-sales Service Improvement Committee.
Toshiba Group Customer Satisfaction Policy
The Customer Satisfaction Policy of Toshiba Group is to make the voice of customers the starting point for all ideas and provide products, systems and services that deliver customer satisfaction.
The same content is included in Standards of Conduct for Toshiba Group 2. Customer Satisfaction.
Standards of Conduct for Toshiba Group 2. Customer Satisfaction
Customer Satisfaction (CS) Promotion Structure
CS Promotion Structure
For cross-functional activities in accordance with the Toshiba Group Customer Satisfaction Policy, working groups (WGs) by subject and the After-sales Service Improvement Committee have been set up.
CS Promotion Structure
Customer Support
Toshiba Group have set up call centers for different product groups and services. Each call center formulates its own targets for improving the quality of customer support.
Toshiba Group in Japan respond to customer inquiries concerning the products and services offered by Group companies, both in Japan and overseas, through the Toshiba Customer Information Center. It provides cross-divisional services to our customers, by guiding them to our specialized call centers, and forwarding calls to the division in charge, etc.
Opinions and requests from customers are fed back to the relevant divisions so that they can be reflected in product and service improvement.
Toshiba Customer Information Center has a temporary service center to ensure that the functions can continue even in the event of a natural disaster or other issue. Since the state of emergency declared in 2020 due to the spread of COVID-19, we switched to our temporary service center to ensure uninterrupted operation as part of efforts to reduce the risk of infection. We are currently back to normal operation with thorough infection prevention measures in place.
Toshiba Customer Information Center: Breakdown of Inquiries (FY2020)
Major Contact Centers for Individual Users in Japan
Improvement of Support to Customers
Initiatives for After-sales Services
In order for each after-sales services division in the Toshiba Group to share their issues and good cases of CS improvement as well as tackle service improvement Group-wide, we have established an After-sales Service Improvement Working Group.
This working group's activities include surveying service sites to identify issues and training for service engineers.
Moreover, we also have After-sales Service Meetings by region to share information within each region and strengthen cooperation.
Activity Example: Voice Recognition System Used in Maintenance Services
Toshiba Elevator and Building Systems Corporation is introducing a system in which matters to be reported during regular checks of elevators and escalators can be recorded as maintenance reports using a voice recognition system.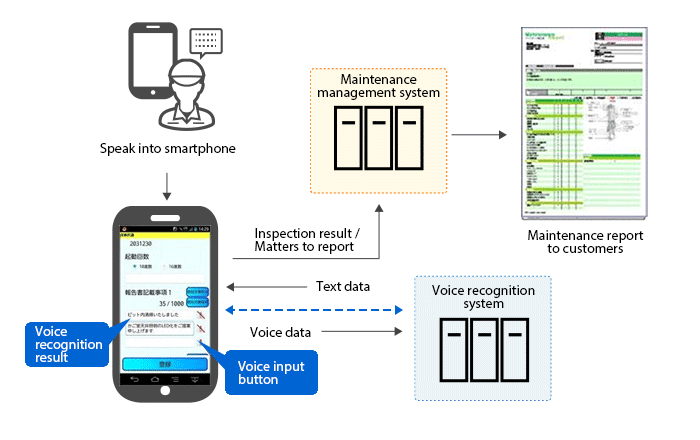 Maintenance staff voice-record the details and the state of the inspection on-site into a smartphone during the inspection. The recorded sound data is converted into text, and recorded as text data in an app installed on the smartphone. As the staff can record just by speaking a few words even during maintenance operations, this allows us to provide as required precise information to customers more quickly. It also improves safety by reducing the workload of maintenance staff.
In the future, we will improve this system further, and evaluate how to apply it in times of emergency, for example after earthquakes.
Activity Example: Remote Support System Used in Maintenance Services
Toshiba IT-Services Corporation is introducing a service using remote support system for their information equipment maintenance service.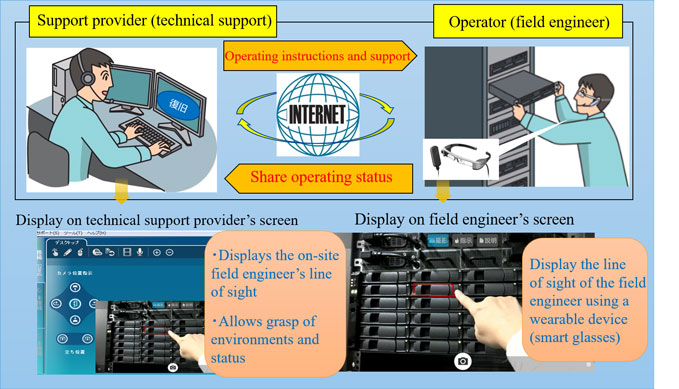 Initiatives for Handling Inquiries from Customers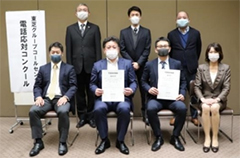 Award for Contact Center Competition (the ceremony was attended by representatives only)
We have a Contact Center Improvement Working Group, which is aimed at improving the quality of response at Toshiba Group call centers in Japan. This working group conducts surveys to identify issues with the contact center, provides training to phone operators and checks the quality of operations at the contact center.
In November 2020, we held the 14th Contact Center Competition. Considering the prevention of the spread of COVID-19, judges made their decisions based on pre-recorded conversations. A total of eight participants from five call centers competed in a contest of response quality, in order to encourage overall improvement.
Improvement of Customer Satisfaction (CS) Mind of Employees
Customer Satisfaction Improvement Month
In FY2015, Toshiba Group created Customer Satisfaction Improvement Month. Thereafter, we implement measures to promote and raise employees' awareness about the importance of CS during November every year.
E-learning to Improve Customer Satisfaction
We provide e-learning for employees to improve customer satisfaction. In FY2020, we held e-learning sessions for 74,103 Toshiba Group employees in Japan, representing that 99% of all employees attended the sessions and learned about the importance of enhancing CS.
Customer Satisfaction Lectures
We hold lectures for Toshiba Group employees introducing the activities of companies and people working actively to enhance customer satisfaction. In FY2020, in view of the managerial topic of making a shift in business model to the one that will capture customers, we invited Ms. Hiroko Razavi , the Representative Director of Success Lab Inc. and the author of " What is Customer Success? " to talk about the new CS perspective. This lecture was held online with approximately 1,200 employees viewing.
After-sales Service Convention
We held an After-sales Service Convention in November 2019, with Toshiba Group's after-sales companies and divisions in attendance. During the convention, we held a CS Improvement Activity Award ceremony to celebrate activities that contributed to improving customer satisfaction, as well as a CS Case Study Sharing Session to share initiatives to improve CS and enhance service efficiency. In addition, an After-sales Service Convention was held in Shanghai, China, with service divisions from China taking part. The convention enabled the sharing of cases to improve CS and a lively exchange of opinions on after-sales service aimed at resolving issues. The convention was cancelled in 2020 due to the spread of COVID-19, but we will continue implementing CS improvement measures.
Training of Employees on Dealing with Customers
We provide trainings for employees to understand the importance of customer satisfaction, and to learn the skills necessary for dealing with customers. We also provide a variety of manuals, including the Customer Service Manual and How to write Documents, and raise employees' customer service awareness through internal training. In FY2020, we provided online training to 137 employees on such topics as the basics of customer response and the basics of writing business e-mails.
Sharing and Utilization of Voice of Customers
At Toshiba Group, all relevant departments share information on 'customers' complaints, opinions, and requests about our products and services received through our daily sales, repair, and service activities, and via telephone or the internet, in order to improve the quality of our products and repair services.
Activity Example: Utilizing a New Facility Training Building with Showroom Features
East Japan Service Information Center of Toshiba Elevator and Building Systems Corp.
Toshiba Elevator and Building Systems Corp. constructed a new facility training building on the site of the Toshiba Fuchu Complex in FY2013. This new building, which also functions as a showroom, is designed for providing maintenance services for elevators and building facilities as well as for conducting engineer trainings in order to improve facility construction skills. The building is equipped with a high-rise elevator shaft for skills training on the maintenance of high-speed elevators. Such elevators have been increasing in number in recent years as increasingly taller buildings are erected. This facility training aims to ensure safety and comfort during high-speed elevator operation.
In addition, the East Japan Service Information Center, which provides round-the-clock support services, including remote monitoring of Toshiba elevators and building facilities, relocated to this building and expanded its office in order to provide a variety of technologies designed to ensure security for customers. A maintenance support system that makes use of mobile phones is also available to facilitate speedy recovery from damages suffered due to an accident or large-scale earthquake.
Activity Example: Providing Various Services around the Clock throughout the Year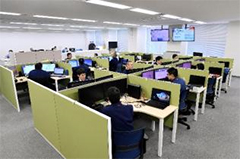 Toshiba Automation System Service Co., Ltd.
Call Center, Technology administration department
Toshiba Automation Systems Service Co., Ltd., which provides maintenance services such as a banknote processing system, railway station system, and logistics and postal system, supports customers in around 20 countries, including Japan, with a 24/7 support service network. Many people with on-site experience work at our call center. We are, striving to improve the quality of daily operations by leveraging their experience to enhance customer satisfaction. In September 2019, the center was relocated to a new office building with a layout that improves the work environment for operators.
Inspections and Audits of Customer Support
Since FY2005, we have conducted quality checks every year to major call centers at Toshiba Group in accordance with the Toshiba Group Contact Center Guideline. We focus on improving matters that are given high priority but show low implementation rate. In FY2020, we provided telephone skills training.
Policy on Customer Information Protection
Toshiba was quick to recognize the importance of protection of personal data, and in 2000 established the Toshiba Personal Data Protection Program based on its Privacy Policy. The Company strives for continual improvement in its management system.
Toshiba clearly states the purpose while using customers' personal data and, in principle, obtains such information directly based on the consent of customers . The majority of the information is basic personal data essential for contacting customers or providing services, such as name, address, telephone number, and email address. Toshiba appropriately handles personal data in accordance with internal regulations and rigorously controls personal data using a framework integrated with the data security management structure. When outsourcing operations that involve the handling of personal information, we select and manage contractors in accordance with our internal standards.
The principal purposes of use of personal data held by Toshiba are published on the following website.
Please refer to the Cyber Security Report for details on personal information protection.
Risk Management and Compliance
Support for Customers' Business Continuity
At Toshiba Group, we assist our customers' business continuity, providing them with the latest technologies, products and systems.
Activity Example: Tokyo-Chubu HVDC Interconnection Link Completed,

Connecting East-West Grid Operating in 50 Hz and 60 Hz,
Respectively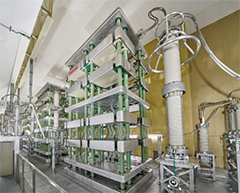 AC/DC converter delivered to Shin-Shinano substation
TEPCO Power Grid Shin-Shinano frequency converter expansion project, which was designed, procured, and installed by Toshiba Energy Systems & Solutions Corporation (rated capacity 450 MW × 2, DC ± 200 kV, DC 2,250 A), was completed and commenced commercial operation in March 2021.
The transmission grid in Japan is operated in different frequencies (50 Hz in East Japan and 60 Hz in West Japan) where a large power interconnection between the grids is not possible. As such, an HVDC* system, which converts alternating current (AC) to direct current (DC), is used before transmitting power between the regions. The total interconnection Tokyo (50 Hz) and Chubu (60 Hz) regions was 1,200 MW, with two substations and one frequency converter (FC) station, including Shin-Shinano substation (existing FC station), this interconnecting link started operation. Due to the electricity security crisis following the East Japan Earthquake in 2011, it became more vital than ever to have a more interconnecting capacity between the Tokyo-Chubu grids, and it was decided that TEPCO Power Grid would expand the Shin-Shinano FC in the east while Chubu Electric Power Grid would build the Hida FC station (Takayama City, Gifu Prefecture) in the west. With the commencement of commercial operation of the expanded Shin-Shinano FC, the total interconnection capacity has been increased by 900 MW.
Due to frequent large-scale disasters in recent years and the expansion of renewable energy, the need for a power exchange between different regions is growing. Toshiba Energy Systems & Solutions Corporation will contribute to more stable power supply by providing high quality products and services based on expertise and experiences cultivated through manufacturing and construction of facilities in this project.
* HVDC is an abbreviation for high-voltage direct current. The power is converted from AC to DC at the sending end before being transmitted, and the receiving end system reconverts the power to AC to supply end users.
Activity Example: In Emergencies, Achieve Stable Supply of Electricity
with a Hydrogen-based Autonomous Energy Supply System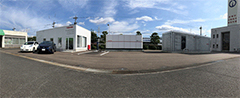 H2One™ Multi Station delivered
in Tsuruga City, Fukui Prefecture
Toshiba Energy Systems & Solutions Corporation is offering H2One™, a hydrogen-based autonomous energy supply system that uses renewable energy and hydrogen and is suitable for various purposes.
H2One™ Multi Station installed inside the Tsuruga City public wholesale market in Fukui Prefecture started operation in November 2020.
The H2One™ Multi Station consists of two systems, one-container type H2One™ and a "local-production for local consumption" style hydrogen station using renewable energy, H2One™ ST Unit. It uses green energy generated from solar power within the facility, and not only is it capable of filling hydrogen to fuel cell vehicles (FCV), but it has multi-functions to also supply power to buildings within the premises and electric vehicles. Heat generated from this system is used to warm water used in the facility's lavatories.
The place where the system is installed also acts as a base for relief supplies during the time of a disaster. It can provide three days' worth of power and heat for 300 people in case of blackout. It supports people's living during a disaster by not only maintaining a function for providing relief supplies during power failure but also by supporting hydrogen infrastructure in the surrounding region with hydrogen generated within the facility.
Going forward, we will continue supporting the stable supply of clean energy through providing hydrogen solutions in order to realize a carbon neutral society, while contributing to the creation of communities that remain disaster resilient, and to ensuring business continuity during a disaster.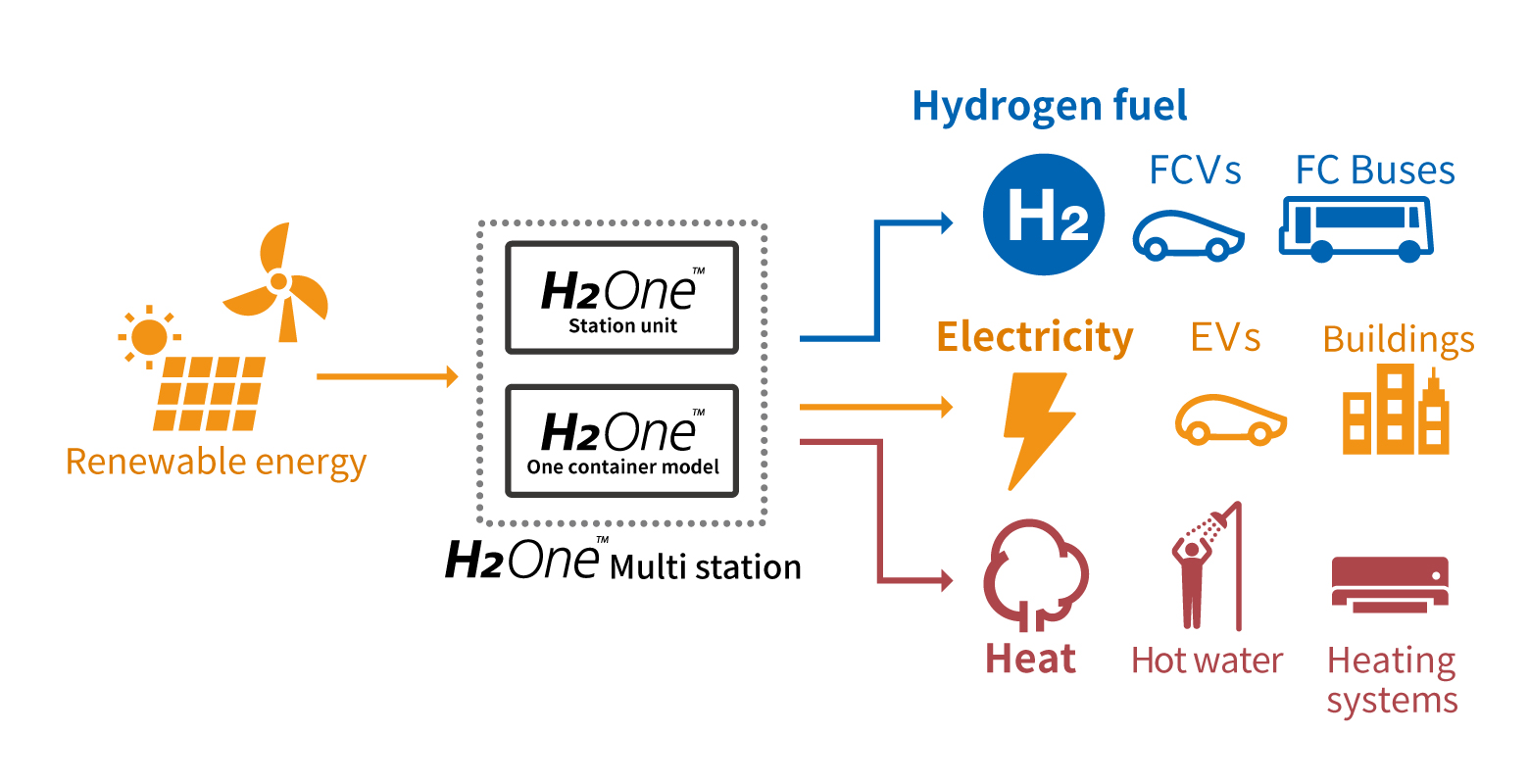 H2One™ Multi Station sample scheme
Activity Example: Protecting Legacy Devices from Cyber Security Issues
IoT Security Solution CYTHEMIS™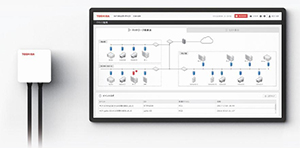 IoT security solution CYTHEMIS™
Toshiba Infrastructure Systems & Solutions Corporation devised the IoT security solution CYTHEMIS™ with the aim of providing security measures for control systems and for networks in factories and laboratories that include legacy devices for which security measures are difficult. The solution has been employed by National Institute for Materials Science.
CYTHEMIS™ is a package solution consisting of small hardware device that protects PCs and devices located at the end of the network from cyber attacks, and performs security processing that should be performed by the endpoint, and a system that manages it. As it is an add-on endpoint solution, it can provide enhanced security under various environments including legacy devices irrespective of the platform.
Toshiba Infrastructure Systems & Solutions Corporation will continue to actively work to resolve security issues such as cyber attacks that are cause for concern with the shift to IoT, and contribute to customer operations and business continuity.
IoT security solution CYTHEMIS™ (Toshiba Infrastructure Systems & Solutions Corporation)
Activity Example: Response to the Risk of Supply Chain Disruption through
Swift Grasp of Information in a Disaster
Toshiba Digital Solutions Corporation provides services that support customers to continue their business activities. One of these services, the Strategic Procurement Solution, enables the integrated management of supplier information and the effective management of information for supplier strategies. The service has a BCP* management function. It automatically obtains information of disaster such as an earthquake in Japan or overseas, and visualizes the effect degree on a customer's production activities. This contributes to swift response to the risk of supply chain disruptions.
Morinaga Milk Industry Co., Ltd. has strengthened its BCP measures through the introduction of the Strategic Procurement Solution by realizing the centralized management of supplier information and supply chain information. Accumulating price information through the digitization of price estimate operations and using the workflow function makes it possible to approve unit price without being in the office, with this and other benefits contributing to work style reform in the procurement department. Centralizing information management has led to the establishment of procurement operation foundations enabling know-how to be passed on to the next generation.
* BCP: Business Continuity Plan
Activity Example: Utilizing Digital Technology to Contribute to
Business Transformation for Customers in the Era of
"

New Normal

"

Toshiba Digital Solutions Corporation contributes to the business transformation of customers in the era of "new normal" by integrating digital technology in such areas as IoT and AI with know-how gained from the field in social, industrial and corporate sectors.
In order to offer solutions for issues such as shift to contactless and remote operation at production sites, increasing performance efficiency and productivity, or optimizing energy to achieve carbon neutrality, Toshiba Digital Solutions Corporation provides "Asset IoT Cloud Service for Factories" and "Asset IoT Cloud Service for Equipment Manufacturers", both equipped with the Asset Integration Data Platform*. These services were developed by combining Toshiba Group's expertise accumulated over the years in operation and maintenance of social infrastructure, energy systems, and plant systems with digital technologies such as IoT and AI. The services work together in the digital space in the Asset Integration Data Platform and support the overall optimization of factory/plant operation and maintenance by digitally linking the factories and plants with manufacturers that deliver equipment there.

* IoT data platform that utilizes know-how Toshiba Group has fostered over the years regarding infrastructure operation and maintenance support systems.

O&M IoT Solutions (Japanese) (Toshiba Digital Solutions Corporation)

Asset IoT Cloud Service for Factories (Toshiba Digital Solutions Corporation)

Asset IoT Cloud Service for Equipment Manufacturers (Toshiba Digital Solutions Corporation)
Activity Example: Cyber Resilience Initiatives to Support Sustainability of
Industrial and Social Infrastructure
Occurrence of critical incidents caused by cyber-attacks against essential industrial and social infrastructure such as energy, manufacturing, transportation, and medical institutions will have a severe impact on the continuity of social activities. Toshiba Digital Solutions Corporation provides solutions that realize cyber resilience by minimizing the impact of cyber-attacks and enabling early recovery of systems. It offers various security products with extensive track record on a global scale, including solutions to grasp the latest control network conditions, monitor unauthorized access, and detect abnormal communication, as well as a product that allows data transmission by physical unidirectional communication while cutting off attack communication from reverse direction. Furthermore, the company operates a remote security monitoring service for industrial control systems that detects, analyzes, and gives advice on cyber-attacks based on Toshiba's extensive experience gained through constructing and operating control systems for industrial and social infrastructure. Toshiba Digital Solutions will support the sustainability of industrial and social infrastructure in relation to security issues that become more complex by the day and contribute to the realization of a secure and safe society.
Toshiba Security Solution (Japanese) (Toshiba Digital Solutions Corporation)
What Is Cyber Resilience that Protects Industrial Infrastructure? (Toshiba Digital Solutions Corporation)
Cyber Security Platform for Control Systems (Japanese) (Toshiba Digital Solutions Corporation)
Unidirectional Security Gateways, Waterfall (Japanese) (Toshiba Digital Solutions Corporation)
Activity Example: Carport-type Power Supply System Enabling EV Charging and
Electricity in a Blackout with 100% Renewable Energy
Toshiba IT & Control Systems Corporation provides a stationary power storage system to a variety of fields based on Toshiba's lithium-ion rechargeable battery SCiB™ boasting exceptional long-life performance and safety. A carport-type power supply system delivered to the Mikawa Power Plant of SIGMA POWER Ariake Corporation (biomass power plant), Omuta City Fukuoka Prefecture combines electric vehicles (EVs)* with a solar power generation system and a stationary power storage system. The office and EVs at the plant are fed power through the system based on solar power generation while a power storage function in the EVs can be used to send electricity from the vehicles to the office. The system has been well received for reducing CO2 emissions, utilizing EVs and including disaster prevention capability on the back of an enhanced usage rate for renewable energy.
The Mikawa Power Plant can charge its EVs and supply power using 100% renewable energy through the off-grid use of this system that does not connect with any power source on-site.
Toshiba IT & Control Systems Corporation will continue to propose products and systems that support developing disaster-resilient communities and business continuity.
* EV: Electric Vehicle
Activity Example: TOSMOVE-NEO Battery-operated Continuous Operation Function
for Elevators during a Power Outage
Toshiba Elevator and Building Systems Corporation has developed and commercialized a continuous operation function for elevators called TOSMOVE-NEO. It enables continuous elevator operation for up to two hours at slow speed during an unexpected power outage such as in natural disasters. This function was developed with the aim of realizing a disaster-resistant elevator that can provide secure the lifeline as a means for vertical transportation in a building during a power outage in response to the rolling blackouts that occurred due to the Great East Japan Earthquake that struck in 2011. The system has mainly been utilized in facilities for the elderly and apartment buildings in recent years. The regenerative power generated during operation charges the battery, making the system eco-saving and environmentally friendly. In addition, the battery system employs SCiB™ rechargeable batteries developed by Toshiba Corporation. Compared to ordinary lithium batteries, SCiB™ has long life durability and excellent performance in low temperatures. Even in the unlikely event of an internal short circuit, the current doesn't flow as easily and heat generation is suppressed, making it extremely safe.