Message from the Executive in charge of Environment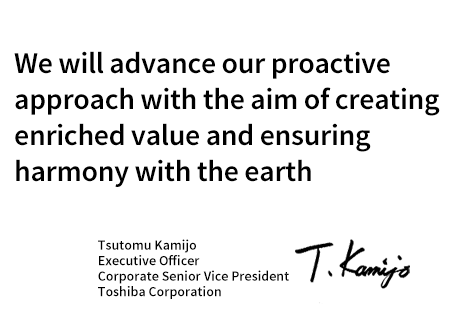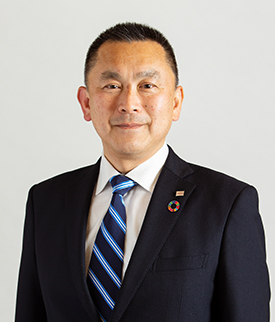 Recent years have brought further deterioration of the earth's environment, typified by energy, resources and water shortages, and losses of biodiversity that threaten the safe, secure lives of future generations. Numerous movements to address these issues are springing up worldwide.
Regarding climate change in particular, impacts from floods, typhoons, and other natural disasters are already being felt in many parts of the world, and we understand the extreme urgency and importance of addressing this issue. According to the IPCC*1, if the current situation persists, the global average temperature may increase by 1.5°C from the pre-industrial level*2 by as soon as 2030, so we as a company must make our best efforts to contribute to keeping the global temperature increase well below 2°C (ideally, 1.5°C), the goal set out in the Paris Agreement.
Against the backdrop of a rising global population and economic growth, the issues of resource shortage and waste generation are also intensifying. In response, countries, most notably in Europe, are transitioning to a circular economy, in which products and raw materials that would previously have been discarded are regarded as new resources and circulated without creating waste. Companies are asked to establish business models that aim to achieve both resource circulation and economic growth. Deterioration of the earth's environment is also causing the impairment of biodiversity. In parallel with moves to adopt the Post-2020 Global Biodiversity Framework, which provides new worldwide biodiversity targets following on from the Aichi Targets, we must strive to create a society where humans live in harmony with nature, so we can continue to enjoy the blessings of ecosystems.
In order to contribute to resolving these issues, as well as aim to achieve sustainable growth as a company, it is important for us to continue to create and provide rich value while responding to global trends from a long-term perspective. As early as 2007, Toshiba Group incorporated the concept of backcasting*3 into defining a long-term vision for 2050, and we have been working to resolve environmental issues and create value. After reviewing our vision by taking into account changes in social circumstances, we subsequently formulated Environmental Future Vision 2050.
Through Environmental Future Vision 2050, we are promoting activities in three areas: response to climate change; response to the circular economy; and consideration of ecosystems. In response to climate change, we aim to achieve targets in line with the direction of the Paris Agreement throughout our Group's value chain: reduction of greenhouse gas emissions by 70% by FY2030 compared to the FY2019 level, and carbon neutrality by FY2050. Not only will we invest in energy-saving equipment and expand the use of renewable energy within Toshiba Group, we will also create and provide cutting-edge energy technologies to realize decarbonization, as well as energy-saving products and services, so as to contribute to reducing greenhouse gas emissions throughout society as a whole. Toward the achievement of a circular economy, in addition to effectively making use of resources in our own business activities and in the products and services we provide, we will promote circular economy businesses that leverage digital technologies. With regard to consideration of ecosystems, we will promote appropriate management of chemical substances and water resources, as well as activities aimed at the conservation of biodiversity.
With the aim of creating enriched value and ensuring harmony with the earth, inspired by the our corporate philosophy, "Committed to People, Committed to the Future," we will further deepen our environmental management. Striving to remain dedicated to our efforts to address various environmental issues, we will continue to make our best efforts. As we do so, we would greatly appreciate your continued support.
*1

The Intergovernmental Panel on Climate Change

*2

Source: "Special Report on Global Warming of 1.5°C" by the IPCC

*3

Backcasting is a method that defines a desired goal and works back through the series of actions necessary for its achievement.