Respect for Human Rights



Guided by the Basic Commitment of the Toshiba Group, we respect the rights of all stakeholders, such as our employees, customers, and shareholders. We support the universal principles regarding human rights and labor practices, including the Universal Declaration of Human Rights, and respect human rights through sound business activities.
Medium- to Long-term Vision
Raise awareness on respect for human rights through ongoing education and enrichment on respect for human rights.
Aim to increase the total number of participants in human rights awareness training in Japan by 10% from the FY2020 level.
Identify priority areas to carry out human rights impact assessments and conduct human rights due diligence at 100% of business sites with high human rights risks.
FY2020 Achievements
Created and updated our statement on the Modern Slavery Act.
Conducted e-learning on

"

Respect for Human Rights

"

in the Standards of Conduct for Toshiba Group, achieving a 99% participation rate.
Held human rights awareness training in Japan 120 times for around 7,300 participants.
Conducted a human rights survey for 211 consolidated Group companies in Japan and overseas.
Future Challenges and Approaches
Based on the human rights risks identified through human rights impact assessment (including potential risks) and the findings from the human rights survey conducted at our Group companies worldwide, we will strive to make systematic improvements and implement monitoring. We will also conduct surveys on domestic Group companies regarding human rights risks peculiar to Japan such as with foreign technical trainees and work to create a framework to avoid and mitigate these risks. In addition, we will communicate with human rights experts and stakeholders to deepen our understanding of human rights issues and continue to closely monitor global trends. We will also provide ongoing education and enrichment on respect for human rights to prevent issues and all forms of discrimination in the workplace.
Policy on Respect for Human Rights
Toshiba Group stipulates respect for human rights as Article 1 in the Standards of Conduct for Toshiba Group, and has declared that it conducts corporate activities with consideration of human rights. In light of recent changes in global society's awareness of human rights, we established the Toshiba Group Human Rights Policy in March 2022. We understand that our corporate activities have impacts on human rights, and that we fulfill our responsibilities by respecting the human rights of all stakeholders involved in Toshiba Group's corporate activities.
In formulating the policy, as a signatory to the UN Global Compact, we referred to international norms and guidelines, including the United Nations Guiding Principles on Business and Human Rights, the Universal Declaration of Human Rights, and ISO 26000, and reflected opinions and suggestions from a third-party organization specializing in human rights. This policy supplements the Standards of Conduct for Toshiba Group and the Toshiba Group Sustainability Policy, and applies to all persons working for Toshiba Group, including directors, officers, and employees. We also request business partners, suppliers, and related parties to act in accordance with this policy.
The executive officer who oversees the Sustainability Management Division and the Human Resources and Administration Division is responsible for implementation of this policy.
Standards of Conduct for Toshiba Group
Toshiba Group Human Rights Policy (PDF)(347KB)
Some of the international standards and guidelines on human rights that we refer to in the course of our corporate activities:
UN Universal Declaration of Human Rights
OECD Guidelines for Multinational Enterprises
OECD Due Diligence Guidance for Responsible Business Conduct
UN Guiding Principles on Business and Human Rights
UN Guiding Principles Reporting Framework
ILO Declaration on Fundamental Principles and Rights at Work
ILO Tripartite Declaration of Principles concerning Multinational Enterprises and Social Policy
UN Global Compact
ISO 26000 (Guidance on social responsibilities)
GRI Standards
Responsible Business Alliance Code of Conduct (RBA)
We recognize the importance of implementing our human rights policies not only within the Group but also throughout our supply chain. To this end, we stipulate this policy as "Supplier Expectations" in the Toshiba Group Procurement Policy and request all parties' adherence. We monitor them through annual CSR surveys.
Toshiba Group Procurement Policy
Modern Slavery and Human Trafficking Statement
Toshiba Group has issued statements on slave labor and human trafficking based on the UK Modern Slavery Act and the Australian Modern Slavery Act.
Toshiba Corporation (PDF)(156KB)
Toshiba International (Europe) Ltd. (PDF)(113KB)
Toshiba Europe Limited (PDF)(131KB)
Toshiba TEC U.K. Imaging Systems Ltd.
Toshiba (Australia) Pty Ltd (PDF)(401KB)
Toshiba International Corporation Pty Ltd. (PDF)(4.41MB)
Structure for Promoting Respect for Human Rights
Led by Human Rights Enrichment Committee, which is chaired by the executive in charge of Human Resources and Administration Division, Toshiba plans and executes training courses covering key topics on human rights to educate and enlighten employees under the basic principle of respect for human rights. Human Resources and Administration Division serves as the secretariat for the Human Rights Enrichment Committee, formulating basic policies for human rights awareness and enforcing them Group-wide, establishing an internal promotion system, drafting and promoting Group-wide policy on education and training, preparing training materials, developing instructors, following up on the progress of training, consulting and coordinating with outside organizations, and providing instructions and support to promote the concept of respect for human rights throughout Toshiba Group.
Promotion Structure
Identification and Monitoring of Human Rights Risks
Toshiba Group has constantly verified potential human rights risks in its business activities through ISO 26000 reviews. In FY2017, we performed another human rights impact assessment in each business in collaboration with Business for Social Responsibility (BSR), an US-based non-profit organization that promotes CSR, in order to further understand how our business activities impact human rights issues and recognize the following priorities.
Human Rights Impact Assessment: Methodology
Based on the result, we grasp the situation in each company regarding human rights concerns, which vary depending on the business area, country or region, and make the appropriate response when an issue arises. Also, to ensure ongoing monitoring, we perform human rights surveys (human rights due diligence) targeting our Group companies worldwide and CSR surveys targeting our suppliers, as well as mineral procurement surveys, etc.
CSR surveys targeting our suppliers
Responsible Minerals Sourcing Survey
Human Rights Due Diligence Process
Human rights surveys are conducted as part of the Risk Assessment Programs of the Toshiba Group Risk Management System, with content that centers on child labor and forced labor. They have been conducted on an ongoing basis since 2005.
In FY2020, we surveyed 211 Group companies. In the surveys, we found that some Group companies in Asia had conducted pregnancy tests and some medical examinations that were considered unnecessary as part of the medical checkups upon employment. Subsequent in-depth surveys and interviews revealed that the purpose of these tests were to confirm that there were no obstacles in working and to consider work style after employment. At the same time it became clear that there was a lack of awareness that such tests might lead to discrimination. The companies that conducted those tests are now aware that the results may lead to discrimination and they revised their current recruitment policy and handbooks to comply with international standards and the RBA Code of Conduct. At our Group companies in Japan, we surveyed foreign technical trainees who tend to be subject to high risk of bonded labor. As of December 2020, we confirmed that the Group had accepted 287 technical trainees from Vietnam, Thailand, and China. In 2019, we had confirmed that we complied with the relevant laws and regulations in Japan. We will further investigate whether technical trainees had been charged unreasonable fees, and measures will be considered and taken to prevent violations of their human rights.
Education and Enrichment on Respect for Human Rights
Our Human Rights Enrichment Committee is the driving force to raise awareness about respect for human rights among employees. It aims to increase the familiarity among all employeesin Toshiba Group and its business sites with the Standards of Conduct for Toshiba Group and provide training programs on human rights at the time of hire and before/after employees get promoted or appointed to managerial positions.
Human Rights Awareness Training
Various human rights awareness seminars were held at Toshiba Group in Japan 120 times in FY2020, with around 7,300 participants. This includes training concerning human rights issues for general personnel and executives, training for new recruits, training for promoted employees and training for recruitment interviewers.
Human Rights Week Lecture
In December every year during Human Rights Week, Toshiba holds a Human Rights Week Memorial Lecture as a Toshiba Group Sustainability Month* event. In FY2020, Mr. Takeo Furuta of the Tokyo Metropolitan Human Rights Promotion Center gave a lecture titled "Basic Recognition on the Dowa Problem (Buraku Discrimination)" on what the Dowa problem is, its historical background, and how to resolve the issue. Approaching human rights as an important element of sustainability management, Mr. Hidemi Tomita of Lloyd's Register Japan, K.K. presented "Business and Human Rights in the Age of ESG Investment." He highlighted the initiatives that Toshiba Group needs to take.
The videos of both lectures are posted on our intranet website for viewing by Toshiba Group employees in Japan.
* Since FY2006, Toshiba Group has designated December as Sustainability Month (renamed from CSR Month in FY2020) to implement various initiatives.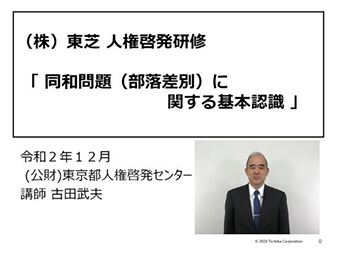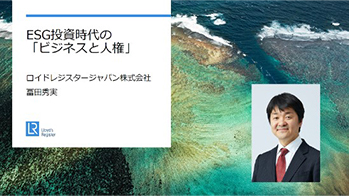 Disclosure of Risk Management Case Studies Regarding Human Rights
Toshiba publishes case studies from outside the company regarding violation of human rights on our company intranet, in order to improve employee awareness. We summarize and introduce the key points of risk management and related laws in a nutshell.
Workshops on Human Rights
In order to increase understanding of human rights issues within Toshiba Group, we hold workshops on human rights at various locations.
Record of workshops on human rights
Time
Place
Participants
Contents
Jan. 2020
Japan
Approximately 150 staff engaged in CSR promotion, harassment consultation service, and diversity promotion in Toshiba Group

Implemented training and a workshop run by an outside instructor to promote understanding of LGBT+
Implemented training and a workshop run by an internal instructor on recent trends related to harassment

Mar. 2019
Japan
24 CSR promotion staff in Toshiba Group

Deepened understanding of the importance of human rights due diligence based on the UN Guiding Principles on Business and Human Rights
Learned how to identify potential risks and avoid and prevent them through case studies at a human rights workshop

Mar. 2018
Japan
40 CSR promotion staff in Toshiba Group

Implemented a study session and a workshop run by outside instructors on global trends on human rights, the background to human rights issues and the risk of human rights violation in business
Verified human rights risks in the value chain for each business group in the workshop

Apr. 2015
Thailand
33 people and managers from human resources and administration, and procurement departments of 14 Toshiba Group companies in Thailand

Learned about global human rights issues, and about human rights violations in Thailand
Exchanged opinions and shared information between Group companies about potential risks in each company

Dec. 2014
Japan
53 people from human resources and administration departments of 24 Toshiba Group companies in Japan

Learned about international standards on human rights such as the Universal Declaration of Human Rights, and the UN Guiding Principles on Business and Human Rights
Held a workshop to detect possible human rights risks at each step of the value chain per business

Nov. 2014
China
54 managers from human resources and administration departments of 31 Toshiba Group companies in China

Learned from case studies about global issues, and potential risks and the impact they might have on our business

Feb. 2014
Philippines
45 managers from human resources departments of 9 countries in Asia and others

Lectures on cases of human rights violations, and outlines of international principles
Group discussions on human rights risks in the country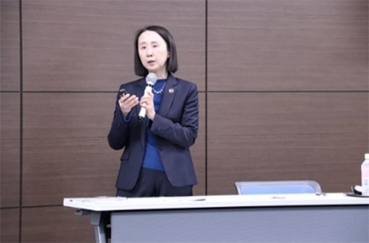 A human rights workshop held in Japan in March 2019
Prevention of Harassment
The Standards of Conduct for Toshiba Group, a code of conduct for executives and employees, prohibit discriminatory behavior related to race, religion, gender, nationality, disability, age, and sexual orientation as well as violence, sexual harassment, and abuse of power (workplace bullying and other forms of harassment).
In accordance with this policy, our employment regulations and collective agreements also prohibit sexual harassment and abuse of power and stipulate disciplinary action for anyone involved in wrongdoing.
We also provide consulting services at each workplace and regular training for consulting service staff.
In FY2020, we provided online training on how to acquire basic knowledge about harassment and the attitude and method of how to respond to consultation.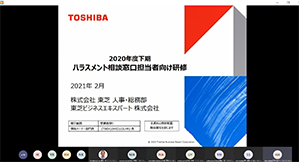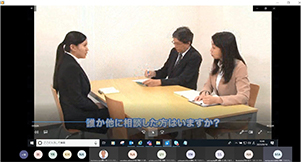 Training for harassment consulting service staff held from February to March 2021
Promotion of Diversity and Inclusion
Establishment of Whistleblower System and Consulting Service
Toshiba Group receives internal reports and consultations concerning human rights through points of contact for employees and business partners.
Whistleblower System for Employees : Toshiba Hotline
Toshiba has established the Toshiba Hotline for providing information and consulting on action that may be problematic relative to laws, regulations, social norms, corporate ethics, the Standards of Conduct for Toshiba Group, or internal regulations. The aim of the hotline is to prevent risks related to breaches of compliance such as legal violations and fraudulent transactions, and to promote the resolution of problems. Under this system, all employees working in Toshiba Group in Japan*, including non-regular employees, can anonymously consult full-time counselors on concerns they may have on such matters as workplace culture and interpersonal relations, personnel conditions, or harassment, by phone or e-mail. Personal information such as department, name and contact details will not be disclosed elsewhere without consent of the whistleblower or person seeking advice. In addition, internal regulations stipulate that whistleblowers and people seeking advice shall not be subject to unfair treatment.
In FY2020, 129 cases were reported to the Toshiba Hotline, and in each case we undertook measures that included conducting hearings with the person who made the report and related parties after obtaining the consent of the reporter.
* Limited to Toshiba and its domestic consolidated subsidiaries
Whistleblower System for Employees : Harassment Consultation Center
Toshiba Group is creating a system that facilitates employee consultation about harassment and aims to build an inclusive and comfortable working environment in which counselors address concerns together with the employees. Key Group companies have set up consultation centers to deal with issues related to harassment and have appointed one male counselor and one female counselor.
Whistleblower System for Employees : Audit Committee Hotline
Toshiba established an Audit Committee Hotline in FY2015 that allows employees to report directly to the Audit Committee, which is not under the command of the President and CEO. The Audit Committee Hotline has been established primarily to prevent the emergence of compliance violation risks, such as violations of laws and regulations, and improper transactions, as well as to accelerate the resolution of issues.
Whistleblower System for Suppliers : Clean Partner Line
In April 2006, Toshiba set up a supplier whistleblower system Clean Partner Line to receive reports from suppliers and business partners to prevent noncompliance and unfair trading practices by employees in charge of procurement.
Risk Management and Compliance
Activities with Stakeholders
Participation in Human Rights Initiatives
Toshiba Group actively participates in initiatives by international and industrial organizations to address human rights issues.
Electronic Industry Citizenship Coalition (EICC) (now Responsible Business Alliance), a non-profit organization in the electronics industry that promotes CSR (joined in 2011)
Human Rights Working Group held by Business for Social Responsibility (BSR), an US-based non-profit organization that promotes CSR (FY2015-)
Japan Human Rights Study Forum hosted by BSR, an US-based non-profit organization that promotes CSR (FY2012)
Practical discussions on identifying and dealing with human rights issues in the Stakeholder Engagement Program hosted by Caux Round Table (CRT) Japan (FY2014-2017)
Human Rights Seminars hosted by Caux Round Table (CRT) Japan, the 2016 Business Human Conference in Tokyo
Human Rights Seminars hosted by Caux Round Table (CRT) Japan, the Global Conference on CSR and Risk Management 2014
Human Rights Due Diligence Study Group organized by the Global Compact Network Japan (GC-NJ) (FY2013-FY2015, continued from FY2018)
Research on Respect for Human Rights in Business Development in Developing Countries conducted by Business Policy Forum, Japan (BPF) (FY2012)