Toshiba Heavy-Ion Therapy System Awarded by Yonsei University Health System
NEWS RELEASE
Heavy Ion Therapy
Nuclear Power
Order received / delivery
March 29 2018
Toshiba Energy Systems & Solutions Corporation
・The first heavy-ion Therapy System in Korea
・Toshiba's first overseas contract for heavy-ion therapy system
・The world's first facility with two rotating gantry rooms
KAWASAKI, Japan—Toshiba Energy Systems & Solutions Corporation (Toshiba ESS), a world leader in heavy-ion therapy system, in collaboration as a consortium with DK Medical Solutions, a Korean leading global medical company, is awarded a contract to supply a heavy-ion therapy system to Yonsei University Health System (YUHS), one of the leading providers of medical services in Korea. This is the first overseas contract of a heavy-ion therapy system for Toshiba ESS.
YUHS was founded in 1885 as the first modernized hospital in Korea. Being one of the most prominent hospitals in Seoul, it has been taking in various kinds of the latest and the best medical technologies. YUHS has more than 9,000 outpatients and the radiation oncology department of Yonsei Cancer Center treats more than 350 patients in a day.
The awarded heavy-ion therapy system will be equipped with one horizontally-fixed beam treatment room and two rotating gantry treatment rooms. Toshiba's sophisticated leading-edge technologies such as high-speed scanning irradiation devices and superconducting magnets will be incorporated in the system. The heavy-ion therapy facility with two rotating gantry treatment rooms will be the first in the world. The treatment will start in 2022.
Heavy-ion therapy uses particles such as carbon ions to generate a high-energy beam that irradiates cancerous tissues—the system accelerates carbon-ion beam to up to 70% of the speed of light and delivers a concentrated dose of radiation to the targeted part. In addition to being fast and non-invasive, it ensures pinpoint and lethal irradiation to cancerous tissues efficiently, with minimum damage to surrounding healthy tissues, and with fewer fractions compared to other radiotherapies.
Toshiba ESS has been developing heavy-ion therapy systems in collaboration with National Institute for Quantum and Radiological Science and Technology (QST/NIRS) for decades and has made contributions to several heavy-ion facilities in Japan. Highly-advanced technologies such as quick-and-accurate patient positioning, 3D high-speed scanning irradiation, respiratory gating and rotating gantry, have been already utilized in the facilities. Especially, the downsized rotating gantry owing to superconducting magnets and an advanced irradiation nozzle is the key differentiator of Toshiba ESS technology. These front-line achievements have been highly evaluated by Yonsei University Severance Hospital, which has led to the award.
Commenting on the contract with YUHS, Mamoru Hatazawa, vice president of Toshiba ESS said, "Toshiba ESS is highly proud of this contract with Yonsei University Health System, which is the most prestigious hospital in Korea. Our technologies have been developed in collaboration with QST/NIRS and I am quite confident that our state-of-the-art heavy ion therapy system will contribute to the advanced radiotherapy in YUHS cancer center."
Do-Heum Yoon, president & CEO of YUHS said, "Heavy-ion therapy, known as the most advanced cancer treatment in the world, will deliver the promise of patient-centered care in an era of incurable cancer and super-aging society.
Through the introduction of Toshiba's heavy-ion therapy system, YUHS hopes to bring breakthrough innovations in cancer therapy as we did when we opened nation's first cancer center more than five decades ago."
Toshiba ESS will use the world-leading performance of the system to expand business in the global market.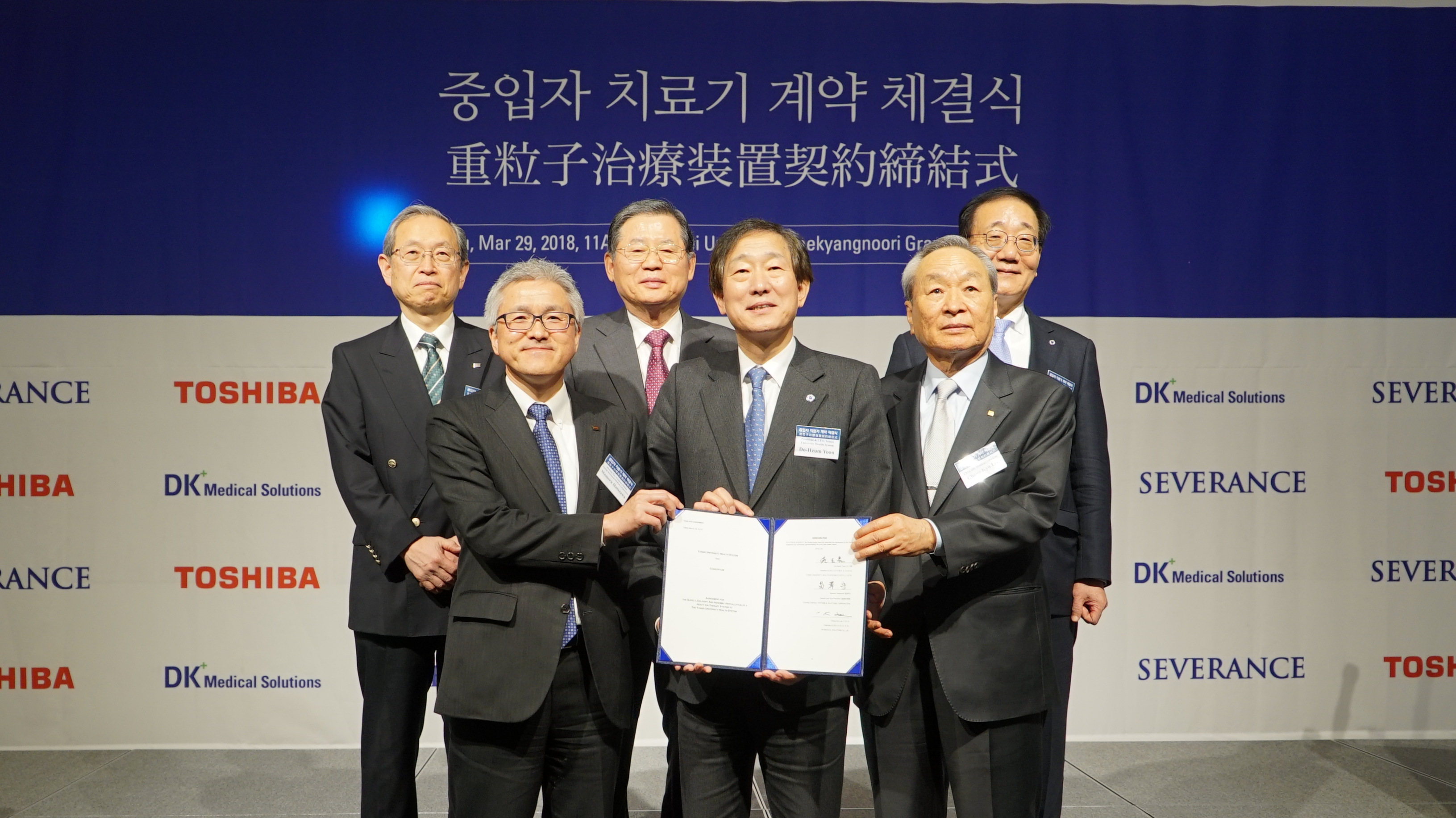 Information in the news release, including product prices and specifications, content of services and contact information, is current on the date of the news release , but is subject to change without prior notice.
News Release