Permanent Magnet Synchronous Motor (PMSM)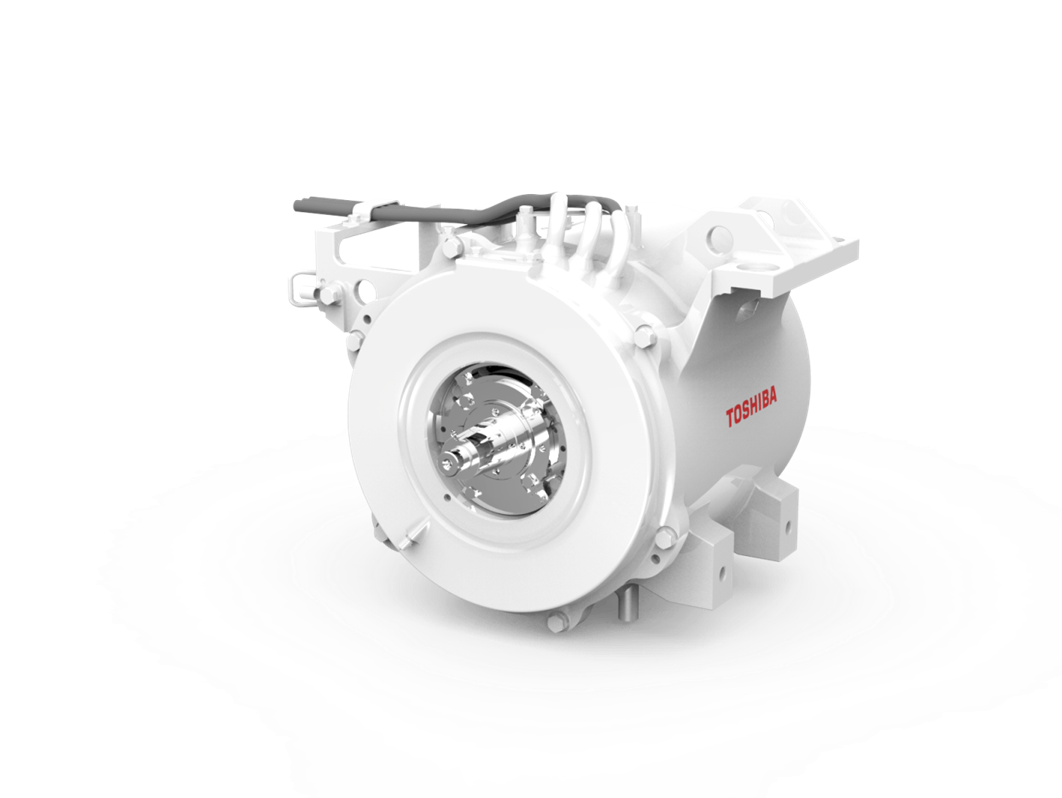 97%*1efficiency is achieved and electric power consumption is largely reduced.
In 2006, Toshiba commercialized a Permanent Magnet Synchronous Motor (PMSM) that shows a high energy conversion factor as an alternative to Induction Motors (IM) widely used in railway propulsion systems. Presently, we propose a wide range of innovative locomotives and rolling stock systems that can reduce electric power consumption.
*1 The traction motor efficiency is our measured calculation value based on IEC60349-2.
Features
Toshiba established technology to increase the merits of the PMSM system that has an extremely small energy loss and achieved an efficiency of 97%. It achieved reduced electric power consumption of 39% *2 versus conventional IM systems. A PMSM propulsion type 4-in-1 unit the same size as a IM propulsion inverter has been developed as a propulsion inverter and also supports renewal from IM systems. Also, a totally enclosed structure has been developed that does not need disassembly and cleaning for a long period, so periodic maintenance that can be done simply and reliably can be expected. It also realizes low noise. The noise level is reduced (Approx. 12dB (A) *3) compared to the same class self-ventilating open IM.
*2 From test results based on JIS E6102 (PMSM that was manufactured in 2010 and measured in May of 2012, and IM that was manufactured in 1992 and measured in April of 2012) Calculation conditions: Includes the regenerative brake performance improvement effect from control that used adhesion limit relaxation and regenerative braking power as a train unit.
*3 Measurement of an initial production machine based on JIS E6102 (PMSM: manufactured 2009, IM: manufactured 2007)
Benefits & Value
Simple and compact, and lightweight structure, so a conventional bogie design can be used without any changes.
High efficiency largely reduces power consumption and the amount of CO2 discharged.
Just the bearing unit can be replaced without disassembly of the device.
Contamination and water intrusion hardly occurs due to the totally enclosed structure, so reduced failure caused by insulation deterioration is expected.
Because clogging caused by dust hardly occurs, prevention of abnormal overheating caused by reduction in air volume is expected.
The magnet is installed inside the traction motor and in normal use there is almost no external leakage of magnetic flux.
Supply Record
Permanent Magnet Synchronous Motor (PMSM)