Passenger Information Display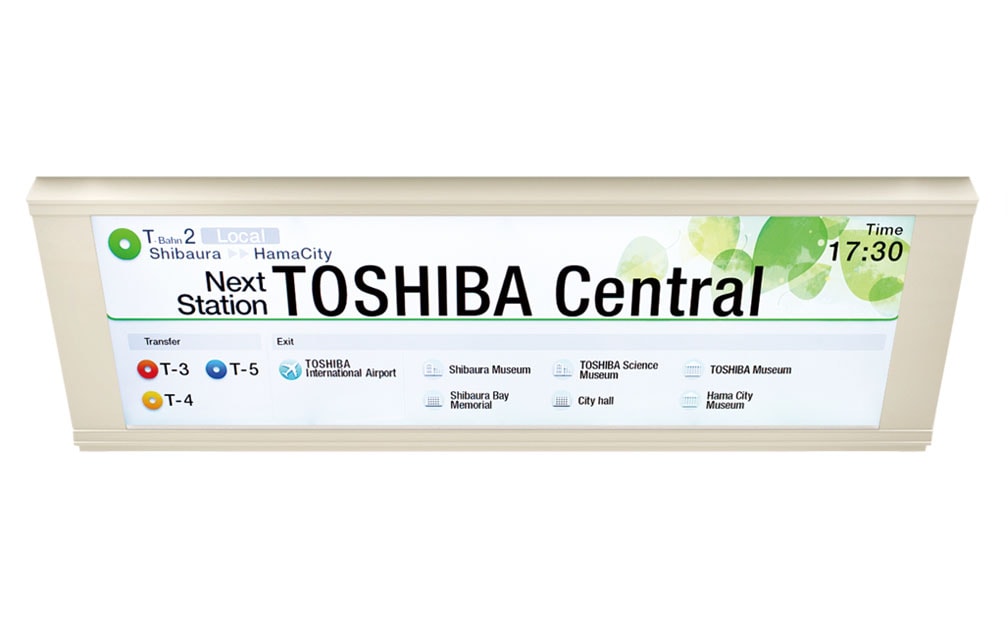 Toshiba's Passenger Information Display has transformed railway system from a mere mode of transportation to an abundant source of fruitful information.
Railway system is a part of our daily lives.
Passenger Information Display offers all passengers a variety of information, not only train-related, but also fruitful daily information such as news, weather forecast, and advertisements.
Passenger Information Display's high definition and wide screen promote the display of dynamic and impressive images.
Numerous information for passengers displayed on Passenger Information Display

* These are just a sample of images

Several mounting options*
Fits train ceiling, car end, and above the door in the train.
* Please contact us if you would like to have more information.
Application Example*
Sending data from the ground to the train
News and weather forecast from the news supplier
Operation information from the control center
Announcements and promotions from the transportation department
Campaigns and endorsements from the advertising agency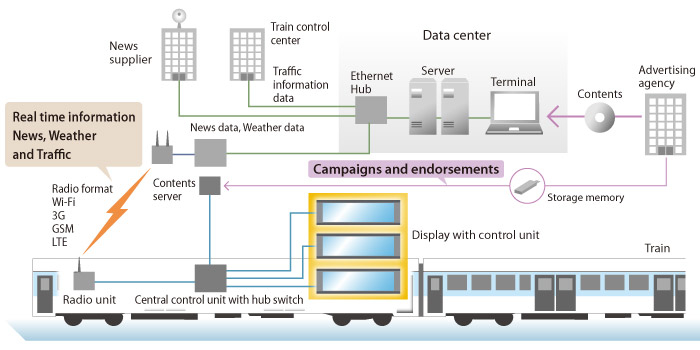 * A contract may be required with the information supplier when sending data from the ground to the train.
Basic specifications

This table can be scrolled horizontally.
Basic specifications
Display
42" Half Liquid Crystal
32" Half Liquid Crystal
Resolution
1920 (W) x 540 (H) pixels
1920 (W) x 540 (H) pixels
Active Display Size
930 mm (W) x 261 mm (H)
698 mm (W) x 196 mm (H)
Color Depth
16.7 Million Colors (8 bit Digital)
16.7 Million Colors (8 bit Digital)
Back Light
LED Drive
LED Drive
Luminance (White)
800 cd/m2(typical)
(Center 1point,100% Dimming)
900 cd/m2 (typical)
(Center 1point,100% Dimming)
Viewing Angle
Angle Free {R/L&U/D 178° (typical)}
Angle Free {R/L&U/D 178° (typical)}