Traction Energy Storage System with SCiB™
For DC Railway Power Supply Systems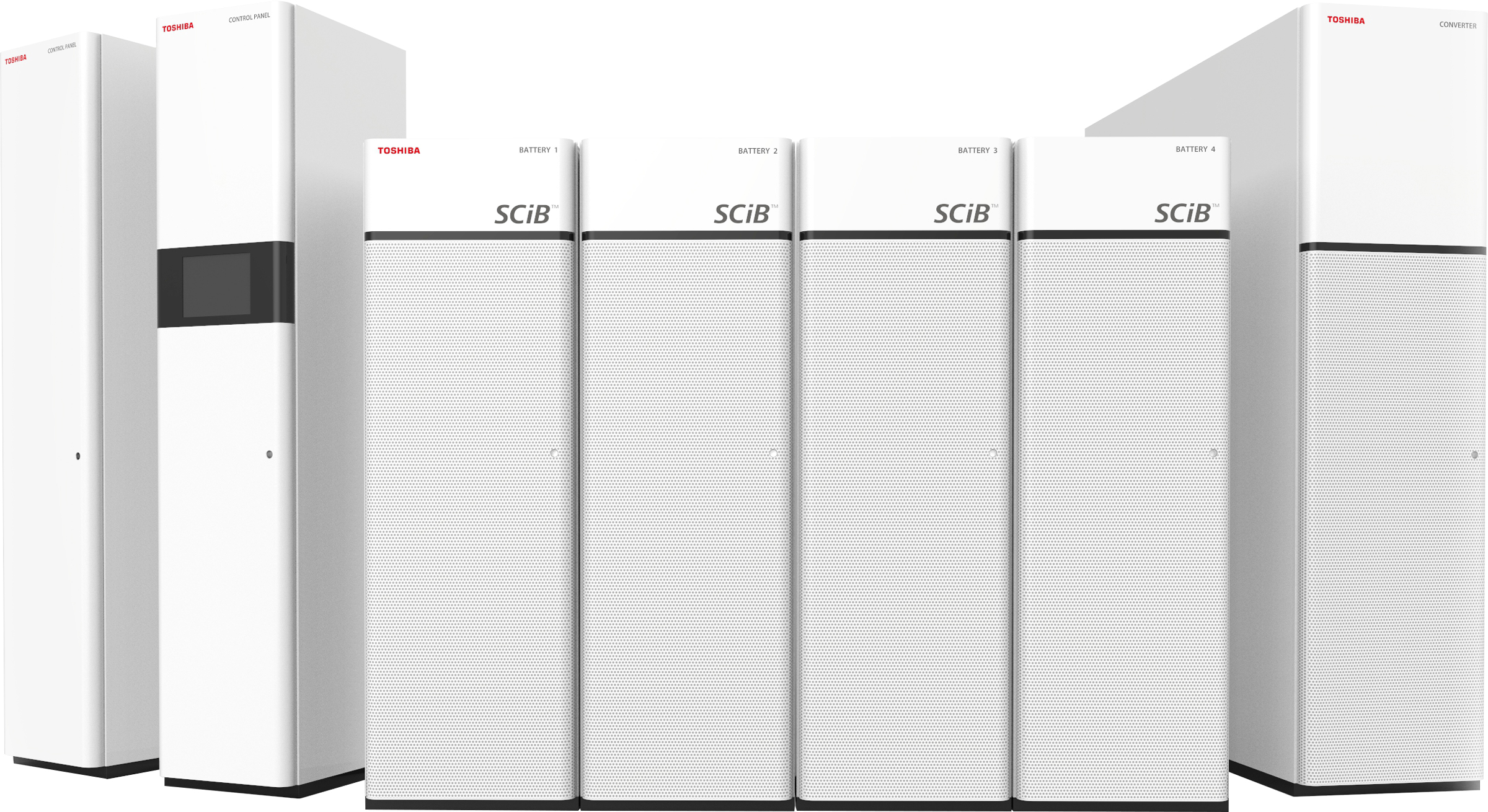 Toshiba's Traction Energy Storage System (TESS) with SCiB™ is a new energy saving solution with Toshiba's own battery technology of high quality.
When a train set is braking, it generates energy which can be used by the adjacent accelerating trains. But in most cases, this regenerative energy is not efficiently utilized by the next train and is wasted as heat through onboard or wayside resistors. Such cases does not only incur energy wastage but also likely to cause abrupt shift from regenerative braking to mechanical braking. This sudden change may further cause passenger ride discomfort and degradation of the brake shoe due to abrasion.
Toshiba's Traction Energy Storage System efficiently stores surplus regenerative energy in the SCiB™ and discharges it to another accelerating train. TESS is installed with Toshiba's patented advance control system which allows flexible control of charge-discharge cycles in accordance to the battery's State-of-Charge (SOC). This allows significant increase in battery lifetime.
Technical Information
Traction Energy Storage Systems Supporting Energy-Saving, Safe, and Resilient Railway Infrastructure
Key Benefits

High Performance SCiB™
TESS utilizes Toshiba's own high performance SCiB™.
The SCiB™ rechargeable battery provides a long life of over 20,000* charge/discharge cycles, rapid charging, high input/output performance, and excellent low-temperature performance, all while maintaining a high level of safety.
*Measured with a particular single cell under specific conditions
Further Details: https://www.global.toshiba/jp/products-solutions/battery/scib.html
Advanced V-SOC Battery Control
Toshiba implements an advanced Charge-Discharge algorithm for the efficient control of TESS.
For conventional energy storage systems, battery is charged and discharged to keep specified SOC (State of Charge). Thus, battery is charged and discharged regardless of the feeding voltage.
There will be instances when the battery will be unnecessarily charged/discharged even at rated line voltage (area between the Charge Start Voltage and Discharge Start Voltage). Thus causing feeding voltage imbalance and shortened battery lifetime.
As for Toshiba's advance V-SOC control method, charge and discharge characteristics automatically shifts depending on SOC. When SOC is high, charge-discharge characteristic will shift to the higher voltage side, hence the battery shall be easily discharged. On the other hand, when SOC is low, charge-discharge characteristic will shift to the lower voltage side thus, battery shall perform more charging.
The lifetime of a battery strongly depends on the charge-discharge times and current. By using this control algorithm, unnecessary charge and discharge can be greatly reduced.
Toshiba's system does not define any certain SOC which means that charge and discharge will be performed dynamically within a wide range of SOC.
[Patented]
*SOC : State-of-Charge *V-SOC : Voltage-State-of-Charge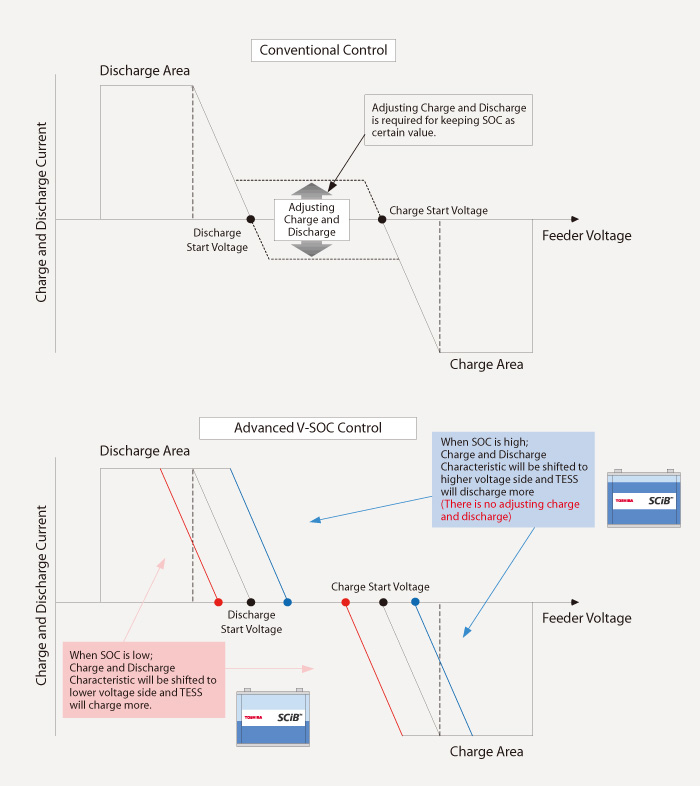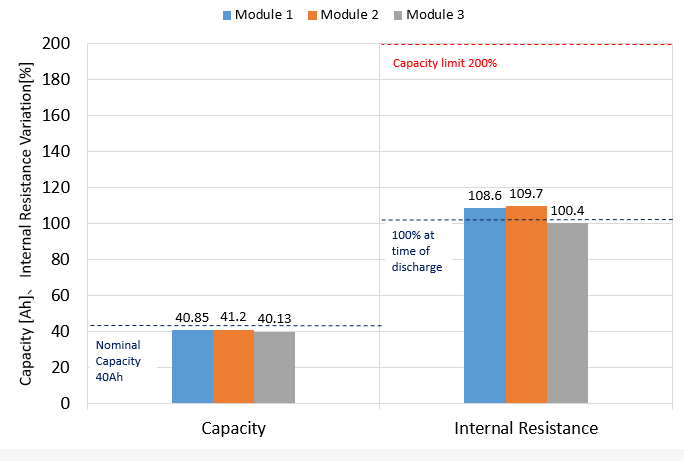 Investigation results of deterioration of each battery module after about five years
Although there were slight differences in the degree of degradation depending on the temperature environment, there was no significant degradation in performance from the time of shipment for each battery module.
Further details: https://www.global.toshiba/content/dam/toshiba/jp/technology/corporate/review/2021/04/a03.pdf
Ratings and Specifications
Ratings and Specifications
Item
Rating / Function
Rated Line Voltage
DC750V/600V
(DC 600V and DC 825V are also available)
DC 1500V
Rated Power
500kW-2000kW
1000kW - 4000kW
Applicable Load Pattern
Class I - IX (IEC 62924)
0.75(p.u.) continuous
Class I , Ⅳ, Ⅵ - Ⅸ (IEC62924)
0.5(p.u.)60s+0.25(p.u.)240s(cycle time:300s)
Rated Capacity
146kWh - 777kWh
Rated Battery Voltage
DC 600V (530V - 713V)
Operation mode

1.V-SOC Mode
  -Charge and Discharge operation corresponding with feeding voltage and SOC.
  Voltage stabilization of transient fluctuation is also possible.




2.Emergency Mode
 -Charge and discharge operation to on-track trains during emergency situations when power from the substations is lost.

Control Function
1.V-SOC Control Setting
2.Status, Failure, Measured Data, History Display Function.
3.Schedule Control Setting
4.Data Logger
5.Remote Monitoring (Option)


※ The UI screen won the iF Award 2021: https://ifworlddesignguide.com/entry/310682-energy-storage-system-for-railway-with-scib