Toshiba Makes the CDP A List Yet Again for Leadership in Countering Climate Change
[October 27, 2016]
--Recognized as a "Climate Change A list" company for the
third time in "CDP Climate Change Report 2016"--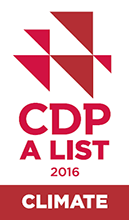 Toshiba Group has been recognized by CDP* as a "Climate Change A list" company for the third year in a row for its efforts to counter climate change in its business activities. UK-based CDP, an independent non-profit organization, evaluates major companies around the world for their commitment and approaches to mitigating climate change, based on corporate strategy and measures implemented. In 2016, it looked at the efforts of some 6,000 leading companies, including about 500 Japanese companies. Toshiba was one of 22 Japanese companies to be recognized as a global leader and included in the A List.
Toshiba made its first appearance on the A List in 2013, and this year marks the third time it has been selected. This recognition is based on CDP's high evaluation of Toshiba Group's information disclosure in respect of environmental strategy, the company's response to climate change risk and opportunities, and analysis of third-party reports and certification of Toshiba's efforts to mitigate greenhouse gas emissions and the like.
Toshiba Group's environmental strategy and activities are guided by "Environmental Vision 2050," which envisages people living affluent lives in harmony with the Earth by the year 2050. Toward achieving this, Toshiba formulates specific activity targets in its "Environmental Action Plan," and manages progress on a yearly basis.
This year is the final year of the "5th Environmental Action Plan", and Toshiba is steadily implementing initiatives in each of the following areas: "Greening of Products" (the creation of products with the highest level of environmental performance), Greening by Technology" (global deployment of advanced low-carbon technologies), "Greening of Process" (pursuit of processes that are global No.1 in low environmental impact), and "Green Management" (core activities such as human resource development and communication)
As a manufacturer, Toshiba Group believes that consideration of the environment in its products, services and manufacturing processes is a natural and essential part of its mission. Going forward, Toshiba will continue to promote and enhance the level of its commitment to environmental management.
*

Established in the UK in 2000 as an international independent non-profit organization, that carries out activities toward realizing a sustainable economy, on behalf of institutional investors. Every year since 2003 it has distributed questionnaires to leading companies around the world, and evaluated their responses, plus the information they disclose, and published the results.