Reduction of the Amount of Water Received in Business Activities
In response to rising concerns over water problems worldwide, Toshiba Group is promoting sustainable water resource management. Each of our production sites has incorporated the policy of reducing the volume of water received into its annual plan in order to develop specific strategies and conduct follow-up surveys on an ongoing basis. We are promoting wide-ranging initiatives including recycling the wastewater generated in sites and introducing systems for using rainwater.
The total volume of water received in FY2020 was 17.8 million m³ and the volume of water received per unit production was 93% of the total for FY2013, so we achieved our targets.
Since Toshiba Group has multiple production sites in Southeast Asia, where water risks are relatively high, we will focus our risk management efforts on appropriately dealing with the issues of each region by promoting recycling of wastewater and using rainwater as measures for water-shortage problems as well as by raising the floor of main equipment and making other efforts as flood control measures.
Amount of water received per unit production

Breakdown of the amount of water received (FY2020)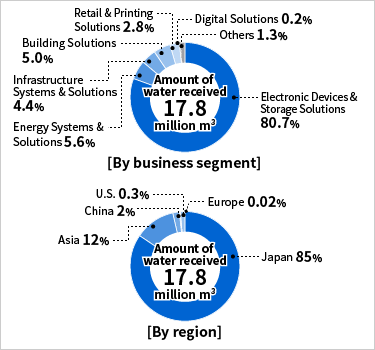 Case in FY2020
Case: Reducing the Volume of Water Used through the Effective Use of Rainwater
Toshiba JSW Power Systems Pvt., Ltd.



Toshiba JSW Power Systems Pvt. Ltd. (Toshiba JSW) has been reducing the volume of water used by utilizing rainwater and reusing treated water.
The company stores rainwater in a pond and uses the water for various uses, such as sprinkling water for plants in the premises, cooling water for manufacturing processes, and water for flushing toilets.
The rainwater storage pond is cleaned regularly so that the quality of water is maintained. The rainwater falling on the factory building roofs is not wasted either; the rainwater is once stored in the rainwater tank equipped with a monitor to grasp the water level. The monitor allows us to transfer the rainwater to the pond before it overflows from the tank. Through the use of rainwater, Toshiba JSW reduced 15,000 m³ water used annually.

Case: Reducing the Volume of Water Used through the Reuse of Cleaning Water
Toshiba Hokuto Electronics Corporation



Toshiba Hokuto Electronics has succeeded in reducing the volume of water used by reusing wastewater. Specifically, wastewater from the pure water cleaning tank for substrates is reused for sprinkling water on the odor control scrubber. (This technology was co-developed with Toshiba Materials Co., Ltd.)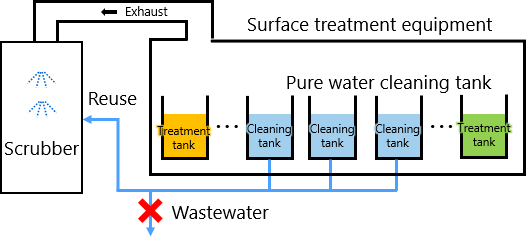 Initiatives for water risk prevention
Toshiba Group is working to enhance analysis and management of production sites located in high-water-risk regions and sites that need large amounts of water. To analyze data on high-water-risk regions, we used "Aqueduct", a water risk assessment tool developed by the World Resources Institute (WRI), and we considered water problems from various perspectives, including the risk of pollution by wastewater and level of interest in water issues among area residents, in addition to the physical amounts of water resources in individual river basins.
Assessment of water risks in regions with sites
Working in collaboration with InterRisk Research Institute & Consulting, Inc., Toshiba Group selected eight production sites located in areas where water is used in large quantities or with high water risks to conduct water risk assessment at such sites. We assessed water demand (current demand and future trends), water disaster risks, and water contamination vulnerabilities (public health and ecosystems) from various perspectives in river basins where our sites are located. Based on the information acquired, we will review water risk prevention measures going forward.
Water Risk Assessment Results (Example)
Water demand
Water
disasters
Water contamination
vulnerabilities
Total
Evalua-
tion
Present
Future
trends
Public
health
Ecosystem
Site A (Japan)
B
A
A+
A-
A+
A-
Site B (Philippines)
B
C+
A+
B-
A+
B+
Site C (India)
C+
A-
A+
B-
B
B
Assessment on a 9-point scale from A+ (low risk) to C- (high risk)
Correlation analysis between rainfall and the amount of water used in regions with Toshiba production sites
Also, Toshiba Group is analyzing the correlation between the monthly amount of water received by factories and rainfall in regions where our sites are located. Assuming that months with small amounts of rainfall are periods with high water risks, we aim to contribute to water resource conservation in surrounding areas by reducing the amount of water received as much as possible.
Amount of water received and rainfall (example)


In the months enclosed by blue circles, the amounts of water received and rainfall are large. By contrast, in the months enclosed by light blue circles, the amount of rainfall is low. In these months, there is a need to reduce the amount of water used.
By performing such an analysis at each site, we aim to contribute to water conservation in areas with high water risks as well as to raise awareness about water resources at sites in areas assessed as having low water risks.
Case in FY2019
Case: Reducing the amount of pure water used while the system is in standby mode
Kaga Toshiba Electronics Corporation



Kaga Toshiba Electronics manufactures semiconductor products that are installed in small electronic devices, automobiles, industrial equipment, and elsewhere. It uses a large amount of water during the manufacturing process and for air conditioning equipment, and this use has become an environmental and cost issue. Thus, the company has worked to reduce the amount of pure water used in wafer cleaning, which is one part of the manufacturing process.
In the wafer cleaning process, liquid medicine and a large volume of pure water are used to remove dirt from wafers. Since even fine dust that is invisible to the eye can affect the product, maintaining water quality is very important. The company considered whether it could reduce the amount of pure water used without affecting product quality and focused on the wafer cleaning system's waiting time. The wafer cleaning system continues to supply pure water even while in standby mode in order to prevent any degradation in water quality and the generation of bacteria. The Engineering and Manufacturing Divisions worked together to review the amount of pure water supplied, and as a result, they successfully reduced the amount of pure water used by approximately 1,800 m3 per year while maintaining water quality.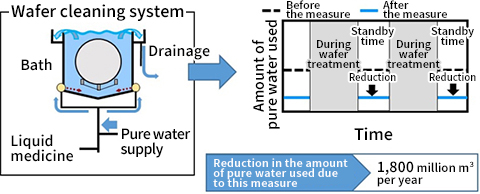 Case in FY2017
Case : Environmental Impact Reduction Measures at Toshiba Subsidiaries in India
Case in FY2015
Case : Waste management and local communication that support semiconductor production
Japan Semiconductor Corporation Oita Operations
Japan Semiconductor Corporation Oita Operations manufactures mixed signal ICs and other semiconductors. During production, the plant uses many chemicals, all of which are appropriately treated in order to discharge wastewater that meets the various applicable standards. In addition, the plant uses wastewater to breed Japanese freshwater snails, which fireflies feed on, and has worked with local community organizations, local government organizations, and companies in the vicinity to release the snails in the upstream of the Kitabana River, thereby successfully breeding fireflies. (2014: Several fireflies ⇒ 2015: 1,200 fireflies observed)
For these activities, the plant was awarded the Ministry of the Environment Award at the FY2015 Model Environmental Initiative Award Celebration held by the Ministry of the Environment. The plant will continue to promote local communication while expanding its ecosystem preservation activities.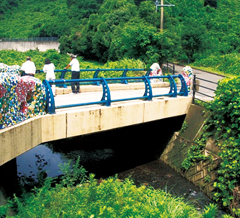 Working with a local community association
to confirm the release of freshwater snails
(feed for fireflies)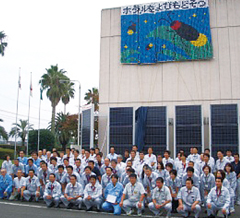 Raising employees' environmental awareness
by creating artwork with aluminum cans
(firefly motif )