Increased Amount of the Use of Recycled Plastics in Products
Toshiba Group is promoting initiatives to recycle plastic waste materials generated by end-of-life products.
Use of recycled plastics by Toshiba Group is increasing mainly in multi-function printers, hard disk drives, batteries, industrial air conditioners, and ceiling lighting equipment. From FY2017 to FY2020, the cumulative total volume of recycled plastics used was 3,514 tons, achieving and exceeding the target of 3,000 tons (cumulative total) set in the Sixth Environmental Action Plan. From FY2021 onward, we will continue our efforts under the Seventh Environmental Action Plan. Going forward, in order to increase the use of recycled plastics, we will ensure a supply of waste plastics as well as develop new uses for recycled plastics.
Amount of Recycled Plastics Used (Cumulative Total)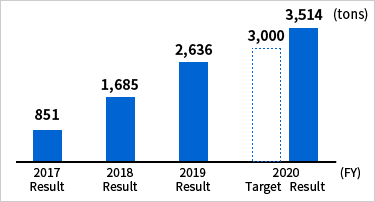 Case in FY2015
Case : Expanding the use of recycled plastics in air conditioners
Toshiba Environmental Solutions Corporation and Toshiba Carrier Corporation
Toshiba Group is working in collaboration with material makers to expand the use of recycled plastics in air conditioners. In the process of dismantling end-of-life home air conditioners, Toshiba Environmental Solutions Corporation collects and crushes cross-flow fans used in air conditioner indoor units that are made of glass fiber-reinforced AS resin. After that, the crushed cross-flow fans are washed, foreign materials are removed, and then they are recycled into plastics by Toray Industries, Inc. Recycled plastics are used as materials for outdoor unit fans in home and industrial air conditioners designed by Toshiba Carrier Corporation.

*1:

Resin regenerated and manufactured by Toray Industries, Inc.

*2:

Home air conditioners designed and sold by Toshiba Home Appliance Corporation