Adaptation Measures to Avoid the Effect of Climate Change
In response to climate change issues including global warming, Toshiba Group is promoting measures to mitigate their effects by reducing GHG emissions. At the same time, we are also developing adaptation measures to prepare for the effects of climate change, such as weather radars, rainwater drainage systems, disaster prevention information systems, and hydrogen-based autonomous energy supply systems.
Case : Multi parameter phased array weather radar
Case : Virtual Power Plant (VPP) that generates power by a set of controlling storage batteries
Toshiba Energy Systems & Solutions Corporation
Toshiba Energy Systems & Solutions Corporation is working with Yokohama City and TEPCO Energy Partner, Inc. to conduct a field experiment that aims to test a system designed to utilize storage batteries installed at local disaster prevention centers as "virtual power plants" to help electricity retailers adjust electricity demand (demand response) during normal times as well as to utilize such batteries as power sources for disaster prevention to keep telecommunication facilities operating for several days during an emergency. This field experiment aims to realize timely electricity usage to avoid excess supply of photovoltaic power and other dispersed energy. To this end, multiple storage batteries with capacities of approximately 10 kWh are controlled as a group to be charged and discharged in tandem with price fluctuations in the wholesale electricity market in real time.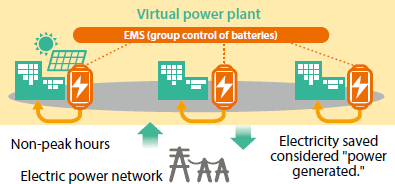 We will promote adaptation measures in business activities by tailoring them to the regional characteristics of each of our business sites. These measures include raising the floor where equipment is installed in case of disasters such as floods and typhoons and installing green walls to conserve energy and tackle extreme heat.