Environmental Communication
Environmental Education Programs for Children
As part of our environmental communication initiatives, we collaborate with the Association of Corporation and Education, an NPO that specializes in developing classroom lectures with companies, to hold environmental education programs for children at Toshiba Science Museum*1 and elementary schools.
In these programs, we raise children's awareness of global warming, resource depletion, and other environmental issues that seriously affect people's lives. We also introduce various scientific technologies to help solve such issues. By doing so, we encourage children to consider environmental issues, explore ways to help society, and take action. These activities align with the concept of Education for Sustainable Development (ESD)*2 proposed by the United Nations.
The content of these programs is also in line with the elementary school curriculum guidelines and is suitable for science, social studies, and general education classes. The program places importance on experiments, group activities, and active communication with teachers in order to provide children with an opportunity to learn about initiatives and technologies that have been developed to resolve environmental issues while having fun.
In FY2020, we held two programs: What's on the other side of the power outlet? (Theme: Energy) and A mysterious material that controls electricity!?—Discovery and use of semiconductors and learning how to use energy (Theme: Semiconductors). We held classes at five locations in total, including event venues and elementary schools near our business and production sites*3. We will continue these educational initiatives to provide children, who will take part in the development of a sustainable society in the future, with an opportunity to think about what they can do now and what they can do 10 and 20 years from now.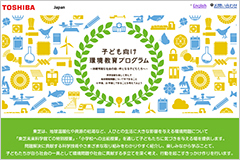 *1

In FY2020, classes at the Toshiba Science Museum were canceled due to the COVID-19 pandemic.

*2

Education that aims to equip current and future generations with capabilities to create a sustainable society. ESD requires two perspectives: (1) development of personality and qualities, which include self-discipline, the ability to make decisions, and a sense of responsibility; and (2) training of individuals to recognize their relationships with others, society, and the natural environment as well as to respect the concepts of 'relationships' and 'connections.' (Source: Ministry of Education, Culture, Sports, Science and Technology website)

*3

Some classes were held online.
What's on the Other Side of the Power Outlet? (Theme: Energy)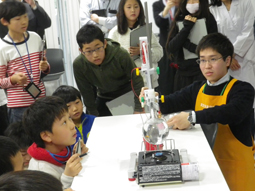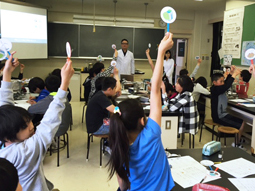 In this class, children found out about the characteristics of various types of power generation, such as wind, geothermal, solar, and thermal power generation through experiments. They learned that electricity is indispensable in our daily lives, and developed an interest in the future of energy by learning about global warming issues and combined use of multiple energy sources.
A Mysterious Material That Controls Electricity!?— Discovery and Use of Semiconductors and Learning How to Use Energy (Theme: Semiconductors)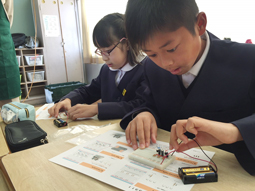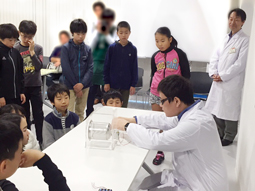 Children learned about the functions of semiconductors, which are essential in the use of electricity, by examining the evolution of appliances such as washers and air conditioners that we use every day. By learning that semiconductors not only enable products to save energy but also are manufactured in an environmentally-friendly way to reduce environmental impact, children gain insight into the roles of semiconductors in society. We believe this program facilitates the smooth rollout of the programming class that became mandatory in elementary schools in FY2020.
---
Shota Wada
Executive Director
Association of Corporation and Education
<Energy program>
Although there are various energy education programs, there are few lessons that discuss the combination of power generation methods. The program was intended to ensure that children understand the characteristics of power generation methods and think about how those methods should supplement each other.
<Semiconductor program>
The mechanism and roles of semiconductors are closely connected with the study of subjects such as science and social studies. We tried not only to have the students realize first-hand how everyday study is connected to familiar products and technologies, but also to create a program that will lead to constructive study that can be applied to solving environmental issues.
Environmental Advertisements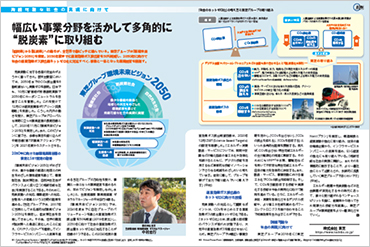 Nikkei ESG (April 2021 issue) by Nikkei BP
We introduced our new long-term vision, Toshiba Group's Environmental Future Vision 2050. In particular, we delivered a message on how we are contributing to carbon neutrality around the world throughout our entire value chain by describing the specific cases of products and services so as to inform that Toshiba Group is taking measures in a wide range of business fields.
Toshiba Group's Global Environmental Action
Toshiba Group is promoting Global Environmental Action, which is an employee participatory environmental program. In the Sixth Environmental Action Plan, which started in FY2017, we have set a theme for each fiscal year and carried out activities worldwide in accordance with that theme. The main theme for FY2020 was chemical substances. Each operational site provided its employees with seminars and education programs as well as held meetings at production sites to check the control status. Although the number of activities was lower than usual due to the COVID-19 pandemic, approximately 350* activities were carried out across the Group. We fostered solidarity across Toshiba Group companies by setting a common activity theme. By introducing a new theme each year, we raised employees' awareness about a wide range of environmental issues. We also collaborated with local communities to enhance communication with them as well as with NPOs and NGOs.
*

Including activities based on themes other than chemical substances
Providing Education on Work Related to Chemical Substances
Toshiba Information Equipment (Philippines), Inc. (Philippines)
Toshiba Information Equipment (Philippines) held a webinar for its 120 employees on chemical substance management, inviting an external consultant well-versed in occupational health and safety. The webinar provided education on the Philippines' environmental laws and regulations as well as the uses of the Globally Harmonized System of Classification and Labelling of Chemicals (GHS) and Safety Data Sheet (SDS), enhancing employees' knowledge and awareness of chemical substances.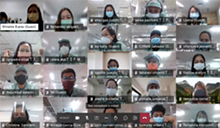 Learning about chemical substance management via a webinar
Call for Entries and Result Announcement of Environmental Iroha Karuta, an Environmental Slogan Contest
Toshiba Carrier Corporation (Japan)
During the Environment Month and Energy Saving Month every year, Toshiba Carrier solicits environmental ideas and slogans from its employees, and publishes them on Toshiba Carrier Group Social Environmental Report. In FY2020, 362 slogans were entered and 50 of them were published as Iroha Karuta (a Japanese card game) on the report. This activity brings a fresh perspective to the content of our report and is effective in raising environmental awareness among our employees. It also allows us to communicate our passion for the environment to our external stakeholders. Readers commented that "Some of the slogans are unique and interesting" and "The environmental slogan contest is a feature I am looking forward to every year."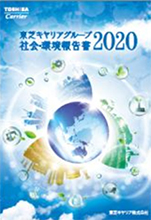 Social Environmental Report
FY2020 report (in Japanese) (PDF)(12.3MB) (Toshiba Carrier Corporation)
FY2021 report (in Japanese) (PDF)(15.1MB) (Toshiba Carrier Corporation)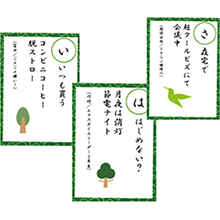 Examples of Environmental Iroha Karuta
Holding a Recycling Facility Tour
Nishinihon Kaden Recycle Corporation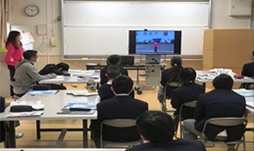 Touring the factory online
Nishinihon Kaden Recycle has periodically invited citizens, students, companies, and administrative bodies including international institutions to its recycling facility to introduce them to recycling and a resource circulating society. In FY2020, in collaboration with the Kitakyushu Eco-town Center, the company held an event providing an online tour and an environment class to 83 school students of elementary, junior high, and special support schools in Kitakyushu City, Nakama City, and Onga District. At the event, students were able to tour the factory online and directly ask questions to people working in the factory. In addition, staff of the Eco-town Center visited their classrooms to give lectures.
Holding the TELC-BATON 2020
Toshiba Elevator and Building Systems Corporation (Worldwide)
Toshiba Elevator and Building Systems has an annual environmental event, where one site of the company conducts environmental activities for a week, and then another site does the next week, just like passing the baton in a relay race in track and field. FY2020 was the sixth year of the event. Through the event, all of the 265 sites, those of Japan and Chinese subsidiaries, enjoyed "passing the baton" to improve environmental awareness. This activity won an Excellent Award at the 2020 Excellent Enterprise Award for Environmental Human Resource Development held by the Ministry of the Environment and Environmental Consortium for Leadership Development (EcoLeaD)*.
*

Received the award along with activities to promote the development of environmentally conscious products, company-wide measures for reducing environmental impacts, and development of successful applicants for the Certification Test for Environmental Specialists (Eco Test).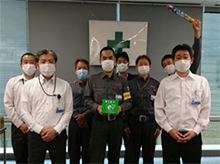 Green Fund campaign
(Central Tokyo Branch of Tokyo Branch Office)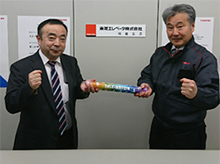 Baton passing ceremony
(passed on from Kawasaki Branch of Kanagawa Branch Office to Kawasaki-Higashi Sales Office)
Launch of Toshiba Group's Seventh Environmental Action Plan
In FY2021, the first year of the Seventh Environmental Action Plan, Toshiba Group will continue to disseminate its environmental initiatives and world trends through its Environment Website and environmental education opportunities. In addition, we will promote environmental communication activities suitable for the era of the new normal to create networks with stakeholders, based on collaboration with communities and organizations at each site worldwide, such as local residents, NPOs, NGOs, and administrative offices as well as among employees.