Report of Toshiba Group's "Global Environmental Action 2015"
[28 July, 2015]
Toshiba Group has designated June 5, which is World Environment Day, as the day for Toshiba Group Global Environmental Action, with the aim of creating a sense of unity among employees while allowing each of them to increase their environmental awareness, by bringing together the Group's global workforce and getting individuals and sites in different parts of the world to take part in environmental actions at the same time.
This year, which is the third year of the Group` s Global Environmental Action, April 1 through June 5 was set as the action period. Approximately 400 actions were implemented at 300 business/production sites in 25 countries around the world. Also, during Toshiba Group Environmental Exhibition held on June 11 and 12 held at Toshiba` s Smart Community Center, reports and photos of the campaign were showcased to the press and the attendees of the exhibition.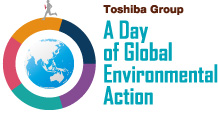 Activities at business / production sites all over the world
Environmental activities were carried out under themes related to crucial local environmental issues, chosen from among the issues (eg. energy, water resources, natural resources, and chemical substances) addressed by T-COMPASS, Toshiba` s environmental management concept.
There were many activities which were in collaboration with local governments, residents and NPOs.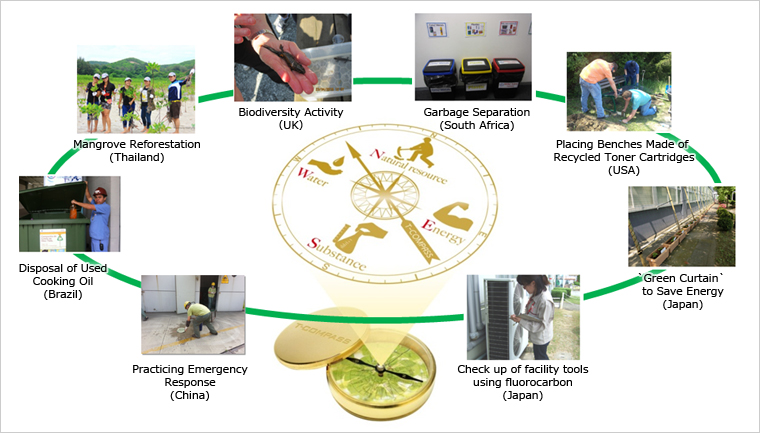 For details of activities at business/production sites
Video report on activities
For details of environmental management concept `T-COMPASS`
`TOSHIBA BATON` Photo sharing site for Toshiba employees
Toshiba employees shared photos of their environmental activities which they have implemented in their private lives.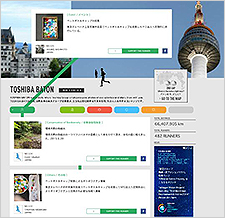 Introducing the campaign at 24th Toshiba Group Environmental Exhibition
Along with holding a press conference, we introduced activities taken place this year and the first two years of the campaign using panels and videos. The video was on-aired on the 80-inch LED screen on the 3rd lobby floor of Smart Community Center during the exhibition.