Product/Technical Services
Distribution Range GRD100
Product Overview
GRD100 is a series of multi-function protection relays, providing a comprehensive range of protection functions for distribution power systems, or alternatively acting as back-up protection for transmission systems. There are 4 sub-groups within the GRD100 series.
GRD110: Overcurrent protection for phase and earth faults.

GRD130: Over-voltage and under-voltage protection.

GRD140: Directional overcurrent relay with auto-reclose.

GRD150: Feeder management system, combining protection and control functions and featuring a large mimic display.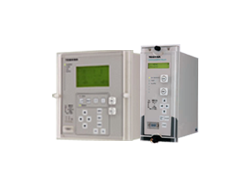 Technical Description
※This table can be scrolled horizontally.
Features of Distribution System Protection
●:Standard ○:Model option
| | GRD110 | GRD130 | GRD140 | GRD150 |
| --- | --- | --- | --- | --- |
| 50P/51P Phase Fault O/C | ● | - | ● | ● |
| 50N/51N Sensitive Earth Fault | ○ | - | ○ | ○ |
| 37P Phase Undercurrent | ● | - | ● | ● |
| 49 Thermal Overload | ● | - | ● | ● |
| 46 NPS Overcurrent (IDMTL, DTL) | ● | - | ● | ● |
| Broken Conductor | ● | - | ● | ● |
| 50BF Circuit Breaker Fail | ● | - | ● | ● |
| Cold Load Protection | ● | - | ● | ● |
| 59 Phase O/V (IDMTL, DTL) | - | ● | ● | ● |
| 27 Phase U/V (IDMTL, DTL) | - | ● | ● | ● |
| 59N ZPS O/V (IDMTL, DTL) | - | ○ | ● | ● |
| 47 NPS O/V (IDMTL, DTL) | - | ○ | ● | ● |
| 67 Directional Phase Fault O/C (IDMTL, DTL) | - | - | ● | ● |
| 67N Directional Earth Fault O/C (IDMTL, DTL) | - | - | ● | ● |
| 67N Directional SEF (IDMTL, DTL) | - | - | ○ | ○ |
| 67/46 Directional NPS Overcurrent (IDMTL, DTL) | - | - | ● | ● |
| 51V Voltage Controlled Overcurrent | - | - | ● | ● |
| 81U/81O Under/Overfrequency | - | - | ● | ● |
| 79 Autoreclose | - | - | ● | ○ |
| 25 Synchronism check | - | - | - | ○ |
| Fault Locator | - | - | ● | ● |
| CT Supervision | - | - | ● | ● |
| VT Supervision | - | - | ● | ● |
| Trip circuit supervision | ● | ● | ● | ● |
| Self supervision | ● | ● | ● | ● |
| CB State Monitoring | ● | ● | ● | ● |
| Trip Counter Alarm | ● | ● | ● | ● |
| Σ |y Alarm | ● | - | ● | ● |
| CB Operate Time Alarm | ● | - | ● | ● |
| Multi settings groups | ● | ● | ● | ● |
| Circuit Breaker Control and Monitoring | - | - | - | ● |
| Disconnect Control and Monitoring | - | - | - | ● |
| Earthing switch Control and Monitoring | - | - | - | ● |
| MIMIC Display | - | - | - | ● |
| Metering | ● | ● | ● | ● |
| Fault records | ● | ● | ● | ● |
| Event records | ● | ● | ● | ● |
| Disturbance records | ● | ● | ● | ● |
| Communication port RS232C, RS485/Opt (IEC60870-5-103) | ● | ● | ● | ● |