Product/Technical Services
Substation Equipment that secures the quality of electric power
Toshiba has supplied various substation equipment, such as switchgears, transformers, and surge arresters. These equipment are manufactured with the state of the art technology and received high reputation by the customers around the world. Toshiba is committed to supply the reliable substation equipment to secure the quality of electric power with the abundant experience and the cutting-edge technology.
The Permanent SF6-free Solution
Natural-origin gas insulated equipment for climate-neutral power grids
SF6 gas has excellent high-voltage insulation and current interrupting performance and therefore has greatly contributed to compactness, less maintenance and efficiency of substation equipment. However, because SF6 gas has a global warming potential (GWP) 25,200 times higher than that of CO2, in recent years, demand for a long-term SF6-free solution is expected to further increase toward ambitious climate-neutrality targets. Under this circumstances, Toshiba have developed and will expand our lineup of substation equipment that uses natural-origin gases free of any fluorinated gases, which are easy to handle and pose no environmental risk, under the

※brand. These products also support the digitalization of substations and can be equipped with monitoring and diagnostic systems compliant with the IEC 61850 standard. Toshiba will contribute to climate-neutrality by 2050 with innovative natural-origin gas solutions for power grids.
※ AEROXIA = "AERO" (Natural-origin gas) + "AXIA" (Value)
Click here to download the AEROXIA™ brand book (PDF format)
(8.5MB)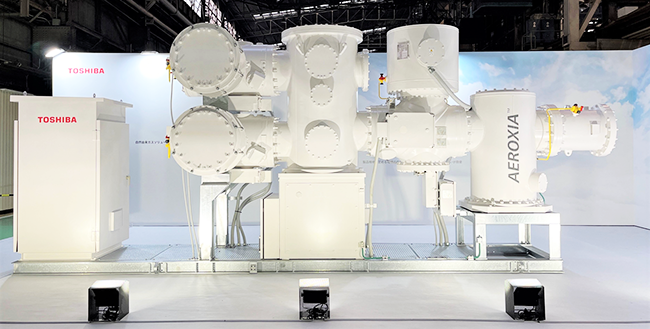 Compact and easy-to-maintain Gas Insulated Switchgears
Toshiba GIS utilizes the limited space effectively
Gas insulated switchgears (GIS) requires far less space than air break switches. GIS is installed in highly populated area, mountainous area, and even at underground level, enabling to best utilize the limited space. Toshiba's GIS are resistant to the damages caused by salty environment, sand dust storm, and humid atmosphere. The performance of GIS under these severe conditions offers the high reliability. Since the live part of the GIS is housed inside of the earthed metal tank and untouchable, the safety of operation and maintenance personnel is secured thoroughly while the maintenance requires less work.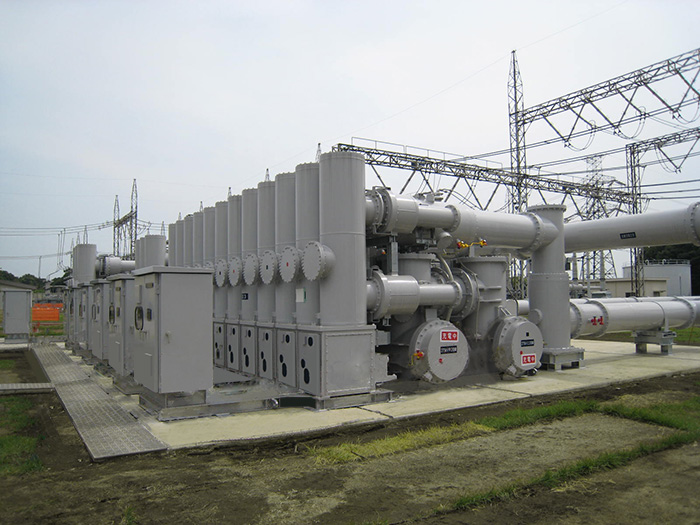 Transformers for higher voltage, larger capacity, and space saving
Non-flammable gas insulated transformer to secure the safety operation
Since Toshiba delivered the Japan's first SF6 gas insulated transformer in 1967, Toshiba has achieved abundant experience of suppling the gas insulated transformers while continuing the research and development. The R&D activity has focused on the non-flammability, environmental-consciousness, and the increased capacity. The remarkable supply records is that only Toshiba has successfully manufactured the totally SF6 gas-insulated and totally gas-cooled large capacity transformers. The SF6 gas insulated transformer is valued for its high non-flammability, insulation performance, and safety. These characteristics contribute to the simple and oil-leakage free installation. In addition, the direct connection of Gas Insulated Switchgear and Gas Insulated Transformer would constitute a totally gas insulated substation. The substation meets various social requirements to prevent disasters, to enhance the safety, and to minimize the installation space.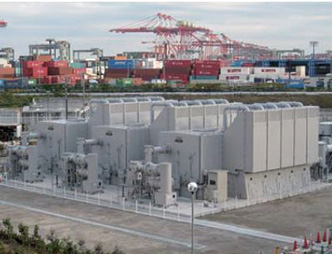 Advanced Site Assembly (ASA) Transformer to overcome the difficulties during transportation
Advanced site assembly (ASA) transformers are transported with disassembled units after fully tested at factory and reassembled at site again. The ASA was so developed as to be ready for the severe transportation conditions. The ASA with large capacity will be transported with low platform trailers. With the more severe transportation condition, the more cost reduction is realized by ASA. The ASA design also provides an advantageous option to reconfigure three single-phase transformers to a single three-phase transformer. This option will contribute to minimize the site installation area, eventually reducing the cost for civil construction as well as installation work. The ASA transformer is reassembled efficiently in a temporary clean house to ensure the reliability.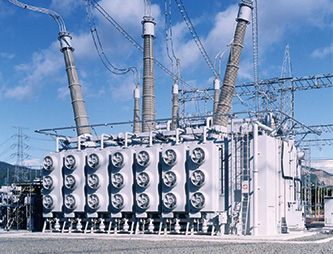 Arresters to protect important substation equipment from lightning strikes
Small, light-weight, easy-to-handle polymer-type arrester
Two types of arrester, silicone direct molding type (up to 275kV) and composite insulating tube type (500kV), are available. Toshiba realized downsizing and the weight reduction, resulting in easier handling and simpler installation work. By employing polymers, hazardous scattering accidents due to pressure rise, in case of ceramic outer surface, will not take place. The polymer application also improves the seismic safety factor of arresters.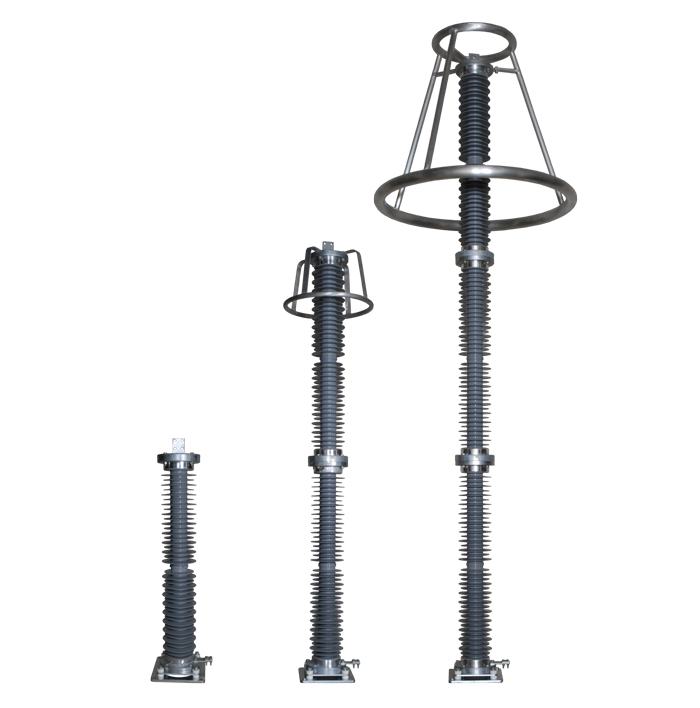 Voltage and reactive power control
Shunt reactors to control voltage fluctuations due to load conditions
Shunt reactors supply a lagging current to reduce the voltage and control the voltage fluctuations at daytime and night time caused by the power demand. Since Toshiba manufactured the first 500kV shunt reactor in 1978, it has supplied many reliable large-capacity high-voltage shunt reactors. Design features such as radial block iron cores, ceramic gap spacers are achieved to realize less vibration, less loss, and downsizing. Toshiba operates its large testing facilities so that the verification of maximum capacity shunt reactors can be performed.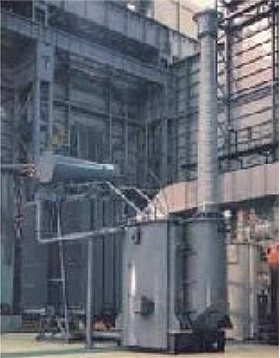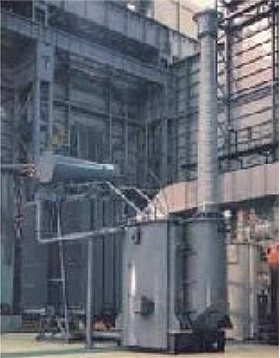 Full Turn Key Project Engineering
Introduction
Since 1978, Toshiba has supplied a wide range of Full Turn Key (FTK) and Turn Key (TK) substations to clients all over the world, with transmission voltages reaching 800kV.
Quality is your assurance as Toshiba FTK project teams are accredited through the internationally recognized quality assurance standards of ISO9001, The execution of high quality management and engineering systems are strictly implemented in accordance with our internal ISO FTK project manual. Our in-house ISO procedures cover key management processes such as procurement control, design of substation systems (layouts, single/secondary line diagram, control and protection schematics), project schedule control, site coordination (civil, installation and building service, etc.) and commissioning works. Innovative engineering processes and designs have allowed Toshiba to meet the special needs of our clients in very demanding circumstances, often encompassing a wide varied environmental conditions. Typical solutions and innovative designs include:-
Cost reduced solutions for substation design
Compact GIS layouts and building/foundation, etc.

Fast track project programs
Toshiba successfully built and commissioned a new 380/132kV GIS substation, which consists of 11 bays of 380kV GIS & 23 bays of 132kV GIS, in the Kingdom of Saudi Arabia 19.5 months after contract effective date, in line with the specific requirements from the Client.

Solution to the increase in the short-circuit capacity of a power transmission network
Under the rising demand for electricity, Toshiba successfully constructed a new 420kV 80kA substation in Kuwait which exceeds the short-circuit capacity 63 kA of the network.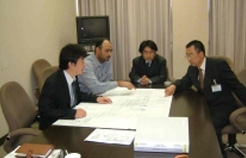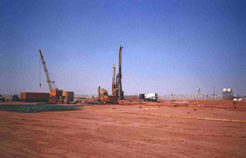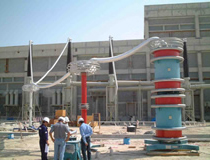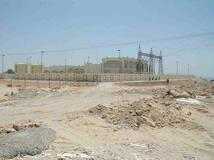 FTK / TK Project Engineering Services
Toshiba offers professional engineering services of substation projects in every aspect necessary for construction of substation systems as per customers' demands. The following items show typical engineering services available at Toshiba. Actual items provided in projects are dependent on contractual conditions.
Planning stage
Based on Toshiba's rich experiences in substation project management & engineering, Toshiba offers technical supports for customers from the planning stage of projects.
Supports for Feasibility Study

Participation in Site Investigation

Supports in Budget Estimation

Consultant Services

Presentation of Toshiba's Substation Technologies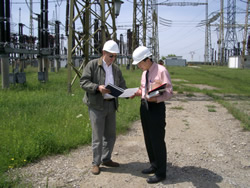 Tender / contract
At the tender / contract stages of projects, Toshiba carries out preliminary design / engineering works to offer the best solutions for customers' advantages.
Preliminary Design of Single Line Diagram (Primary & Secondary)

Preliminary Design of Layout Drawings (Substation & Individual Equipment)

Preliminary Design of Civil Drawings (Building, etc.)

Preliminary Project Schedule & Organization Plan
Design / manufacturing
After contracts are issued, Toshiba will commence engineering, designing, and manufacturing works. Toshiba offers customer-oriented engineering works and any necessary technical coordination with customers for better solutions.
for example;
Establishment of Project Quality Plan

Detailed Technical Specification of Equipment

Detailed Electrical Design of Substation

Detailed Equipment Design

Control & Protection System Design

Detailed Layout Drawings

Civil Design Works

Insulation Coordination Study

Detailed Design of Earthing System

Procurement from Subcontractors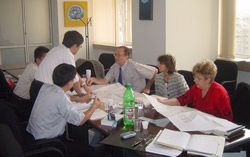 Based on the above design, production of equipment in our factories and/or subcontractors is carried out. All production processes are controlled based on QA (Quality Assurance) & QC (Quality Control) plans.
Typical items for design & manufacturing
Quality Control & Assurance

Production Management based on Project / Manufacturing Schedule

Factory Tests / Inspection

Factory Training

Packing / Shipment / Transportation / Delivery
Construction / installation works at site
Toshiba also provides site management for civil, installation, site tests, and commissioning works. All site activities are carried out under Toshiba's skilled management, assuring work-quality, safety, and environmental conformity.
Examples for site engineering & management works
Schedule Coordination

Civil Works

Installation of Equipment

Site Tests

Commissioning Tests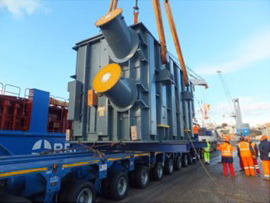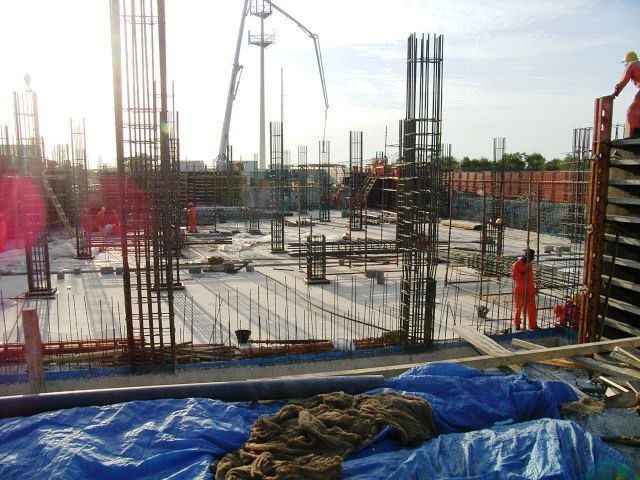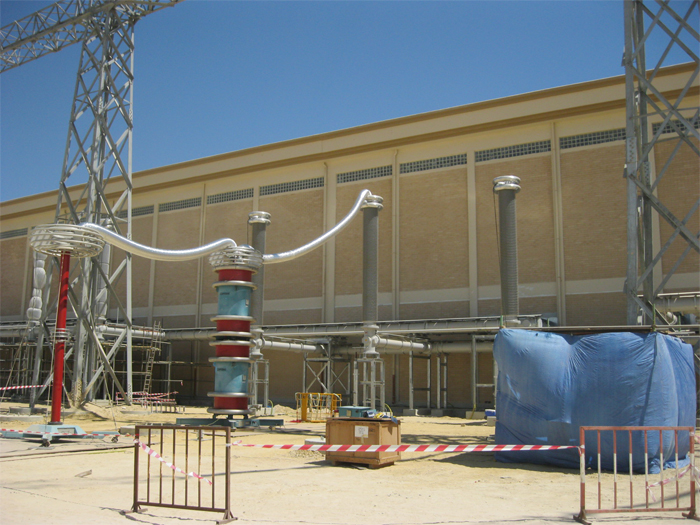 Operation & Maintenance
Even after completion of projects, we will offer our services for customers to use our equipment in a good condition.
Typical services after project completion
Operation & Maintenance Manual

As-built Documentation

Site Training (Operation & Maintenance)

Services after Completion upon Customers' Requests

Periodical Maintenance
Supply Experience of FTK / TK GIS Projects
Since the 1970s, Toshiba has accumulated overseas FTK / TK project management experiences of more than 100 GIS substations with voltages up to 800kV*1 all over the world. Based on our rich experiences, we will continue to offer & provide substation systems & equipment, with high reliability, safety, and quality.
*1: The data are as of July 2018, including on-going projects. Projects in Japan are excluded. For any projects consisting of 2 or more stages (new construction, extension, etc.), each stage of projects is separately counted.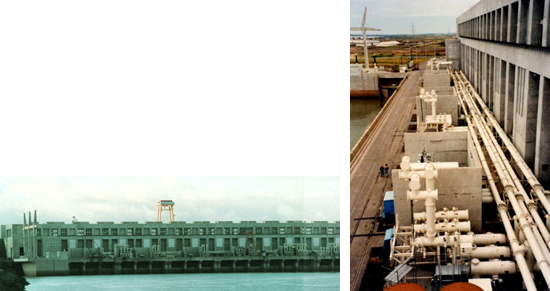 Further performance improvement through high-voltage high-power tests

JAB-certified high-voltage high-power testing laboratories
Toshiba's high-voltage high-power testing laboratories accept requests for any electrical tests, not just high-voltage or high-power tests. Please feel free to contact us if you need to have electrical tests done. Also, please don't hesitate to ask us for mechanical tests of electrical equipment.
Please visit the website of our High-Voltage High-Power Testing Laboratories for details.