Micro-size series [model 1000]
This series is suited to micro-size systems for general industrial uses and plant control.
It is useful for not only loop control but also sequence control; integrates FA/PA control platforms, and offers a variety of functions.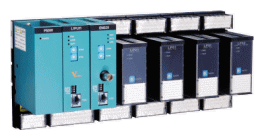 Micro-size series [model 1000]
Loop Control Module (L1)
This module has loop control functions.
Up to 8 loops can be controlled.
Capable of controlling up to 8 loops with a program capacity of 6k steps on the shortest loop cycle of 50 ms.
Hyper PID installed
Toshiba's exclusive 2-degree-of-freedom hyper PID is installed for high-precision loop control in a broad range of applications, including boiler control and combustion control.
Sequence control also available
The international standard IEC61131-3 is employed as programming language so that the L1 module may be used for not only loop control but also sequence control and batch control.
Functions as a one-loop controller
The series supports I/O modules (LP01/LP02) equipped with I/O points corresponding to TOSDIC-215D to permit use as a one-loop controller.
Connectable to TOSDIC-CIE series
Tag meter variables used in the Integrated Controller system TOSDIC-CIE are available. Connection to OIS-DS SMART serving as HMI through an Ethernet permits OIS display and setting.
Computer link port provided
An RS-485 port is provided for communication with a graphic panel or higher-level computer through a computer link.
Function Specifications List
This table can be scrolled horizontally.
Function Specifications List
Model
L1PU11H
L1PU12H
Maximum No. of programs
64
No. of loops/program capacity
8/6k steps
Program processing speed
1 loop/100 ms
8 loops/500 ms
Scan cycle (main)
50 to 5000 ms
Tag
Indicator
128
Regulator
8
Digital
32
Higher-level network support
Ethernet
TOSLINE™-S20LP
(Module built in)
Support HMI
OIS-DS SMART
-
Computer link
RS-485
I/O
15 kinds of I/O - loop, analog, digital, pulse, etc. - are available. I/O modules can be connected to the terminal unit and DIN rails so that there is no need for useless spaces. (16 modules maximum) I/O modules may be placed as desired within a range of 1 km, and be expanded to flexibly meet your needs.
I/O modules different in IO bus rate cannot be mixedly used.
I/O Module Specifications
Loop Display Unit
A loop display unit which displays information (on PV, SV, MV) for one loop and is used for manual operation is available. It can monitor up to 8 loops by means of a loop switching function.
Basic Configuration
Network
Ethernet
Ethernet is a surveillance control LAN used for connecting V-series controller units or a high-level HMI system. Ethernet modules of 10 Mbps are available.
Specifications List
This table can be scrolled horizontally.
Specifications List
Model
EN531
EN531T
Applicable standard
10BASE2
10BASE-T
Transmission rate
10Mbps
Maximum cable length
185m
100 m (between node and hub)
Protocol
TCP/IP UDP/IP PCMP
Types of transmission system
Point-to-point transmission
Multicast transmission
Broadcast transmission
TOSLINE™-S20LP
The TOSLINE™-S20LP is a control LAN/field network/device network used for transmission from one V-series controller unit to another, or with PLC, drive units, and various types of meters. Apart from message transmission, it is also used for scan transmission for periodic data exchange.
Specifications List
This table can be scrolled horizontally.
Specifications List
Model
L1PU12H (Module built in)
Transmission topology
Optical duplex loop
Transmission rate
2 Mbps
Transmission distance
Station-to-station: 1 km maximum
Overall loop length: 30 km maximum
Transmission sequence
Scan transmission, message transmission
Scan transmission capacity
4096 words
TOSDIC-CIE and TOSLINE are registered trademarks of Toshiba Corporation.
Other company names and product names printed in the manual are trademarks or registered trademarks of the companies concerned.

* The information given herein is subject to change without notice for design change or other reasons.