What is the Integrated Controller?
The Integrated Controller V series consists of seamless, scalable controllers which integrate such functions as sequence control (S), loop control (L), and computer processing (C), which have been independent so far, and cover a wide range of systems, large or small.
The sequence, loop, and computer functions are made possible by single architecture, and a single engineering tool covers a system as a whole. The Integrated Controllers are control devices of a new-generation integrally applicable to a wide variety of control systems ranging from those for process automation to those for factory automation in the assembly and processing industries.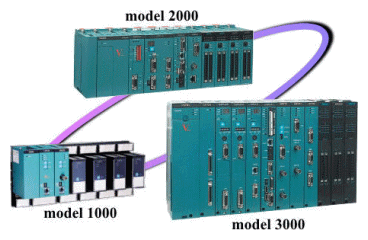 Features
Integrated functions
The sequence control module (S), loop control module (L), and computer module may be used independently or in combinations as desired, and can also share information. This makes it possible to flexibly meet controller needs for a single function, for example, sequence control, loop control, or computer processing, or for composite control, as well as for a controller of high-added value having an information processing function that no conventional controller could offer.
Scalable
The product line consists of the large-size model 3000, small-size model 2000, and micro-size model 1000, usable by an integrated single architecture regardless of size.
Integrated engineering
From updownstream to maintenance can be supported by a single engineering tool. The international standard language IEC61131-3 is employed as programming language. The engineering tool characterized by software in parts and ease of reuse drastically improves the productivity of application software.
Full-fledged computer functions
The computer module, PC/AT compatible, has various interfaces and a large-capacity memory; its operating system is Window® 2000 or Window NT® 4.0. It can access the I/O module and the common memory shared with other controllers. The module can be used as a controller having functions equivalent to, or better than, those of the conventional computer.
Variety of networks
Applicable to a variety of networks ranging from the surveillance control LAN to control LAN and field network. In addition to Ethernet, DeviceNet and other international and industrial standard networks, the inter-controller LAN with a high-speed scan transmission function, TC-net and other high-speed, high-reliability Toshiba networks are supported.
Duplex system configuration
Duplex configuration of controllers, I/O modules, and surveillance/control LAN transmission lines is available. Duplex system configuration means high reliability.
Microsoft®, Windows® and Windows NT® are either registered trademarks or trademarks of Microsoft Corporation of the United States and/or other countries.
The formal name of Windows® is Microsoft® Windows® Operating System.
DeviceNet is a registered trademark of ODVA (Open DeviceNet Vendor Association Inc.).
Other company names and product names herein are trademarks or registered trademarks of the companies concerned.
* The contents are subject to change without notice for design changes or other reasons.