Product/Technical Services
What is Digital Substation?
The digital transformation of electrical power systems has been driven mainly by three mega-factors: carbon neutral initiatives (reducing overall carbon emissions), decentralization of energy generation (locally generated clean energy to meet local demand), and digitalization (adoption of digital technology to increase cost efficiency and system integrity). This digital transformation is also applied to substation systems through the introduction of digital substations with new process bus technology.
As its name suggests, the digital substation brings digital technology into the heart of the substation. The digital substation focuses on digitalization of both station level and process level by converting analog measurement data and binary status information into digital data. Digitalization provides a secure and reliable method of data transmission, as well as significantly reduced investment and operating cost.
Implementing Process Bus Technology to Achieve Digital Substation
The process bus solution is implemented by introducing new equipment called Merging Units (MU) near the primary equipment in the switchyard. The merging unit reads the output values of the instrument transformers, converts to digital signals and sends to the secondary equipment (BCU, protection relays) via sampled values (SV) over Ethernet-based connection.
This approach reduces the reliance on external hardware such as hardwired connections between IED and instrument transformer. Process bus technology is developed in compliance with substation communication international standard IEC 61850-9-2, which ensures interoperability between primary and secondary equipment for easy and flexible system upgrade and extension.
Benefits of Toshiba Process Bus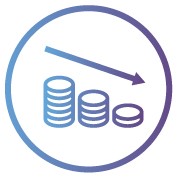 Cost saving
Reduced copper cable connections as well as faster installation and commissioning.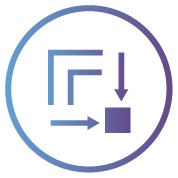 Compact and space saving
Function integration, fewer and smaller conventional components, and reduced cable connection enable reduction in the total space required for the substation. This results in carbon footprint reduction and has a positive environmental impact.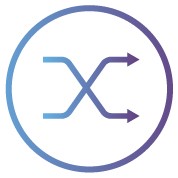 Flexibility
Open architecture and inter-operability of the IEC 61850 protocols make future expansion or customization easier and less costly in terms of system design work.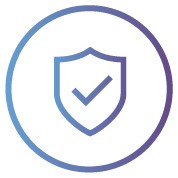 Safety
Danger from high voltage equipment and connections can be mitigated in protection and control cubicles since the connection between primary and secondary equipment is now digitized. This separation provides a safer working environment for site personnel working in the control room.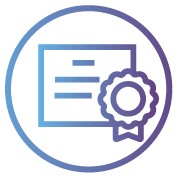 Proven Quality
Toshiba has more than 100 years of experience in developing protection & control systems. The introduction of next generation process bus technology enhances our products to further meet user requirements through realization of a full digital substation.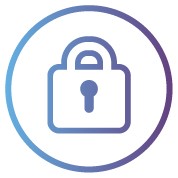 Cybersecurity
Protection of the system against cyber attack from external networks.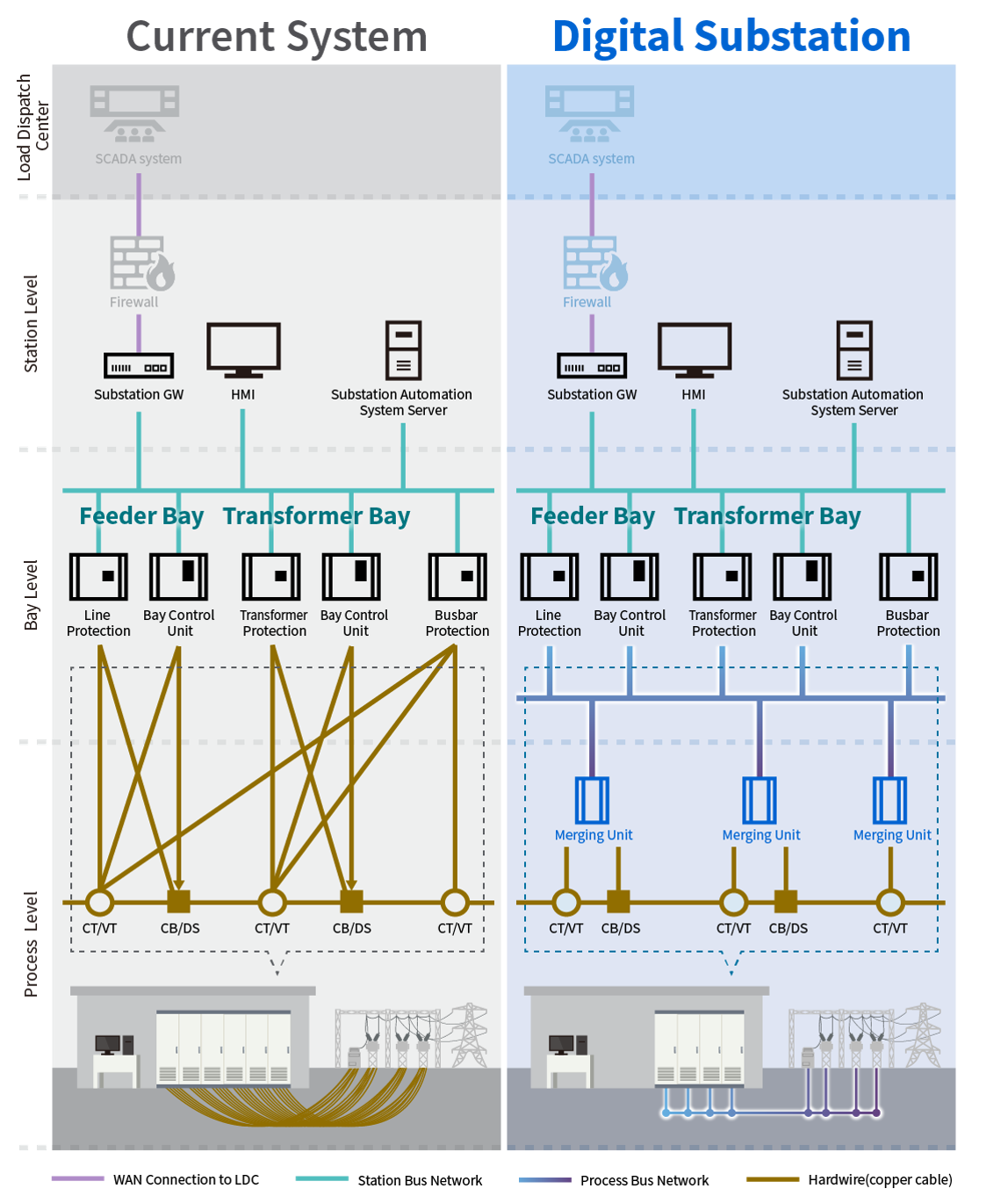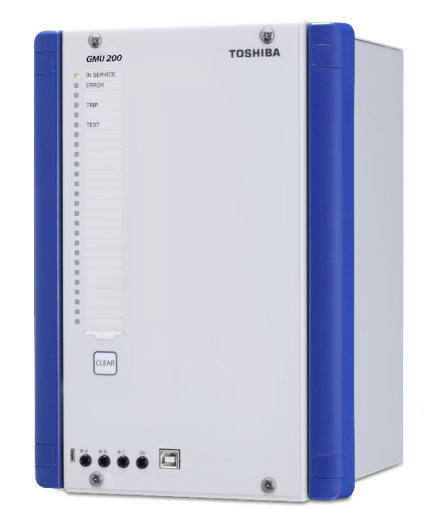 Merging Unit GMU200
GMU200 is the latest addition to the Toshiba GR-200 Series Line-up.
GMU200 provides merging unit functionality to digitize analog measurement data as well as Process Interface Unit (PIU) functionality for converting binary input/output signals.
GMU200 is equipped with the following functionality that provides versatile solutions for the digital substation:
Full support for IEC 61850-8-1 GOOSE

Full support for IEC 61850-9-2 SV

Full support of network redundancy protocol IEC 62439 PRP/HSR

Time synchronization with external clock via SNTP, IEEE 1588, and IRIG-B

Support for various types and configurations of CT, VT

Trip circuit supervision

Highly customizable input and output configurations

High speed tripping contacts

Support for various types of substation monitoring inputs such as analog inputs for temperature and gas pressure

Digital inputs for switching equipment status and tap changer positions

Advanced cybersecurity features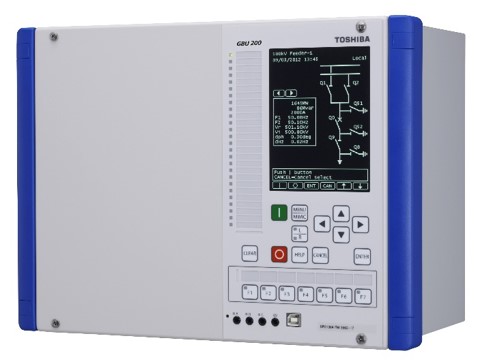 GR-200 Series IED with support for Process Bus
Toshiba GR-200 Series protection and control devices now support both station bus server and process bus client functionality, and are fully compatible with IEC 61850-8-1 GOOSE & MMS as well as IEC 61850-9-2 Sample Value.
GR-200 Series IEDs provide:
Full support for IEC 61850-8-1 GOOSE and MMS

Full support for IEC 61850-9-2 SV

Time synchronization with external clock via SNTP, IEEE 1588, and IRIG-B

Various communication interfaces such as 100BASE-FX, 1000BASE-LX, and 1000BASE-TX

Full support for network redundancy protocol IEC 62439 PRP/HSR on both station bus and process bus

Advanced cybersecurity features
GR-200 Series Products and Software