Technology to elucidate the origin of the universe
Extreme low temperature contributes to "KAGRA"
"Gravitational wave" is a phenomenon where transmitted distortion, like a wave from the explosion of a supernova and heavy sphere with great mass moving due to a merging of neutron stars, etc. Although Einstein had predicted its existence a century ago based on the theory of relativity, its actual existence had not been proven. Gravitational waves are extremely minute distortions whose size may be only one hydrogen molecule between the distance of the earth and sun (approximately 150 million km). How we capture the gravitational waves was Einstein's final mission.
"KAGARA": a large-scale cryogenic gravitational wave telescope
Observation facilities for gravitational waves have been built around the world. "KAGRA" is a joint research project led by the Institute for Cosmic Ray Research at the University of Tokyo. We have contributed to the project via our technologies. It is built at the Kamioka mine in the city of Hida, Gifu Prefecture, where the neutrino detection equipment "Super-Kamiokande" (which has been awarded the Nobel Prize) is also located. Two vacuum pipes are installed in the 3 km-long tunnel, which runs in an L shape. This equipment observes gravitational waves with interferometers by detecting the extremely small difference in the distance, which is created when laser light travels back and forth within the pipes.

Cryostat creates extremely low temperatures and super high vacuums
In order to improve the observation precision of "KAGRA", we supplied the equipment (cryostat) which installs a sapphire mirror in the super high vacuums and extremely low temperatures.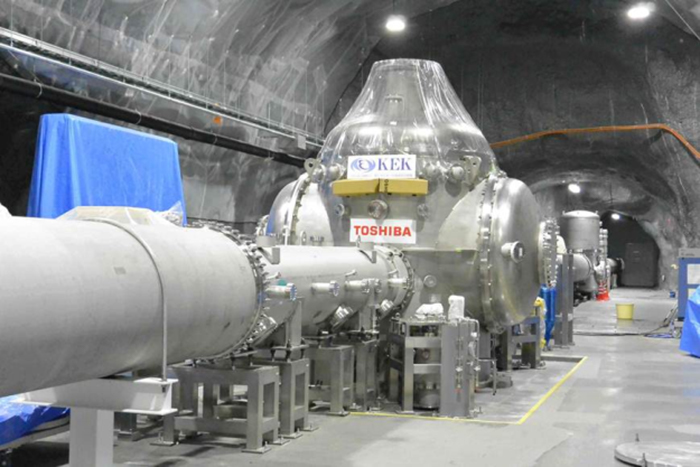 Superconductivity technology contribution
Contribution to the Nobel Prize in Physics 2013, discovery of Higgs boson
"Higgs boson" is an elementary particle that has given mass to all matters. The analysis of the experiment result in the European Organization for Nuclear Research (CERN) confirmed the existence of "Higgs boson". For the achievement of this experiment, Dr. Higgs and others, who proposed the Higgs boson, was awarded the Nobel Prize in Physics 2013. We have supplied two types of superconductive magnets that are essential to detect the Higgs boson using the High Energy Accelerator Research Organization (KEK).
Superconductive quadrupole magnet concentrates a proton beam onto one point
This concentrates approximately a 1-cm diameter proton beam into less than 0.1 mm diameter to accurately collide the beams with one another. It is used before and after the 4 collision points, such as the ATLAS collision point for the discovery of the Higgs boson in the Large Hadron Collider (LHC) .
*Superconductive quadrupole magnet: MQX-A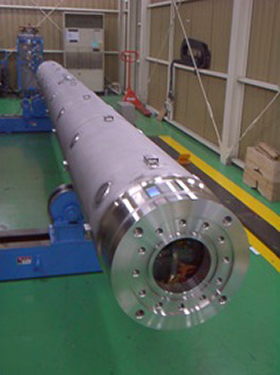 Superconductivity Solenoid Coil to generate a magnetic field
This coil generates a magnetic field in a large space to discriminate the elementary particles produced in the collision. It is installed in the center of the "ATLAS Detector".
*ATLAS Central Solenoid Magnet is used for generating a magnetic field to discriminate elementary particles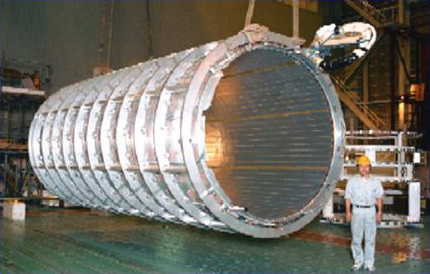 Accelerator technology for leading science
We have supplied accelerators and their subsystems to many scientific research and experimental facilities around the world. We have been manufacturing accelerators at an early stage, and our know-how has led to our achievements.
SPring-8: the world's largest synchrotron radiation facility
SPring-8 is a large synchrotron radiation facility owned by RIKEN and is located in Harima Science Garden City in Hyogo Prefecture.
In 1996, we supplied a synchrotron and a high-frequency system consisting of a linear accelerator and storage ring.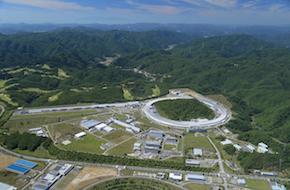 Aichi Synchrotron Radiation Center
The Aichi Synchrotron Radiation Center is an advanced measurement and analysis facility located in Aichi Prefecture, operated by the Aichi Science & Technology Foundation.
In March of 2012, we supplied a synchrotron consisting of a linear accelerator, acceleration synchrotron, and storage ring.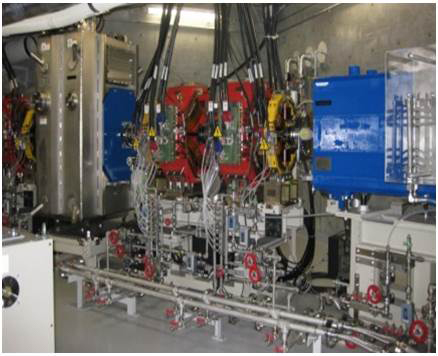 Applying accelerator technologies to Heavy ion therapy equipment
Our accelerator technologies are applied to Heavy ion therapy equipment used for cancer treatment.
Heavy Ion Therapy