Products and engineering services
Fuel cycle that protects natural resources from depletion
Contributes to Japan's first commercial reprocessing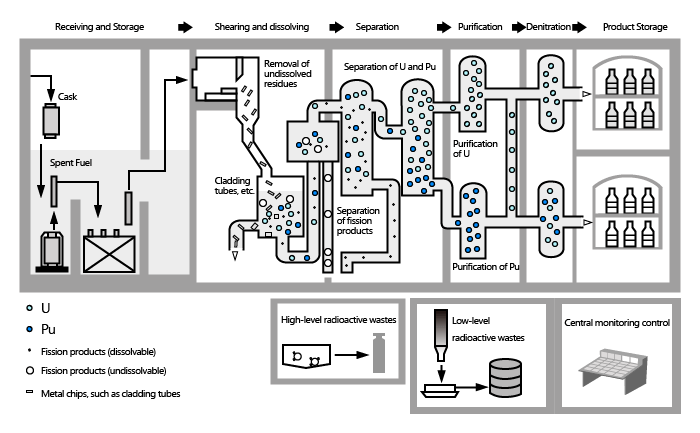 Participating Rokkasho Reprocessing Plant of Japan Nuclear Fuel Ltd.
By reprocessing the spent fuel from nuclear power plants to extract uranium and plutonium, the fuel can be reused as a raw material for uranium fuel and MOX fuel (Mixed Oxide Fuel). In Rokkasho Reprocessing Plant, we were in charge of the designs and construction of key systems, such as the removal of insoluble residue in the dissolution process, uranium and plutonium mixed denitrification system, low-level waste treatment system, and central monitoring and control system.
Settler centrifuge to remove insoluble residue from spent fuel solution
The reprocessing plant dissolves spent fuel into nitric acid and repeatedly performs extraction and back-extraction with organic solvent to separate and refine uranium and plutonium. We supplied a settler centrifuge system, which separates insoluble residue from the spent fuel solution.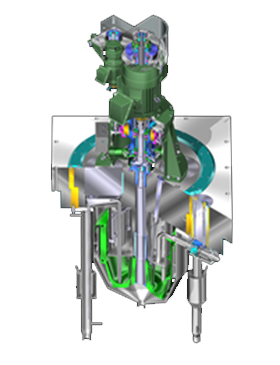 The final stage: Uranium/plutonium mixed denitrification system
The separated and refined plutonium is mixed with uranium. Then, nitric acid constituents are removed (denitrification) from them. Afterward, uranium oxide powder, as well as uranium and plutonium mixed oxide powder (MOX powder) are produced. We have been participating in the development of this technology since its early days at the Tokai Plants for the Power Reactor and Nuclear Fuel Development Corporation (currently the Japan Atomic Energy Agency (JAEA)). At the Rokkasho Reprocessing Plant, we supplied a system that has approximately 10 times the processing capability as the testing device at the Tokai Plants.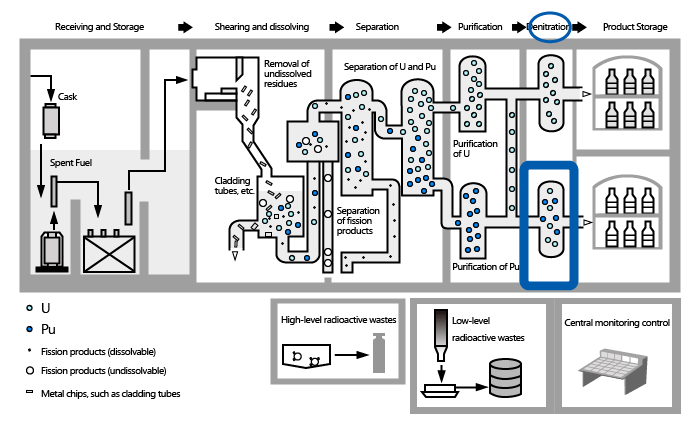 Low-level waste treatment system to reduce and stabilize radioactive wastes
Reduction and stabilization processes are the key factors for radioactive wastes. The low-level liquid wastes produced in the reprocessing plant is concentrated, dried and turned into powder in the drying device, and then compressed into pellets that are suitable for intermediate storage. This system can further reduce the concentrated liquid waste to less than 1/3, as well as reduce the external leakage risk.
Central monitoring and controlling system to overview the reprocessing plant
The operation and monitoring of facilities in the reprocessing plant are integrally controlled in the central control room. This system separates the monitoring control board for each facility into 6 blocks. The system monitors production-related operations through a digital distributed control system. The system operates with safety-related instruments and control systems through hard-wired switches and indicators on vertical control panels..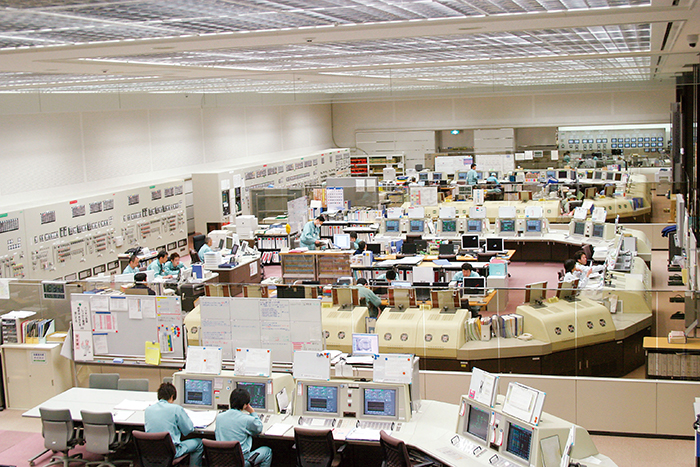 Approach to next-generation technology
Participate in development of French sodium-cooled fast reactor "ASTRID"
A fast reactor using uranium and plutonium is essential for a nuclear fuel cycle.
Commissariat a l'energie atomique et aux energy alternatives (CEA) has been developing the prototype fast reactor, ASTRID. Under collaboration agreement on the pre-conceptual and conceptual designs for the ASTRID prototype between CEA and Toshiba, we have been jointly designing and developing an electromagnetic pump for ASTRID since April 2012.

* ASTRID:Advanced Sodium Technical Reactor for Industrial Demonstration
Electromagnetic pump for circulating cooling sodium
A moving magnetic field is generated by applying three-phase alternating current to the electromagnet. This moving magnetic field causes an induced current in sodium, and an electromagnetic force acts on sodium due to the interaction between the induced current and the moving magnetic field (Fleming's left-hand rule), and generates a thrust.