The web page of Announcement of Our Exhibition at SIWW 2018 was updated.
Toshiba Booth at the Water Expo,Singapore International Water Week 2018(SIWW 2018)
July 8 to 12, 2018
*Water Expo: July 9 to 11, 2018
Sands Expo & Convention Center
(10 Bayfront Avenue, Singapore 018956)
The SIWW 2018 ended successfully.
We would like to thank you for visiting our Toshiba Booth.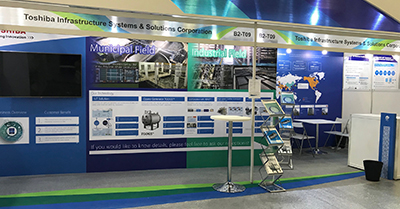 As a global EPC(*1) provider, a system integrator, a manufacturer and an O&M(*2) supplier, we, Toshiba, offer optimum solutions for a variety of plants, such as water purification, wastewater treatment and water recycling in combination with advanced technology and extensive expertise based on a half century of experience. Through our global network and experience, we also offer one stop solution from engineering, construction to O&M, which meet customers' needs in each country.
(*1) EPC: Engineering, Procurement and Construction
(*2) O&M: Operation and Maintenance
Singapore International Water Week 2018 Official Web site (Singapore International Water Week Pte Ltd,)
---
Toshiba Booth at the Water Expo,Singapore International Water Week 2018(SIWW 2018)
Date
SIWW 2018: July 8 to 12, 2018
*Water Expo: July 9 to 11, 2018
9:30 am to 5:30 pm, July 9
9:30 am to 8:00 pm, July 10
9:30 am to 5:30 pm, July 11
Venue
Sands Expo & Convention Center, Marina Bay Sands, Basement 2
10 Bayfront Avenue, Singapore 018956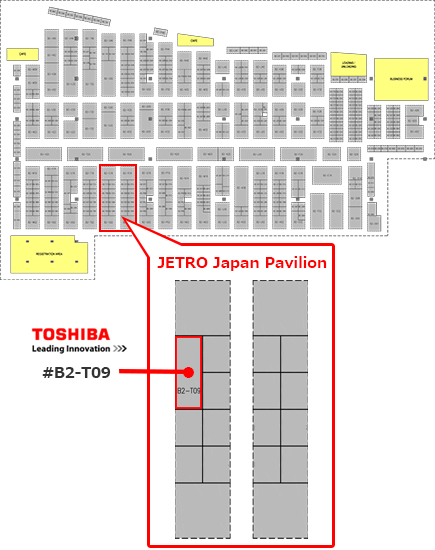 ---
Exhibit Topics
Business Overview
Global Network and Business Expansion of Water Business
Achievements for Municipal and Industrial Fields as an EPC Provider with Unique Solutions

- Ozone Treatment
- IoT Solutions
- ZLD(*3) Solutions
- Wastewater Treatment Solutions
Compact MBR(*4) Unit
High-efficiency Clarifier (Sedimentation Tank)
(*3) ZLD: Zero Liquid Discharge
(*4) MBR: Membrane Bioreactor